Forest Green points deduction angers boss Ady Pennock
Last updated on .From the section Forest Green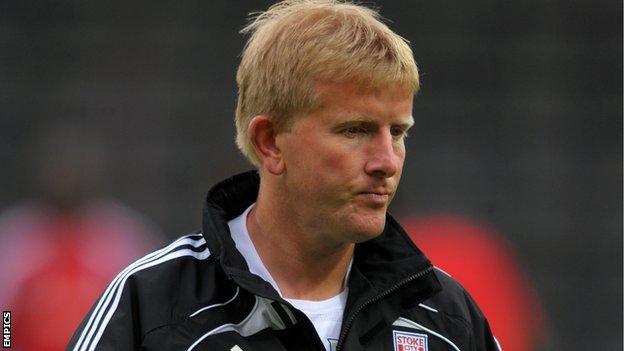 Manager Ady Pennock says he was left "spitting feathers" after Forest Green Rovers were deducted three points for fielding an ineligible player.
The incident happened in the opening game of the Conference season against Southport - which Rovers won 1-0.
The club accepted the charge and offered to replay the game, a request rejected by the disciplinary panel.
Pennock told BBC Radio Gloucestershire: "I wasn't a happy bunny as it's so hard to get three points in this division."
He continued: "You've got to think of the players and the supporters because they went a long way up to Southport. It's such a tough place to get three points and they took that away.
"But everyone has to be positive now - the players, the supporters, the press, myself - because those players have been kicked in the privates."
Forest Green said following Friday's judgment that they were likely to appeal against the deduction to the Football Association.
The day after, they fell to a late defeat against Conference leaders Barnet.
However they returned to winning ways against Torquay on Tuesday, moving up to eighth in the table, and Pennock afterwards said the club needed to show togetherness.
"There's been a lot of negativity around the place after what happened on Friday. I didn't want it to come out before the big game against Barnet," he added.
"But we've got to move on. Someone's done a mistake, it wasn't done on purpose.
"We've got to turn that around and turn the negatives into positives."