Chelsea v Arsenal: Can Wenger break the Mourinho curse?
By Amy Lawrence
Football writer
Last updated on .From the section Football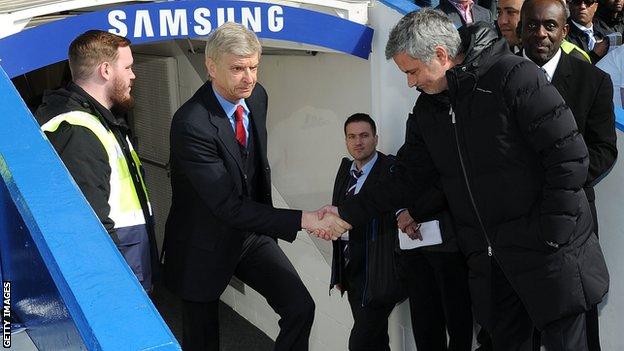 It probably wouldn't be recommended to mention this to Jose Mourinho, but the man who scrunched up the formbook when it comes to Chelsea versus Arsenal was not actually him.
Mourinho might appear to have put some kind of curse on Wenger (the latter has never beaten the former in 11 attempts) but it was not the cocksure Portuguese who was in charge for the moment that flipped the nature of this fixture. That was Claudio Ranieri, his benevolent Italian predecessor.
Such is Chelsea's dominance over Arsenal these days, it's hard to believe that not so long ago the situation was completely reversed.
In the early Wenger years, Arsenal enjoyed a spell where they went 17 Premier League games without loss against the team from Stamford Bridge. They also had the upper hand in the FA Cup during that period, knocking Chelsea out in four successive seasons.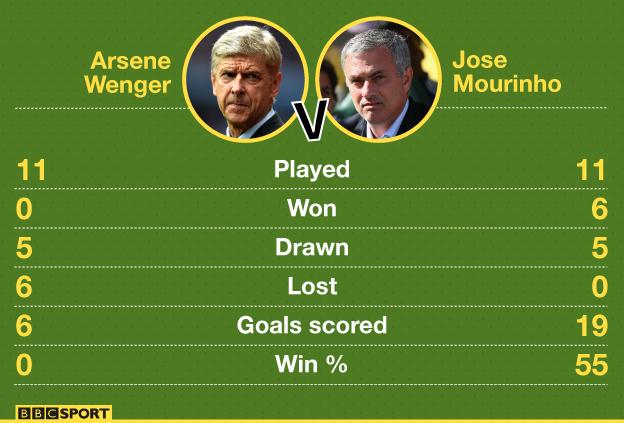 Then came the pivotal moment. In the spring of 2004 - which coincided with Roman Abramovich's decision to invite Mourinho, then the bullish manager of Porto, on to this yacht in Monte Carlo and thus giving the impression that Ranieri was a dead manager walking on the Kings Road - Chelsea shocked Arsenal in the Champions League with a late strike from former England left-back Wayne Bridge.
The hoodoo was over. "I am mad with joy," bubbled Ranieri afterwards.
This from a manager who had previously travelled across the capital to Highbury on the tube to watch Arsenal in the Champions League when Chelsea had not been regular qualifiers in the competition.
Strange though it may now seem, back then the managers of the two clubs had an amiable regard for one another. Coincidentally or not, Mourinho has never taken to either of them.
For Wenger, looking back over his 18-year span in London, this particular fixture can be split into two very distinct chapters, with that Bridge goal as the turning point.
Since then, trips across London to SW6 have been mostly very dispiriting for the Arsenal manager. That downturn reached its nadir six months ago.
Wenger was devastated by last season's harrowing trip to Stamford Bridge; the script could not have been any more excruciating.
After the big build up in anticipation of his 1,000th match as Arsenal manager, Chelsea eviscerated his team and the Blues supporters mocked Wenger by reprising one of Mourinho's callous one liners, chanting "specialist in failure" at him.
The experience proved to be the lowest of the low. "It was a massive, massive disappointment," Wenger says on the eve of his return to the scene of the crime. "I will never forget that day."
It was worse, somehow, than another defeat with a landmark feel about it, when Arsenal were thrashed 8-2 at Old Trafford in 2011 with a severely depleted team. "When we lost there we had no team on the day. We had nobody at the back so that was explainable," he says.
"The players will want to put things right at Chelsea after last season and will be up for it on the day."
So how do you block out sour memories? How do you alleviate any fear or a repetition? According to Wenger, it is all in the spirit of being a competitor. One thing Wenger refuses to do is feel defeatist as he journeys back into Chelsea territory.
He is adamant there is no need to dwell on the past. "Why?" he asks. "In life you must always think you are there to change what happened before, or you are fatalistic. A competitive guy is somebody who wants to make history and change what happened before. We have an opportunity to do that."
2013-14 results between Premier League top four

Played
Won
Drawn
Lost
For
Against
Points
Chelsea

6

5

1

0

12

2

16

Man City

6

2

1

3

12

11

7

Liverpool

6

2

0

4

10

11

6

Arsenal

6

1

2

3

7

18

5
Can Wenger summon the moment to swing this fixture back in Arsenal's favour? With Chelsea in strong form, and history currently on their side, it is a tall order.
Nigel Winterburn thinks revisiting Stamford Bridge with those 6-0 memories still fresh is a considerable test of the team's mettle.
The former Arsenal left-back, who was part of the scene when his team routinely approached Chelsea games fuelled by souped-up confidence, feels there is a bigger picture associated with this game. In terms of perceptions in crunch away matches, he believes changing the pattern is imperative.
"It is up to the current players to break that cycle," says Winterburn. "The way things went last season was a complete disaster away in the big games. The points tally was absolutely shocking. That's got to change this season if they want to be taken seriously. The points tally against top teams has to improve dramatically."
Winterburn scored a last-minute winner at Stamford Bridge in 1998, during the period of Arsenal supremacy over Chelsea. To this day it is the goal strangers talk about when they meet him.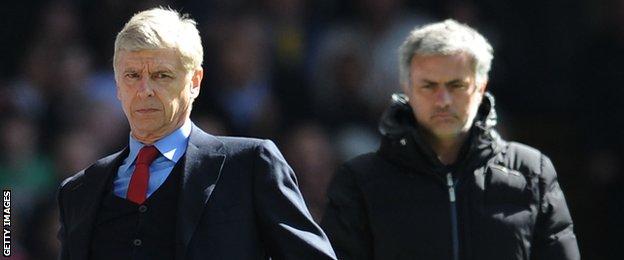 "We had a team where we believed we could beat anybody," he says. "From that period around 1998-2005, Arsenal played some of their best football perhaps ever."
For the team of today, establishing the mental fortitude to take on the kind of challenge they face this weekend is key. It is not easy to overcome the bad memories when they return to the stadium where they were humiliated six months ago.
"Recently Arsenal have been there and been bullied and overrun. It seems stacked massively in Chelsea's favour. It depends what kind of belief you have in yourself," says Winterburn.
"This is the first big away game - everyone will be looking to see how Arsenal react. If they concede early, the pressure is going to be rising.
"The players have to block it out, and go with a real belief to put an end to the weak away performances. They have to think that they can manage to turn it around and put a new positive spin on it."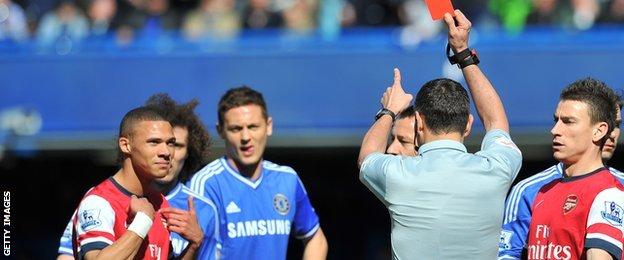 Strategically they could help themselves by not being too cavalier. Wenger can't resist attempting to set his team up to take on any opponent - even an obviously stronger one - rather than using caution as a platform to settle down and build.
They walked recklessly into trouble at Chelsea last time. Mourinho relished it: "We came to kill and, in 10 minutes, we destroy. After that, easy," he said of the spell that left Arsenal blitzed.
Mourinho naturally relishes the fact Wenger has never beaten him in 11 attempts. When he first came to England in 2004, Wenger was top dog in the Premier League having just guided Arsenal to an unbeaten campaign, so from a purely practical perspective he needed defeating.
The sideswipes since then have strayed into the personal. Mourinho's use of the word "voyeur" to describe Wenger in 2005 set a spiteful tone.
Although he claimed to be more amicable on his return to the Premier League last season, the "specialist in failure" remark in response to perceived criticism from the Frenchman showed how old habits die hard.
But the absolute key is that both men know, fundamentally, that any terseness in their relationship is of minor significance when they send out their teams on Sunday. All they care about is points on the table.
Winterburn sees the absolute priority for Wenger is to stop Chelsea gaining a nine-point advantage a mere seven games into the Premier League season.
"He won't like the fact he's not beaten Mourinho, that's for sure, but I don't think personally he's worried it's Mourinho," says Winterburn. "He will be worried Chelsea have been the dominant team.
"Deep down it must be very frustrating, but I don't know that Arsene does personal. If he does he hides it well."