What could Swansea City gain from major foreign investment?

By Simon Davies
BBC Radio Wales
Last updated on .From the section Football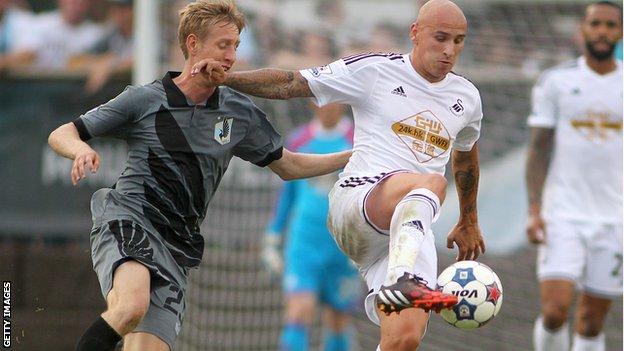 As Swansea City play down talk of potential foreign investment, it's an interesting time for the Premier League club's board.
As they fight to compete with richer rivals, there's a genuine question to be asked. Should they consider a wealthy, perhaps foreign, addition to the boardroom?
A front page story in the South Wales Evening Post suggesting talks between the board and overseas parties about commercial sponsorship ventures has fuelled the debate about whether a new style of ownership is needed for the club to progress further.
Perhaps unsurprisingly, when I suggested talk of a foreign takeover, I encountered widespread dismay by Swansea fans on social media. "The day we get a foreign owner is the day I stop supporting. It doesn't work; there are so many examples of why," says Tony Sharpe, a lifelong fan.
Swansea fans tend to be sceptical of outsiders coming in.
In 2001, owner Tony Petty's unpopular reign saw him sack seven of their highest-paid players to balance the books, while others were told to take a pay cut of up to 70% or the option of a free transfer.

The fans' intense consternation at his actions set in motion Petty's exit, which, ironically, prompted the successful ownership model which has brought 10 years of success and is so lauded today.
These days the club is owned, mainly, by local businessmen such as Martin Morgan, Huw Jenkins and Leigh Dineen. Then there are the overseas investors who also took the plunge of buying in to a lower league club a decade ago.
They include South African chartered accountant Brian Katzen and Dutch wallpaper salesman John van Zweden, who, as seen in the recent Jack To A King film, have become adopted Welshmen such has been their commitment in helping the club's remarkable rise from the bottom to the Premier League.
But what sets Swansea apart from all their top-flight rivals is the supporter input in the boardroom. The Swansea City Supporters Trust owns 20% of the club and has a representative on the board of directors, a model lauded by football fan groups.
"They are one of the most routed fan-involved clubs in the country and that is something Swansea fans are very proud of and anyone coming in needs to understand that" says Kevin Rye of Supporters Direct, an organisation which aims to deliver democratic representation within football clubs by offering support to member trusts like the one at Swansea.
"The balance they've struck is that it isn't all about wages. Although they are competing in a high-profile league, they have maintained a dignity and thoughtfulness in how they operate. They've earned their luck by using a democratic model and it's a model for others," says Rye.
So why fix it, if it isn't broken?
Three promotions and a League Cup win within the space of a decade suggests Swansea have found the magic formula. But even the most one-eyed Swansea Jack will tell you the chances of the club breaking in to the league's top bracket of clubs is unlikely.
I put that question to manager Garry Monk after the recent Chelsea game, where they'd put in an impressive performance yet still lost 4-2. "The top five or six teams can spend what they want on players and we have to understand where we are" said a realistic Monk.
This is an ambitious Swansea board, led by Huw Jenkins, whose judgement of appointing managers is arguably unrivalled in English football. Despite the financial prudence which has served them well, there is a feeling that only with considerable money coming in, can they progress any further.
A senior source at the club told BBC Wales they always listen to "whoever knocks the door and they would be silly not to".
But what happens if that knock is from a serious money man or woman who can give those directors a millionaire's return on their decade-old investment? It's an offer which would tempt anyone.
Critics of that view will point to the example east along the M4 at Cardiff City. Vincent Tan may be one of the world's most flamboyant billionaires but his money didn't lead to survival in the Premier League last season and his rebranding of the club to appeal to foreign markets sits uncomfortably with many traditional football fans.
As things stand, it doesn't appear Swansea are looking to change that model. Huw Jenkins told BBC Wales that recent talks with potential overseas investors are merely about future commercial ventures.
For now, that will appease the Swansea fans who love their club's romantic tale.