Truro City aim to sign Bideford striker Matt Wright
Last updated on .From the section Football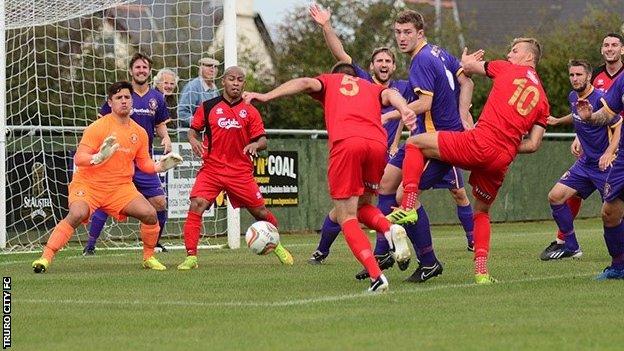 Truro City hope to sign Bideford striker Matt Wright after making an offer to the player.
Wright has scored four goals for the north Devon side, who are fifth from bottom of the Southern Premier League.
"He's a former Truro player, we've put something to him so we've got something within our budget that we can go to," manager Steve Tully told BBC Cornwall.
Tully made no secret of his desire to sign another forward after the
"It's down to Matt to decide if he wants to come and take the offer," Tully added. "He's suspended on Saturday so he wouldn't be able to play, but if things go to plan and he accepts the offer then he can play against Poole away next Tuesday."
Truro's lack of goals from his strikers has frustrated Tully, with only midfielder Craig Duff finding the net in their past two matches.
"Over the last three or four games we've created 16 or 17 clear cut chances, but without Craig Duff's six goals we haven't got anybody who's putting the ball in the back of the net on a regular basis," Tully said.
"Craig Duff's a midfielder really and we're having to push him up to get us goals. If it wasn't for his goals, we wouldn't be where we are now.
"We need someone to come on like Matt, who we can use for his physicality, just be a general pest, and be someone who's in the box if we do create the chances.
"Over the last seven or eight games we've scored very good goals, but we don't score ugly goals and that's what we need to be better at. We need to score the tap-ins, the ones that don't look pretty but still end up in the back of the net."