Hereford United fans to protest at Kidderminster-Welling game
Last updated on .From the section Football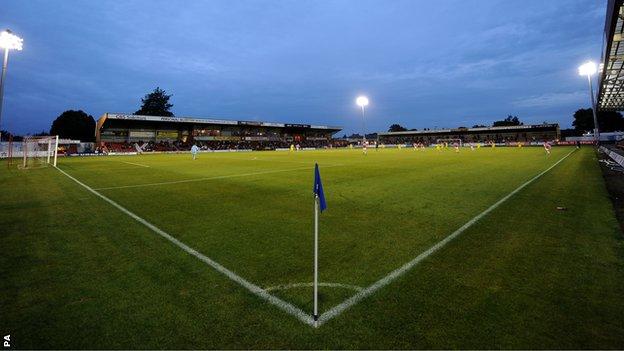 Hereford United fans have been given permission to make a public protest against the way the club is run before neighbours Kidderminster Harriers' home game against Welling next Wednesday.
But fans claim ex-owner Tommy Agombar, who is under a Football Association ban, is still involved.
An FA spokesman said that they are monitoring the situation.
And that they will continue to do so, in accordance with FA rules.
Alpha Choice Finance's owner and sole director Alan McCarthy has had no personal contact with Hereford fans, who believe that London businessman Agombar, the club's former owner, is still involved despite failing the FA's fit and proper persons test.
"The FA have banned him from being involved, but he is still involved," Hereford United Supporters' Trust vice-chairman Martin Watson told BBC Sport.
"He's still at every at game telling fans what he's going to do - and he's got his own son playing in the team."
Hereford are currently languishing in 16th in the 24-team Southern Premier League, having won just three of this season's 12 matches.
Watson also insists, from his contacts within the Hereford dressing room, that the fallen club, who are forced to play under a 1,000-strong crowd capacity limit at Edgar Street, for safety reasons, are still in major financial trouble.
"The players had not been paid for two months until they were paid in cash on the coach on Tuesday night and the staff still haven't been paid since August," claimed Watson. "And we're due back in court in three weeks' time, to face being wound up again."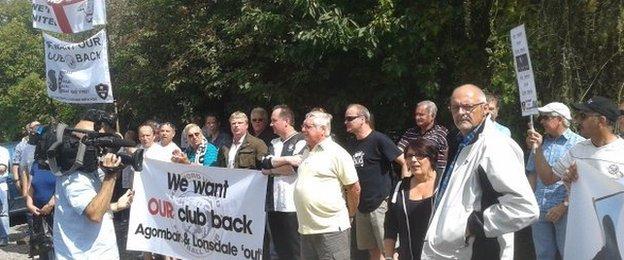 Having reportedly settled with former Bulls manager Martin Foyle, the club, who have been allowed repeated adjournments at the Royal Courts of Justice in London, are now understood to be facing a winding-up petition largely over unpaid taxes to the tune of an estimated £120,000.
Former Conference rivals Harriers, from across the Herefordshire border in Worcestershire, were close to going under themselves in 2010. And they have now allowed the Hereford fans the opportunity to come to Aggborough for the Welling game (8 October, 19:45 BST) to voice their concerns to a wider audience.
Harriers have had their own financial problems
Kidderminster Harriers needed £150,000 by the end of December 2010 just to stay in existence, during then chairman Mark Serrell's early days on the board and were at one stage, in his own words, "hours from administration".
"Somebody suggested the idea, it was queried with their board and they gave us the go-ahead," added Watson. "We have a full 29-seater coach booked and a minibus and we're taking bookings for another 48-seater coach. The indication is that there'll be a fair few.
"It is about trying to bring the club's plight to the attention of the national press. The FA appear unwilling to act and the Southern League do not seem to care. We have to start pushing the issue, the situation is intolerable."