Assem Allam: Hull City owner prepared to stop spending
Last updated on .From the section Football
Hull City owner Assem Allam says he will not invest a penny more in the club unless he wins an appeal to the Football Association to change their name to Hull Tigers.
Allam, 75, believes a name change will improve the club's brand, helping it "to go global".
"That [the spending] stops now. It has to stop," Allam told BBC Sport.
"I won't pay out if I cannot create income. That is called 'throwing money at it'."
Allam, who lost his original case to change the name in April, added: "I won't throw money at a problem. I want to deal with the problem."
Hull spent more than £30m in the summer, with striker Abel Hernandez arriving for a club record fee. It remains to be seen if the issue over the club's name will be resolved before January, although a verdict on the appeal should be reached in November.
Allam was not able to comment on the appeal, but it is understood Hull believe the FA's decision to introduce a consultation with fans may have prejudiced the case. All previous cases lodged with the FA had not consulted with the views of supporters.
In the short term, the club is up for sale and Allam said there had been a number of interested parties.
"We have had interest but it was not from what I would like to call good homes," he said.
"This club means a lot to me. I will do my best to sell it to a good home."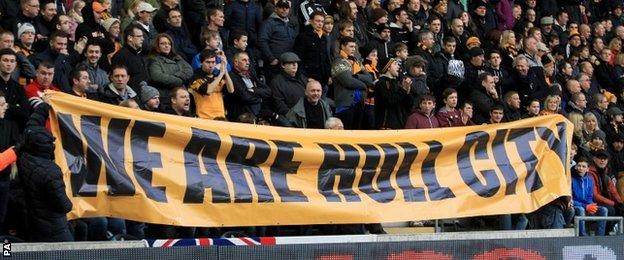 Allam admitted he did not want to sell a club he saved from administration in 2010, but felt he had no choice.
"To take the club global, you need a strong name. I don't want to create a new name. I do not want to change it from Hull City Tigers to Hull Viking, or Hull Allam or Hull whatever.
"For 110 years, the club has had City and it has had Tigers in the name.
"Now we want to shorten the name to go global - like Coca-Cola, like Twitter, like Google. You will never make it if your name is Hull City Association Football Club Tigers Ltd. You will never make it."
Allam admitted one sponsor had agreed a deal on the basis that the name was shortened to Hull Tigers.
"One of the sponsors offered, in writing, without mentioning names," Allam said. "The day we lost the FA ruling, they withdrew their offer.
"The replacement bid was £1m a year less for the first two years. Am I supposed to pay this? To cover this? The answer is no."
The Egyptian estimates he has invested more than £70m of his own money into the club since he bought it in 2010.
"I have never been a football fan," he added. "I am still not a football fan. I am a community fan.
"I got involved only because the media started to talk about administration for the club, going under, whether it would survive or not. I thought 'football is a big, big thing for the community here'."
Watch the full interview on Football Focus, Saturday 4 October, 12:10 BST on BBC One, BBC One HD and the BBC Sport website.
Assem Allam in focus

Allam was born in Egypt but came to England in the 1960s. He studied economics at the University of Hull and has remained in the city since.

In 2014, the Allam family was ranked 295th in the UK on the Sunday Times Rich List with an estimated worth of £320m.

Allam joined the firm Tempest Diesels as finance director in the late 1970s and later bought the company. He renamed the business, which manufactures and supplies generators, Allam Marine.

Allam has broken Hull City's transfer record on four occasions since taking charge of the club in 2010, the most recent being the reported £10m paid for Uruguay striker Abel Hernandez.