Bob Peeters: Hard work behind Charlton Athletic start
Last updated on .From the section Football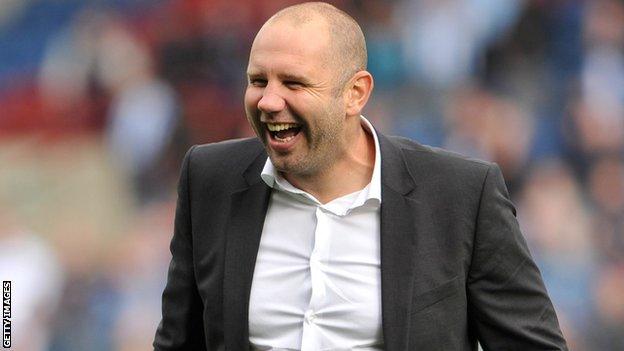 Charlton boss Bob Peeters says a hard work ethic is behind their unbeaten start to the Championship season.
The Addicks are two points off the top of the table, having won four and drawn six of their opening 10 games.
"There is no secret in football. Everybody needs to work hard," Peeters told BBC London 94.9.
"If you do that and give your team some structure - what to do when you have the ball and when you lose the ball - you can go far."
Charlton's unbeaten start in the Championship

Aug 9: 1-1 v Brentford (A)

Sep 13: 1-0 v Watford (H)
Aug 16: 2-1 v Wigan (H)

Sep 16: 1-1 v Wolves (H)

Aug 19: 3-2 v Derby (H)

Sep 20: 1-1 v Rotherham (A)
Aug 23: 1-1 v Huddersfield (A)

Sep 27: 0-0 v Middlesbrough (H)

Aug 30: 2-2 v Brighton (A)

Sep 30: 1-0 v Norwich (A)
The Belgian added: "You have to prepare the players. Physically we are very strong and the players give everything they have.
"It starts off the pitch when you give people structure and they know what the schedule is.
"They know everything about the opponent as well. That is the most important thing - that you give a lot of info to your players so they know what they can expect and what they have to do.
"We play the way we think we can get a result."
Charlton narrowly avoided relegation last season after Jose Riga had replaced fan favourite Chris Powell as manager in March.
However, Riga's contract was not renewed by Addicks owner Roland Duchatelet and the Belgian businessman appointed Peeters in his stead.
With a new-look side, the south east London club have beaten pre-season promotion favourites Derby, Wigan, Watford and Norwich so far in 2014-15.

"It is a tough competition and anything can happen. That is a lesson we need to tell our players," Peeters said.
"We needed to make progress compared to last season, because if you struggle until nearly the last game you need to get other things into your game plan.
"We did brilliant in preparation [pre-season] although the results were not brilliant.
"I think everybody is enjoying this environment and there is a good flow around the team. At this moment we can't be more happy."
Peeters has warned his players not to be complacent ahead of the visit of Birmingham on Saturday.
"Everybody is going to come to The Valley, or if we go away, to beat us because everybody is talking about the 10-game unbeaten run.
"I don't want my players to give even 10% less. They need to give maybe a bit more."