Jayne Ludlow: Women's manager relishing Wales challenge
Last updated on .From the section Football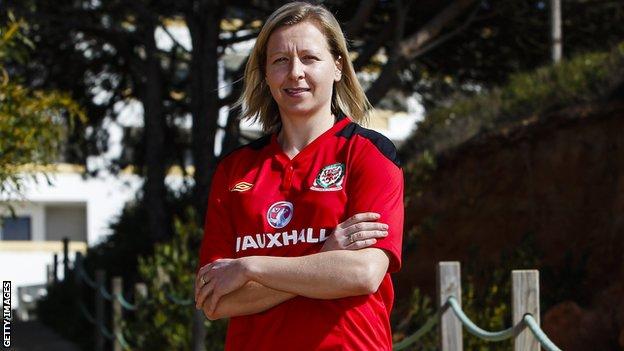 Jayne Ludlow says she is excited by the challenges ahead after being appointed Wales' new Women's team manager.
"I captained my country and enjoyed every minute of it," Ludlow said
"Now, for me, this challenge is even more exciting because I get to impact and affect a lot more people than just the ten I played alongside."
Rhondda-born Ludlow scored 19 goals in 61 appearances for Wales before retiring from international football in 2012.
The 35-year-old won nine Premier League titles, the FA Women's Cup six times and the Uefa Cup in 2007 with Arsenal.

Ludlow will remain as director of women's football and first-team manager at Reading until her contract expires at the end of November 2014.
During Matikainen's four year reign, Wales came close to reaching the play-offs for the 2015 World Cup finals, but lost 1-0 to Ukraine in their final group game.
Matikainen's side had also missed out on the Euro 2013 play-offs but Ludlow is is targeting a place at the next European Championship finals.
"We've finished third in two qualifying groups," said Ludlow, who also played for Barry Town Ladies, Millwall Lionesses and Southampton Saints.
"For me second gets us somewhere, we get to a play off and first gets us straight to the finals. That's what I want to go to.
"I'm hoping the majority of the players want to get there too.
"Do I want them to achieve something I never managed to as a player? Yes, and I want to push boundaries with regards the female game."