Robbie Savage on why the top four is a distant dream for Spurs
Last updated on .From the section Football

In his regular BBC Sport column, Robbie Savage looks at Tottenham's uncertain start under new manager Mauricio Pochettino as he prepares to take on his former club, this season's surprise package Southampton, at White Hart Lane on Sunday.
It is always the same with Spurs. Every season, the expectations at White Hart Lane are far higher than anything they can realistically achieve.
Breaking into the Champions League places is seen as their goal whoever is in charge but they have only managed that once and, realistically when you consider the competition, finishing sixth would be a good outcome for them.
To get any higher, they either have to invest a lot more in their squad, or one of the big teams has to have a bad season. Otherwise, they are just not good enough.
Tottenham are lacking in attack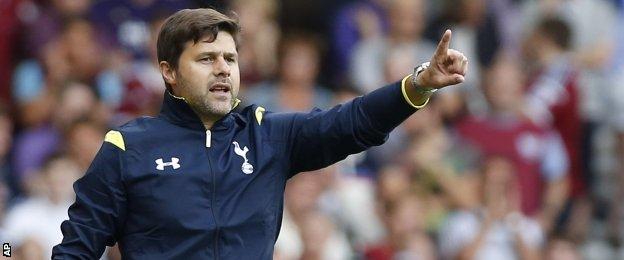 Spurs have not made a terrible start under Pochettino, just an average one.
But the pressure is on him to deliver a convincing performance when his old side Southampton come to north London on Sunday, and I am not sure his new team can do it.
Saints were meant to be this season's crisis club after losing their manager and most of their best players in the space of a few weeks - I certainly did not see their good start coming and I tipped them to struggle.
I don't think Ronald Koeman's side will stay near the top of the table for very long but, with six wins in a row in all competitions, the momentum is with Southampton at the moment. It was the same this time last year when Pochettino was in charge and they won five of their first eight league matches.
After going four league games without a win, Pochettino must be wondering how he can build up a similar head of steam with Spurs.
Arguably Tottenham's best performance of the season came against Arsenal last week when they played a containing game at Emirates Stadium and came away with a point.
Pochettino promised excitement and flair when he arrived but that has not happened yet.
Yes, they thrashed a poor QPR side 4-0 in August but that is the only time they have looked a force in front of goal. In their other five league games, they have managed only four more goals in total.
It is in attack where this Tottenham team is lacking the most - creating chances and taking them.
They do not have quality or strength in depth with their strikers and I think Pochettino knows that already.
Shots few and far between for Spurs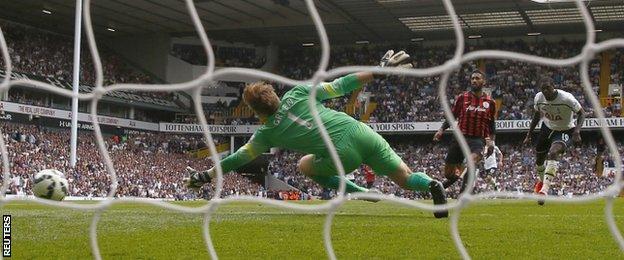 Emmanuel Adebayor has only got one goal from six Premier League starts this season but his place does not seem in danger - he has played 512 out of a possible 540 minutes in total.
Tottenham's other strikers, Roberto Soldado and Harry Kane, have played only 39 minutes of Premier League football each, all of it after coming off the bench. Between them they have managed one shot at goal, from Soldado, which was his team's only effort on target in their home defeat by West Brom.
I like 21-year-old Kane, who is not quite ready to start league games yet, but the fact is he or Soldado would probably not make much difference at the moment if they were playing regularly instead of Adebayor.
It is no surprise Spurs are relying heavily on their midfield for goals, with Nacer Chadli top scorer on four.
Tottenham strikers in the Premier League 2014-15

Player

Adebayor

Soldado

Kane

Starts

6

0

0

Sub

0

2

3

Minutes

512

39

39

Shots

10

1

0

On target

6

1

0

Goals

1

0

0

Data: Opta
A lack of goal threat from their striker is nothing new for Spurs because it was the same under Andre Villas-Boas at this stage of last season.
Back then, playing in a 4-2-3-1 formation, they had wide men in Andros Townsend and Aaron Lennon who would cut inside and try to shoot rather than cross for Soldado, who had next to no service in the middle.
Under Pochettino, who favours the same formation, their problems breaking down teams and giving their strikers service remain. Spurs are just not making enough shooting chances.
Despite having plenty of possession in every league game so far - apart from that draw with Arsenal where they saw only 31% of the ball - Tottenham have managed an average of only just over seven shots per game, the third-lowest total in the top flight behind Aston Villa and Leicester.
Tottenham in the Premier League 2014-15 (and ranking)

Passes

Av. possession

Shots

On target

Goals

3,110 (6th)

55.85% (5th)

43 (18th)

21 (=13th)

8 (=10th)

Data: Opta
Scoring first was always important to Pochettino at Southampton - in the 18 league games where they fell behind last season, they went on to lose 12 of them and did not win any. But now scoring at all is becoming an issue.
Part of the problem is that, in midfield, this Tottenham team is still settling down.
Etienne Capoue, as one of the defensive midfielders, and Chadli, as part of the attacking trio, have established themselves as regulars and impressed, but Pochettino is still trying to get the balance right between defence and attack.
He only took charge at the end of May, so I can also understand the argument that it is taking time for his players to adjust to his high-tempo, pressing style which was so effective for Saints.
The Europa League will not be helping with that, even though Pochettino fields a virtually entirely different team for those fixtures.
Playing in and travelling to those ties means less opportunity to work with his players in training, which was something Pochettino clearly did with some success at Southampton.
I am sure they will improve, but it might take him more time to make a difference at Spurs than it did at St Mary's - and the top four still looks a long way off.
Saints show how to provide striker service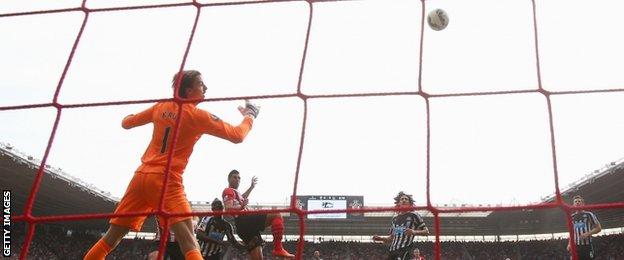 Southampton's strength under Pochettino was their defence and, in that sense, nothing has changed since Koeman has replaced him, despite the loss of so many key players.
Saints have conceded just four Premier League goals, fewer than any other top-flight side this season. They also allow the opposition very few shots, but they are far more than just a defensive-minded team.
Best Premier League defences 2014-15

Shots conceded

On target faced

Goals conceded

=1. Arsenal, Southampton (48)

1. Stoke (12)

1. Southampton (4)

3. Liverpool (57)

2. Southampton (17)

2. Stoke (5)

4. West Brom (60)

3. Man City (18)

=3. Swansea, Sunderland (6)

Data: Opta
Going forward, Koeman puts less emphasis on possession than Pochettino did but, on average, his side have played as many passes and had as many shots per game this season as they did in the previous campaign under their old manager.
Southampton in the Premier League (and rank)

Season

2013-14

2014-15

Average possession

58.96% (1st)

54.01 (9th)

Passes per game

515 (5th)

516 (8th)

Shots per game

10.4 (8th)

10.5 (7th)

Data: Opta
They remain comfortable on the ball and Koeman has already shown he is flexible tactically, with an example being the way Morgan Schneiderlin has switched between playing an attacking or defensive role in midfield.
As well as being solid, the key to their early success has been working out how to get the best out of their new striker Graziano Pelle, and supplying him with the service he needs.
Premier League

Most shots

On target

Goals

1. Graziano Pelle (19)

1. Diego Costa (15)

1. Diego Costa (8)

2. Diego Costa (18)

2. Sergio Aguero (10)

2. Ulloa (5)

3. Sergio Aguero (16)
=3. Graziano Pelle, Raheem Sterling (9)
=3. Sergio Aguero, Saido Berahino, Nacer Chadli, Graziano Pelle (4)

Data: Opta
Pelle has had more shots than any other Premier League striker, including Diego Costa, and has scored four goals, including his spectacular strike against QPR last weekend. Not a bad start to his first season in England.
Southampton's aim is not a top-four finish, but to try to beat what Pochettino achieved when he took them to eighth place last season.
Their old manager has bigger ambitions but his first target is probably along similar lines.
Robbie Savage was speaking to BBC Sport's Chris Bevan