Women's World Cup 2015: Canada criticised in pitch dispute
Last updated on .From the section Football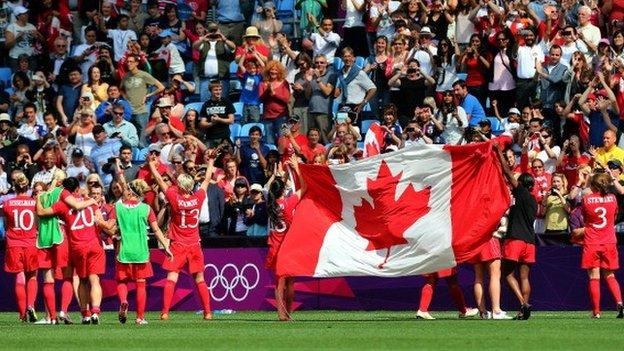 A former top Canadian footballer has criticised the hosts as the row over synthetic pitches at the 2015 Women's World Cup escalated.
"As a citizen I expect more from my country," said Carrie Serwetnyk.
The Canada Soccer Association and world governing body Fifa are being sued by 50 players who claim using artificial surfaces amounts to sex discrimination.
Fifa told BBC Sport it has "not been officially contacted on the matter" and could not comment.
And the CSA said in a statement: "Our lawyers will be reviewing any and all applications or information related to this.
"We will refrain from any comment until there has been a thorough review."
Fifa women's player of the year Nadine Angerer said she was worried about the increased risk of injuries.
"It totally changes the game," said the German goalkeeper. "It's not fair that our game should be changed."
Legal proceedings have begun against the CSA and Fifa at the Ontario Human Rights Tribunal.
Striker Serwetnyk, the first female to be inducted into the Canadian Soccer Hall of Fame, said players were angry that women were being treated differently from men, with all previous World Cups played on grass.
"It's incredible we are hosting the World Cup but it's a real shame we can't put on the best tournament worthy of top female athletes," said the 49-year-old.
Artificial pitches: Pros & cons
Pros:
Cost-effective. Artificial pitches keep in condition longer, and can be used for training and matches
Cons:
Fears over increased injuries and contrast in playing surfaces. For the World Cup, women believe they are being treated differently to men
World Cup venues:
Vancouver, Edmonton, Winnipeg, Ottawa, Moncton, Montreal
"This is the biggest event in history for women in our country and you would think they ought to be spending a few million dollars on it."
A Fifa executive has previously insisted Canada was the best choice to host the tournament.
Attorney Hampton Dellinger, representing the players, said the tribunal had asked both organisations to respond by Thursday.
He said it would cost the authorities between $2-3m (£1.2m-1.8m) to install grass pitches.
Despite their anger, the players said there were no plans at this stage to boycott the event.
"Our focus right now is on the lawsuit, none of us talked about anything beyond that," said Angerer.
Serwetnyk added: "Women would play on a field of glass and nails for the World Cup, they are so spirited, dedicated and mentally tough. That's the problem. We just know women would step up."