Europa League: Celtic win built on rock-solid keeper Craig Gordon

By Tom English
BBC Scotland at Celtic Park
Last updated on .From the section Football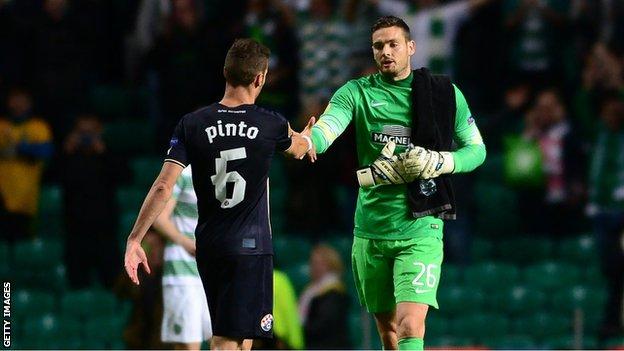 European football lite, perhaps, but this was a weighty occasion all the same.
Depending on your viewpoint, Celtic Park was either half full or half empty for the visit of the Croatians, but what was beyond dispute was that it was loud and, at the end, it was a thoroughly relieved place.
In so many stadiums where this competition is played the vibe will be underwhelming, but not here. Nobody would have mistaken it for a Champions League night, but there was an edge to proceedings because the game was so open and so frenetic.
It was madcap at times. The Keystone Cops with a football at their feet. Ronny Deila will be thrilled with , but the manner of it might leave him a little cold. Celtic were over-run for pretty much the entirety of the second half. They invited Dinamo on to them and only barely got out alive.
That was the nuance. The bottom line, however, was a win. And a precious win.
In the context of their Europa League group, this was a heavyweight night for Deila's team. The fact that it was in jeopardy right to the end only added to the atmosphere, the sense of dread that a draw might be snatched from the jaws of victory - again.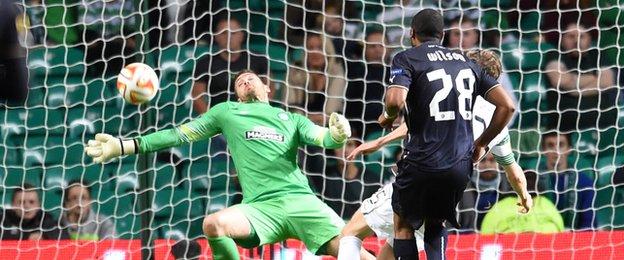 It was a big win, but hardly a big performance, with one outstanding exception. Craig Gordon was once again the difference, just as he was against Salzburg last month. The Croatians could have been hammering away at his goal for half the night and they might still not have beaten him.
Gordon is a signing to rank with any of the stellar captures at this club in recent years; an outrageous capture. For the princely sum of zero pounds, Deila has a world-class goalkeeper who is quite obviously back to his best. A colossus, no question.
This might be the second-rate tournament in Europe but as Celtic came under the cosh amid wave after wave of second-half Dinamo pressure, the tension was unmistakeably first class. Celtic threatened to obliterate their own victory with panicky defending and a wastefulness in possession, but they survived.
They threatened only fleetingly and then busied themselves with the job of protecting their own goal. They worked hard and they'll have been tired men by the end of it, physically and mentally.
How we saw only one goal - a clinical thing of beauty orchestrated by Anthony Stokes and Kris Commons - is a question that could puzzle the biggest boffin in the game. Gordon's brilliance explains part of it, but not all of it. Celtic had chances of their own and didn't take them. They weren't in the same league as Dinamo in profligacy terms but they could have scored more.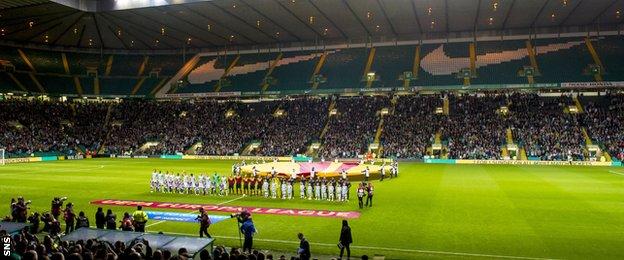 It was that kind of night.
The lone goal went in on nine minutes - a piece of opportunism that wouldn't have been out of place had it settled an illustrious Champions League contest - but chances flowed all night, some nicely carved out, others the product of hapless play from both sides.
If this was a boxing match then you would say that the pugilists went toe-to-toe for the entire evening, but it was a fight where so many opportunities were created and so few blows were landed.
Dinamo will go back to Zagreb in a state of utter frustration and confusion. They missed a simple header right in front of goal, they rattled a crossbar, they forced a wonderful flying save from Gordon and then fluffed a glorious one-on-one with the goalkeeper - Gordon again denying them.
And all that lot was just the work of one man - Wilson Eduardo.
The visitors had Celtic on the ropes for much of the second half, but pounded away to no avail. It was almost ridiculous. Mountains of possession and territory and no breakthrough. And for that, they will curse the Celtic goalkeeper's name, just as Salzburg cursed it.
Gordon's saves are one thing, but his authority is another part of his make-up. He is the epitome of composure, a rock in that storm that came blowing Celtic's way in the second half.
Eduardo was a beaten attacker at the end. So, too, Marcelo Brozevic and El Arabi Hilal Soudani, the pair of them seeing their big moments snuffed out by Gordon's alertness. Deila will like the look of the Europa League table but he won't be fooled by the story behind it.
Celtic continue to give up way too many chances in these European games - the same sin that cost them their place in the Champions League despite having two cracks at it.
This was a pleasing win for Deila, though. Flawed and with questions to ponder, but probably his best day yet.