Aaron Ramsey: Arsenal & Wales midfielder faces longer absence
Last updated on .From the section Welsh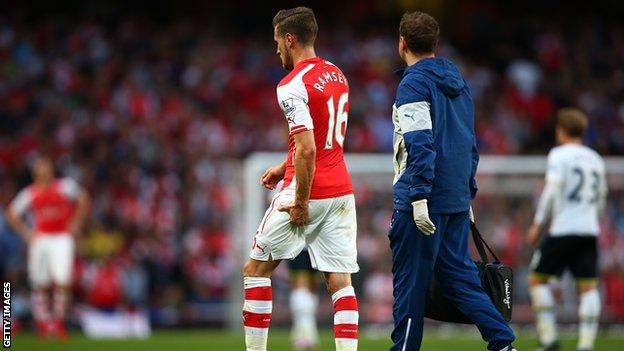 Wales midfielder Aaron Ramsey's hamstring injury could be worse than first expected.
It was thought the Arsenal player would be sidelined for up to a month, ruling him out of Wales's Euro 2016 qualifiers with Bosnia-Hercegovina and Cyprus.
But BBC Radio Wales understands that Wales fear the 23-year-old may be out for two months and also miss the 16 November trip to Belgium.
Ramsey was injured in Arsenal's 1-1 draw with Tottenham on 27 September.
After limping out of that Premier League game in the first half, he missed the 4-1 Champions League win over Galatasaray on Tuesday.
Before that game, Gunners boss Arsene Wenger said: "To be generous with time, let's say four weeks. If all goes well, three. After the international break hopefully he will not be far away."
Wenger reiterated that view at a Friday morning press conference, saying: "I've been told he could be out for three to four weeks, so I count four."
But some newspapers have reported that Ramsey could be missing until December.
Ramsey, who scored 18 goals last season and has three in this campaign, was already ruled out of Sunday's London derby at Chelsea.
He could miss a further six Premier League games, including the 22 November home clash with Manchester United, plus three Champions League group games.
Ramsey missed three months of last season after injuring his left thigh against West Ham on Boxing Day 2013.
Former Wales forward Ian Walsh, who won 18 caps for his country and scored seven goals, said: "Everybody is being very careful here not to promise too much too soon.
"Hamstrings are so delicate that if you just tweak your hamstring then it could be at least 10 days or two weeks out.
"But if you've pulled your hamstring more severely then it can be anything up to 12 weeks sometimes, because you can't rush a hamstring coming back.
"If you start to mess about with that type of injury, you'll only come back and pull it again and then you could be out for a lot longer."