Manchester United: Sporting reveal Marcos Rojo sale 'pressure'
Last updated on .From the section European Football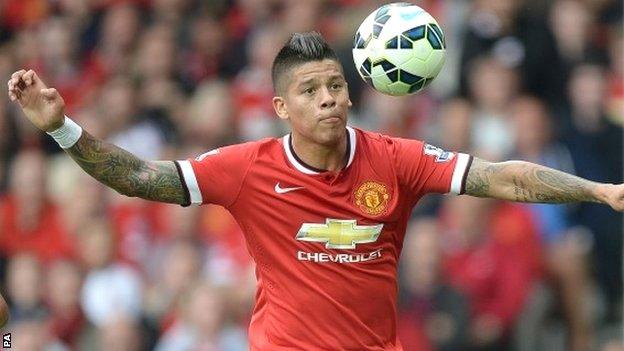 Sporting Lisbon were under pressure from outside influences to sell Marcos Rojo to Manchester United, says Sporting president Bruno de Carvalho.
De Carvalho says third-party owners attended meetings, leading Sporting to think they were United officials.
"We did not want Rojo to leave. He was an important player for us," he told the BBC World Football Show.
Argentina World Cup defender Rojo, 24, who joined Sporting in 2012, signed for United in the summer for £16m.
De Carvalho added: "The pressure was so big, they [the third-party owners] started to speak to the clubs and come here to the meetings.
BBC Radio 5 live sports news correspondent Richard Conway
"Supporters of third-party ownership (TPO) argue it allows clubs to buy players they could not otherwise afford. Fifa's decision last week to ban the practice could have far-reaching consequences for many leagues where TPO is rife and clubs rely heavily on outside investors to assist them in purchasing players."
"The directors thought they were people from the clubs because they were speaking in English although they were Portuguese. They believed it was a person from a club but it was a person from the funds."
United told BBC Sport that it was an issue for Sporting's president and the third-party group, and that the Premier League club had no comment.
Third-party ownership (TPO) is banned in Britain, meaning any Premier League teams signing such players need to buy out any other parties.
On transfer deadline day in 2013 United were attempting to buy Athletic Bilbao midfielder Ander Herrera and three men, who United say were not representing them, turned up at the Basque club to try to complete the deal. The Old Trafford club eventually signed the Spain international this summer.
Last week world governing body Fifa agreed to ban TPO, although a transitional period of up to four years is expected to take place before it comes into effect.
TPO is common in Europe and South America, where investment companies take a stake in the economic rights of players. A KPMG report last year indicated that about a quarter of players in the Portuguese league had TPO.
De Carvalho, who took over at Sporting 18 months ago, was delighted with the Fifa ruling.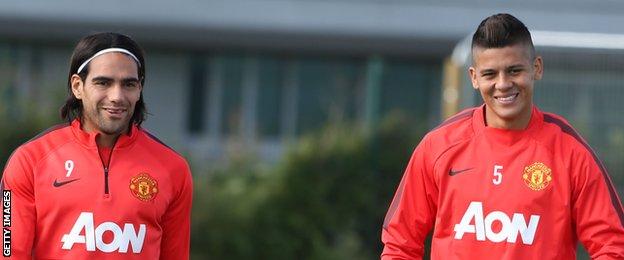 "We don't know where the money comes from. We don't know who are the people," he said.
"The problem is we created a monster, a monster who started to come to football. Without regulations, they don't help the club. They only give them one, two, three years of surviving but after that they are dead.
"Fifa understand people all over the world don't want that menace in football. They are almost in every club right now. They are breeding all over the clubs.
"Clubs need solutions and there were people who came and said 'I have the solutions for all your problems', and they don't understand they are killing the game."
De Carvalho does not believe that third-party ownership helps some smaller teams, specifically in Portugal where it has been common, to have world-class players.
He cited Radamel Falcao's loan move from Monaco to Manchester United and Eliaquim Mangala's £32m move from FC Porto to Manchester City as reasons it favours larger clubs.
"If you say the funds are very good for the little teams, let us see where are the players of the funds now? Falcao and Mangala - where are they? In big clubs. So they are helping who? It's very simple to see they are not helping the little ones as they are still little. The big ones are bigger.
"People are very happy to sell a player for £50m, but for the club it is £1m or £2m. And they paid more than that in the salary of one year. Almost all the time you lose money. This is mathematics."
De Carvalho on his decision to sit on the bench sometimes
"There is no question about who is the coach. The first goal of sitting on the bench is seeing who is connected to our project, second to give 100% support. No-one can be a good leader if they are not in the right place. The president should not be drinking wine or eating, he should be working - that's the difference between me and the other ones."
You can listen to the show, which also profiles Malmo and FC Santa Claus of Lapland, on BBC World Service.