Assem Allam's Hull City threat 'empty', says fanzine editor
Last updated on .From the section Hull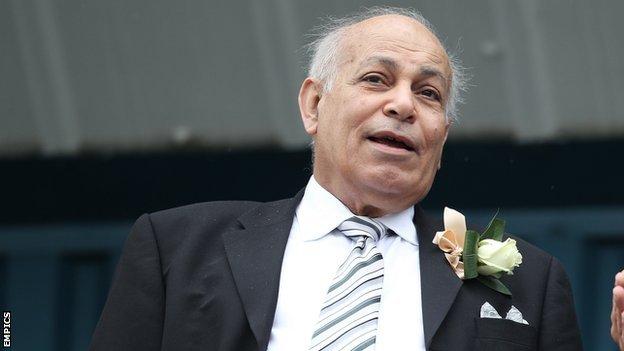 Hull City fans say they are not concerned by Assem Allam's "empty" threat to stop spending money unless he can change the name of the club.
Owner Allam wants to rename the Premier League side Hull Tigers and told Football Focus he will not continue to fund them unless he can do so.
But supporters have dismissed the 75-year-old Egyptian's vow.
Andy Dalton, editor of the Amber Nectar fanzine, said: "It's an empty threat. It's desperate and sad to see."
Allam, who bought the club when they had financial difficulties in 2010 and says he has since spent more than £70m, lost his original case to switch the name in April and has launched an arbitration against the decision, made by the Football Association.
He believes such a change would help the Yorkshire club "go global".
"That [the spending] stops now. It has to stop," Allam added. "I won't pay out if I cannot create income. That is called 'throwing money at it'."
But Dalton says fans are not concerned by 75-year-old Allam's comments.
"He has made threats like this before," he said. "Previously he said he was going to move the club to Melton (near Hull) if he couldn't buy the KC Stadium. I don't think anyone is terribly troubled by it."
Dalton added that the latest outburst will not help Allam, who says he has put the club up for sale.
"It's sad because fans opinion of him seems to go down every time he says something," he said. "People who previously supported him have turned against him following his latest comments."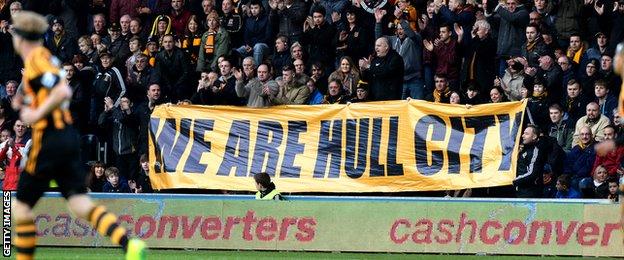 Mark Gretton, from campaign group City Till We Die, was also relaxed about Allam's vow.
"The club is up for sale so I would be very surprised if Mr Allam was to weaken it while he is looking for a buyer," he said.
"I was surprised that he has made these comments with the arbitration process still going on. However, Mr Allam has a habit of telling the media his feelings so I am not totally surprised."
A verdict from the arbitration is expected in November.