Ross County: Lewis Toshney aims to be worthwhile 'gamble'
Last updated on .From the section Football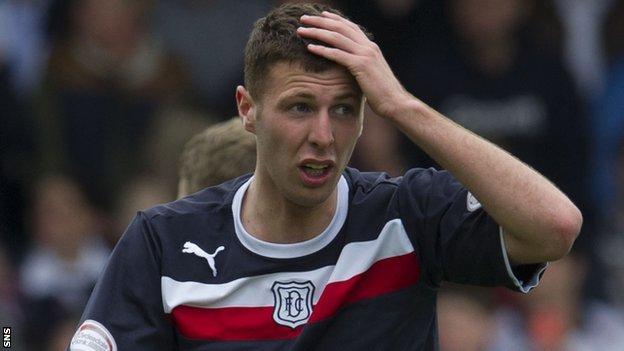 Lewis Toshney hopes to pay back Jim McIntyre after the Ross County manager plucked him from the football wilderness to star against Dundee.
"I am just delighted the gaffer took a chance of me," said Toshney.
"And it was a gamble because I've not played in that long. I only trained for two days and he decided to sign me."
Toshney's injury problems started after he returned to Celtic after a loan spell with Dundee and a routine knee operation led to constant swelling.
"It has been an absolute nightmare," Toshney told BBC Scotland. "I was seeing different specialists all over Scotland and I was down in London and the conclusion was that a bit of talc from the gloves during the operation went into the knee and just set up a reaction."
The problem has settled down following regular medication and he is hopeful that he can now play enough football to convince McIntyre to sign him beyond the end of his current, short-term contract, which takes him up to the end of January.
"I just want to settle down and play football and I would be delighted to sign for longer with Ross County," said Toshney, who believes the side can now build on that first victory when they face Inverness Caledonian Thistle in Sunday's derby.
"Everything is going well. I'm training every day and knee's totally fine. I just need match fitness from the games.
"I hope I can pay the gaffer back with some good performances."
McIntyre said he had long been aware of the talents of a player who played for Scotland at under-21 level.
"First and foremost, Lewis Toshney is a good player and a player I've admired for a number of years and that was the reason we brought him here," said the manager.
"He's had a long-term injury, which has been well-documented, so in that way, it's a bit of a gamble, but when the transfer window is shut, you have to take those gambles.
"But, ability-wise, we believe there's no question about Lewis."
In sacking Adams, the club stressed that it was looking to return to being a community club.
Asked if signing Dundee-born Toshney was an indication that he would end his predecessor's influx of foreign players, McIntyre said: "It doesn't matter what nationality they are.
"If they are a good player and fit within the structure of the club then we'll look to bring them in."