Aston Villa target Europa League place, says chief executive
Last updated on .From the section Aston Villa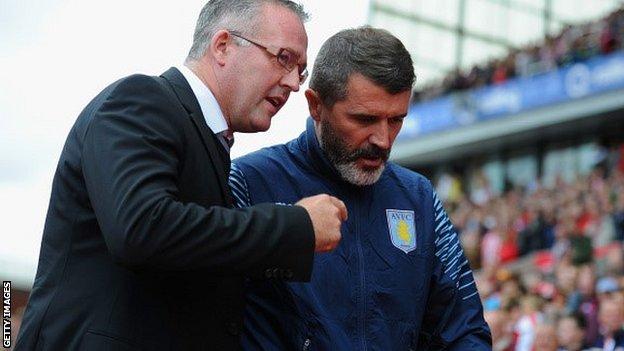 New Aston Villa chief executive Tom Fox believes a Europa League place is a realistic goal for the club during their rebuilding process.
Villa, currently sixth in the Premier League after three victories in their opening six games, have battled relegation in the past three seasons.
The club last played in the Europa league four years ago, losing to Rapid Vienna in the qualifying round.
"We should be perennially sixth, certainly in the top half," Fox said.
Who is Tom Fox?
Tom Fox replaced Paul Faulkner, who left Villa Park in July. The American had been with Arsenal as their chief commercial officer since 2009 and has more than 25 years' experience in sports marketing.
Fox, who was Arsenal's chief commercial officer for five years, said it was not a "wild dream" and said the club also had plans to boost its commercial revenues.
The fifth and sixth place teams in the Premier League qualify for the Europa League competition, with the top four playing in the Champions League.
"This is a club who used to have that (Europe) as a regular occurrence and it would be fantastic to bring a mid-week European match back here," Fox told the club's official website.
"It's not easy, it's going to be a challenge. We have to put a solid plan in place around how we make football decisions and put a solid plan around how we build and grow those commercial revenues.
"I see how we can do that and it makes sense to me. It's not a wild dream, it's a journey we can go on."