Garry Monk: Swansea City are an easy target for referees
Last updated on .From the section Football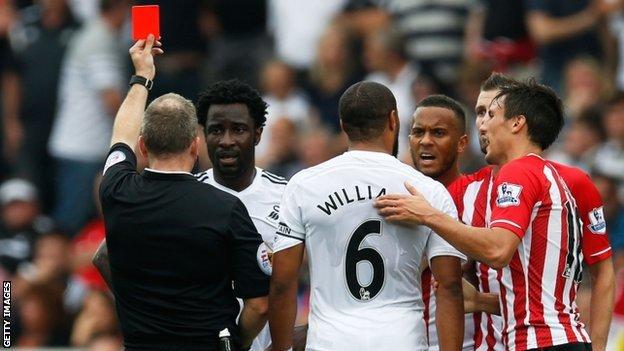 Manager Garry Monk believes his Swansea side are "an easy target" for referees and are not being treated fairly.
"I just feel at this moment in time it is far too easy to book a Swansea City player," said Monk.
"I have analysed every single foul we have committed this season and every foul against us, and in terms of the consistency level it does not add up."
Since winning their first three Premier League matches of the season, Swansea have only picked up one point in their last three games.
Swansea's six 2014-15 league games

Sunderland 0-0 Swansea
Swansea 0-1 Southampton
Chelsea 4-2 Swansea
Swansea 3-0 West Brom
Swansea 1-0 Burnley
Man Utd 1-2 Swansea
Before their home game against Newcastle on Saturday, Monk held talks with Premier League referee Chris Foy, former official Alan Wiley and John Walton, of the Referees' Association.
"We are getting punished for everything but some teams come here and they commit five or six fouls straight away," said Monk.
"Their plan is to be physical and that is the whole game plan, and when we stand up for ourselves we get punished for it.
"I don't know why it is, we try to play good football while other teams think the best way to stop that is to be physical and get in our faces.
"Maybe we are too much of an easy target."