Joey Barton: Lack of spine or character in the Arsenal team
Last updated on .From the section Football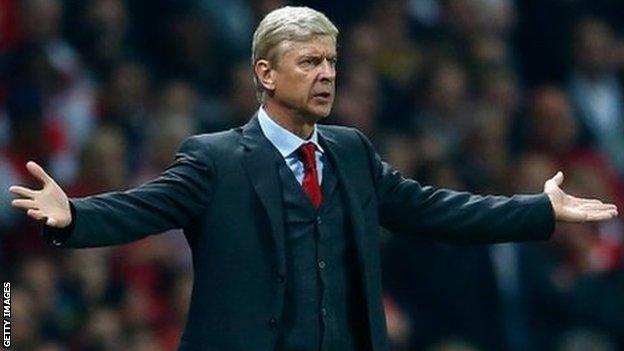 QPR midfielder Joey Barton says there is a "lack of spine or character" in the current Arsenal side.
Manager Arsene Wenger marks 18 years in charge of the Gunners with a London derby at Chelsea on Sunday.
Commenting on their poor away record against top Premier League sides, Barton told BBC Radio 5 live that rival managers "had Wenger on toast".
"In big games they get under his skin and work them out tactically," said Barton.
Arsenal, who last won the league in 2004, have won just once - and lost 16 times - in their 20 away matches against sides who have finished in the top five in the past five campaigns.
Last season at Stamford Bridge, in Wenger's 1,000th game in charge, Arsenal suffered a 6-0 thrashing by Jose Mourinho's side.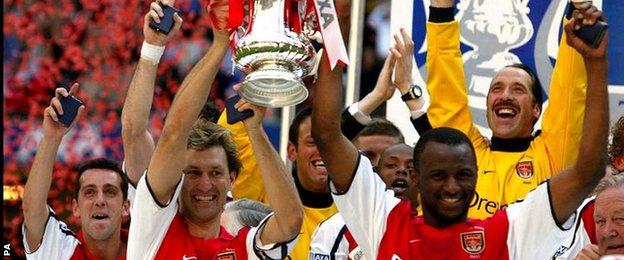 Barton said: "That record is probably the reason they haven't won a title for years.
"Nobody can criticise Wenger on the job he has done to build the infrastructure at that club to a fantastic level. But it's probably been sacrificed at the cost of trophies and challenging at that level.
"You think of his teams of [Emmanuel] Petit, [Patrick] Vieira, [Tony] Adams, [Martin] Keown and all those kind of warriors. You look around the Arsenal dressing room now, the people who would win you those kind of games against the top four clubs - they don't really have an abundance of them.
"You hear lots of stories about lads who have played for Arsenal and one of the things that comes out of the Arsenal dressing room is the change in culture from his first sides that went onto win the league and titles...the Invincibles team. The culture he now adopts is developing players from within or young players they want to develop, rather than going out and buying ready made products.
"At the latter stages of a season they come unstuck because of that lack of - I hate to say it - a real lack of character or spine within the team."
Barton, who has also played for Manchester City, Newcastle and Marseille, believes Wenger discourages his players from acting as leaders.
"One player told me that Arsene doesn't like anybody raising their voice at half-time if it's not going well. He almost frowns upon it," said Barton.
"Sometimes you need someone to galvanise and that might be a shouter and bawler. It may not be Arsene's way, but I think they lack that.
"Psychologically, the managers of these big clubs are usually top managers and I think they've had Wenger on toast. Sir Alex Ferguson had him on toast in the end and Mourinho's got him on toast now. That's what costs them."