Ross County look to Manchester City for inspiration
By Clive Lindsay
BBC Scotland Sport
Last updated on .From the section Football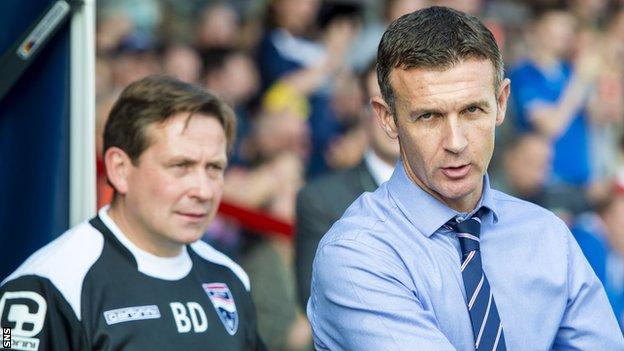 The population of Ross County's catchment area could fit into one stand at the City of Manchester Stadium with room to spare.
But that will not stop the Dingwall outfit looking to emulate Manchester City as they aim to live up to their own billing as "more than just a football club".
The Staggies, with an average attendance of 3,800 last season, pale into insignificance in terms of finances when compared to the millionaire set in sky blue.
"But, in terms of our general approach to being a community club, our chairman, Roy MacGregor, really bought into what he saw on a trip down to, believe it or not, Manchester City, a huge club who are re-inventing themselves as a community club," County director of operations Peter Swanson told BBC Scotland.
"And, although we are a miniscule club compared to them, Roy thought we have lost that again."
Thus the battle for the heart and soul of the Scottish Premiership club was lost by Derek Adams as the long-serving manager was sacked last month.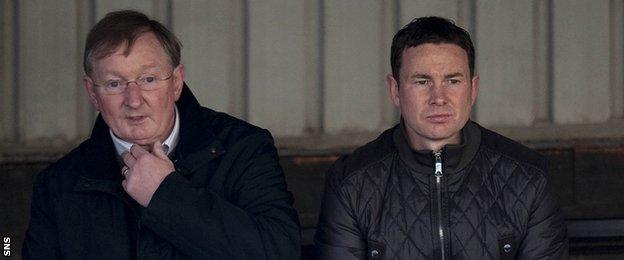 While the Aberdonian and his director of football father, George, basked in the praise for leading County to Scotland's top flight for the first time, MacGregor had a niggling feeling that the club had lost touch with its roots in the process.
The crunch came with County at the foot of the table after four straight defeats, although the club stressed that the decision had to do with more than mere results.
"He had a stance on football and what should happen at the club. The club had another stance," said Swanson of Adams while stressing that he was not being critical of the former manager's strongly-held opinion.
In had come Swanson, the owner of a local glass and renewables firm and IT specialists who previously spent 10 years as a County director, and former police chief superintendent David O'Connor as a director of stakeholder liaison.
After the exit of himself and his father, Adams had complained that "bouncy castles and face painting" outside the stadium was diverting effort away from the first team.
"That's not just what it was about," insisted Swanson. "We have a children's zone now, so we want to get families here before the game, to build the excitement of a game and hopefully that carries through to the fans being a bit more vociferous in support of the team, excitement coming from the stand on to the pitch.
"But we're looking way beyond that. We are looking at how football and how Ross County can support the community.
"We have a sign out here that says 'more than just a football club' and that's what we say we are."
Swanson refuted any suggestion that County were looking to "down-size" after periods of hectic transfer-window activity.
"We are a hugely ambitious club," he said. "Some people say we sit in a small town and yet we're in the top level of football, but we enjoy having two clubs from the Highlands in the upper levels of football in Scotland and our ambition is to stay there and become an acknowledged club at that level."
Since leading County to the top flight three seasons ago, Adams earned a reputation for a recruitment policy that has created a squad of many nationalities.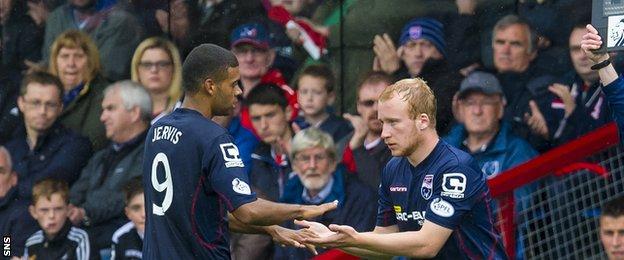 Swanson said it was up to new manager Jim McIntyre to decide whether to continue that policy or seek more British-based recruits, but did stress the need to develop local talent.
However, he agreed that the former Queen of the South boss was ushering in "a new dawn" and said: "Jim and his team have come up here with a different approach to the game and are also buying into the ethos we have here as a club.
"It's been really good. It has been refreshing, it's been invigorating and we're all looking forward to the prospects of starting over and building the club back to where we want to get it."
Swanson insisted that everything was geared towards re-establishing contact with the community.
"I think what we're trying to do really is future-proof the club," he added. "The community and engaging with younger people is very much to the forefront.
"We have staunch, loyal fans, but we want to get new fans in. We want to get families coming together, because that's where the club will be sustained.
"In an environment today where we compete in an entertainment industry as well as sport, we've got to actually have attractions before games and the whole experience of coming to games has to be extended beyond the hour-and-a-half."
Long-term, however, County's decision to axe Adams will be judged on the success or otherwise during an accumulation of 90 minutes in the years to come.
Peter Swanson was speaking to BBC Scotland's Jonathan Sutherland.