MOTD2 analysis: How crafty Chelsea upset Arsenal's rhythm
Last updated on .From the section Football

MOTD2 pundit Philip Neville expands on his TV analysis of how Chelsea exploited an old Arsenal weakness as they kept up their impressive start to the season with victory at Stamford Bridge.
As well as the way Mourinho set Chelsea up and how hard his players worked, I am talking about the little niggly challenges his side kept making, mainly off the ball.
They were just little things like shirt-pulls, shoves or clips of the heels which did not always result in fouls, let alone bookings, but still stopped or slowed down Arsenal's attacking momentum.
Frustration leads to loss of focus
You might think Chelsea were not playing by the rules but, actually, they were - which is why a lot of things that were happening at Stamford Bridge were not being given as fouls.
It is more like gamesmanship, and I would describe it as being cute and clever rather than cheating.
Alexis Sanchez often seemed to be the man who would get a nudge and I think Chelsea targeted him a little bit, because they obviously saw him as a threat.
They got men around him and, if one was jockeying for the ball, then another was tackling him or pushing him off the ball.
But Chelsea did it with the entire Gunners team, not just an individual. It was definitely a Mourinho tactic to disrupt their rhythm and upset them.
I have seen it happen before - the great Manchester United team that I was part of in the late 1990s and early 2000s used it as a tactic against Arsenal.
We would harass them, make tackles, let them know they were in a game and never let them have an easy time or find any flow in the game. It still seems to work now.
It has always been a weakness of Arsene Wenger's teams. They do not like physical contact and they do not seem to be able to handle it.
Exploiting that weakness and frustrating Arsenal was what Chelsea set out to do, and they knew by doing so they would get opportunities themselves.
Another difference between the two sides was in their mentality.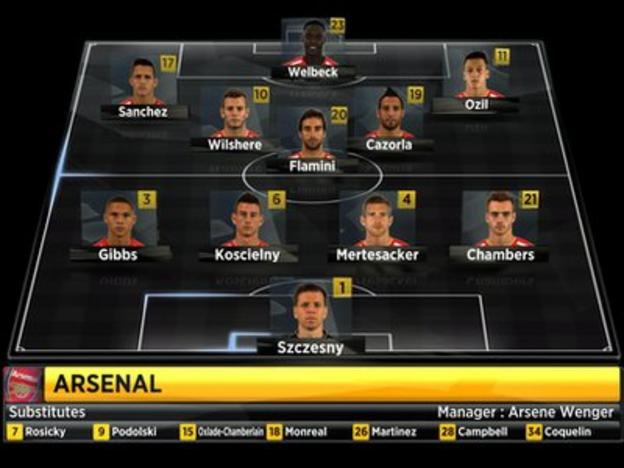 Arsenal had obviously worked hard on playing in a more defensive shape after their 6-0 drubbing at Stamford Bridge last season. They were much better at the back, but it was still not good enough.
They had to be hard to beat. Gunners fans might think 'well, we were' and, yes they had improved.
But, in games like that, every player in your team needs to concentrate completely on defending well and by that I mean be thinking about the defensive aspect of the game as much as trying to score.
That did not happen at Stamford Bridge and, when it comes to finding that focus on defending, I still do not see any improvement from Arsenal's attacking players.
No way through Chelsea's defence
Both goals that Arsenal conceded were down to lapses from individual players. For Chelsea's first goal, there was no way in the world when Eden Hazard picked the ball up that he should have been allowed to waltz through and win a penalty.
The reason that happened was a loss of concentration, and it was a similar story for Chelsea's second goal from Cesc Fabregas's ball over the top for Diego Costa.
Chelsea never let their centre-backs get exposed in the same way.
Despite Arsenal being the better side in the first 45 minutes and having sustained possession in the opposing half throughout the entire game, they never really got to any member of the Blues' back four.
Average position of Arsenal players vs Chelsea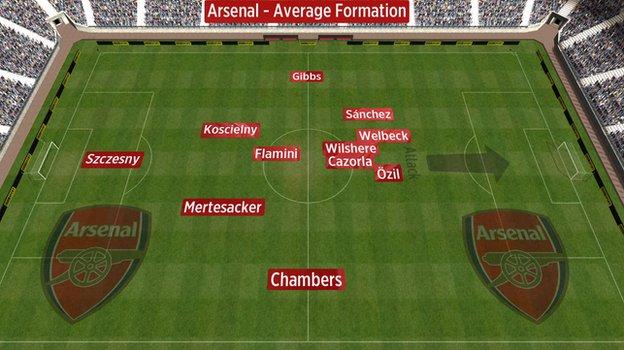 Alexis Sanchez, who was on the left, never got in a one-on-one situation with Branislav Ivanovic and Danny Welbeck, who was leading their attack in a 4-5-1 or 4-3-3 formation, never got down the side of John Terry or Gary Cahill.
To get the ball, both Sanchez or Welbeck had to go deep or go really wide, where they were being doubled up on by Blues players.
Alexis Sanchez touches vs Chelsea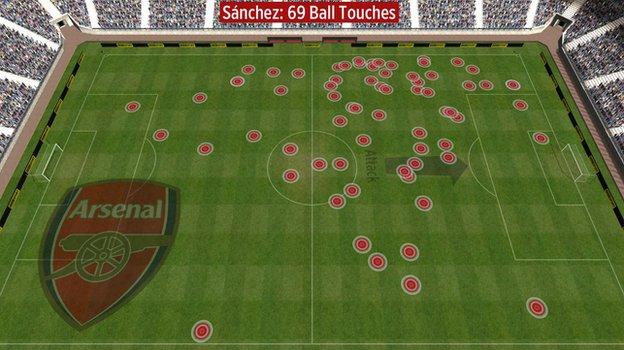 It meant that Arsenal did not manage a single shot on target in the whole game, which was testament to how well-organised Chelsea were.
Nemanja Matic did a fantastic job, again just sitting in front of his defence and protecting his centre-halves.
But he did not have do it on his own. Cesc Fabregas stayed deeper than usual and sat next to Matic.
Average position of Chelsea players vs Arsenal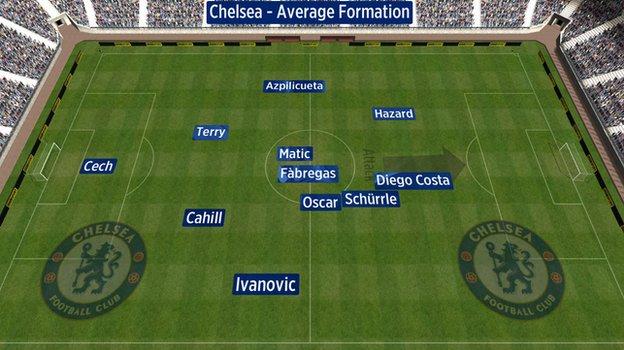 And the three players in front of them - Oscar, Andre Schurrle and Hazard - were swarming around the midfield putting constant pressure on Arsenal when they had the ball.
Diego Costa did it too. There is not one player in Chelsea's team who does not have a job to do defensively and, unlike Arsenal, there are no passengers when they do not have the ball.
Everybody has got that responsibility, which I think is why Eden Hazard had a lot of problems last season because he felt he needed special dispensation from defending.
Big Blues players produce the goods
Hazard has learned that if you are playing for a Mourinho team, you need to buy into his philosophy - which is to have everyone working as a defensive unit.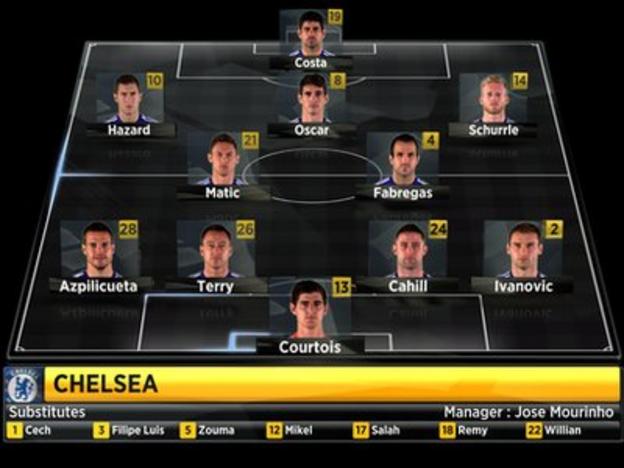 To beat Chelsea, you have to get through four layers of their team, and that starts with Diego Costa up front.
Costa put in a lot of defensive work on top of his goal. He only really got one chance all game, but he took it.
The reason they won the game was that, as well as being clever and well-organised, Chelsea had the quality to make and take their own chances too.
That was something their big players did, and it was another area where Arsenal failed.
Arsenal's Mesut Ozil is a fantastic player who had a superb game against Aston Villa recently but, if the Gunners are going to beat their rivals at the top of the table, then they need him to produce in those matches too.
Whereas Hazard, Fabregas and Costa delivered again for Chelsea, we are yet to see the same from Ozil in this type of fixture. He could not make a difference when it mattered.
It was the same, collectively, for the entire Arsenal side. When they got into the final third, they did not pose a threat.
And while Chelsea continue to adapt and find a way of beating teams, it seems Arsenal are never going to change.
They still need to learn that winning big games takes more than just playing beautiful attacking football.
The Gunners are getting better but they still need to be more devilish, show more desire and find the extra quality that it takes to win when it matters most.