Garth Crooks's team of the week: De Gea, Fabregas, Toure, Di Maria

By Garth Crooks
Football Analyst
Last updated on .From the section Football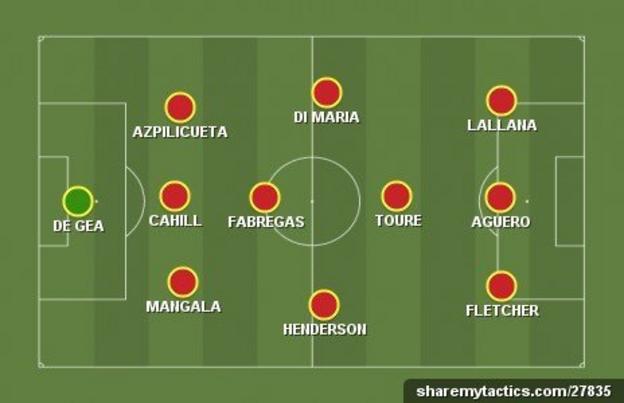 Chelsea march on at the top of the Premier League table, coming out on top in a feisty London derby with Arsene Wenger's Arsenal.
Their lead is now five points but Manchester City are giving chase with a hard-earned 2-0 win away to Aston Villa that required patience and some quality finishing.
Elsewhere, Liverpool got back to winning wins after three Premier League games without a victory and Mauricio Pochettino led Tottenham to a win over his former side Southampton.
Manchester United have stealthily climbed into the top four with a win over Everton, but things are looking less rosy for rock-bottom QPR whose goal difference is now -11 after a defeat by West Ham.
GOALKEEPER - David De Gea (Manchester United)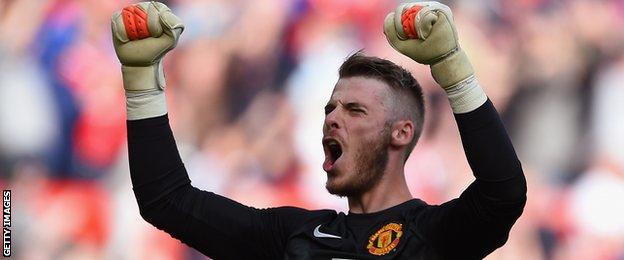 What a performance by David De Gea in Manchester United's win against Everton. He made a number of crucial saves which proved to be game-changing moments. Leighton Baines may not have struck his spot-kick as convincingly as he might but that was not De Gea's fault.
His save from Everton's Leon Osman in the dying minutes of a pulsating encounter was nothing short of world class and a match-winner to boot.
DEFENDER - Cesar Azpilicueta (Chelsea)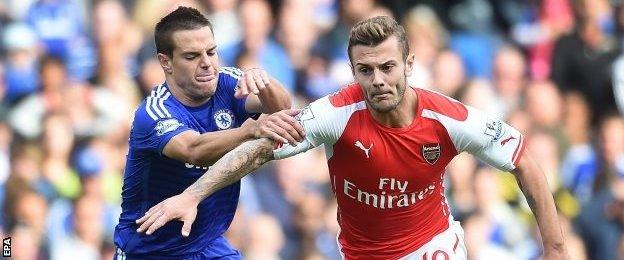 This performance by Cesar Azpilicueta was the most professional of the Chelsea back four against a resilient Arsenal.
He refused to get over-emotional in a fixture that was in danger of getting out of control at times.
It is a pity Arsene Wenger and Jose Mourinho could not show their players the same restraint on the touchline. Instead referee Martin Atkinson had to bring them to order like two errant schoolchildren.
DEFENDER - Gary Cahill (Chelsea)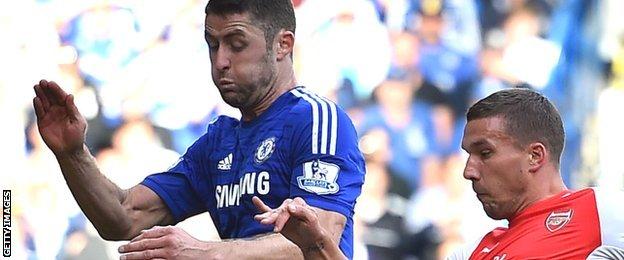 I thought Gary Cahill was fortunate not to get sent off for his first-half tackle on Alexis Sanchez but if a centre-back does not get physical every now and then, I think we need to know why.
The entire Chelsea back-line looks impregnable these days but it was Cahill who took the responsibility of handling Danny Welbeck's pace. He handled the in-form Arsenal striker exceptionally well.
DEFENDER - Eliaquim Mangala (Manchester City)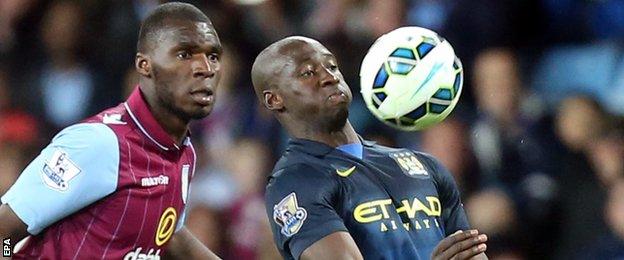 I could just as easily have selected Vincent Kompany. But his partner at the heart of Manchester City's defence recovered so well from his performance to forget against Hull that I selected Eliaquim Mangala.
City manager Manuel Pellegrini knows precisely what he's bought and stuck with the player against Aston Villa in a game they had to win to stay in touch with Chelsea.
Like his team-mate Martin Demichelis, Mangala might need time to settle into the Premier League. But he is going to be a force given time.
MIDFIELDER - Cesc Fabregas (Chelsea)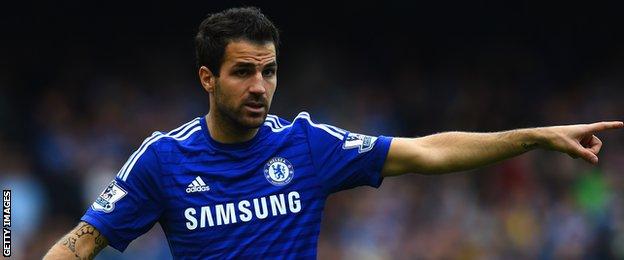 It must have been painful for Arsenal fans to see their former player have one of the best games of the season. His 40-yard pass that paved the way for Diego Costa to score his ninth league goal of the season epitomised his vision and artistry.
I said last week that Chelsea could go the entire Premier League season unbeaten. Fabregas's performance against the Gunners has only served to reinforce my view.
MIDFIELDER - Angel Di Maria (Manchester United)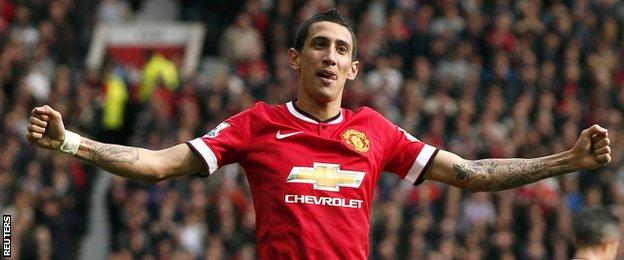 The set-up from Juan Mata for Angel Di Maria to stroke past Everton's Tim Howard and set Manchester United on their way to a 2-1 win was lovely. But the way the Argentine steered the ball around the keeper is quickly becoming his trademark.
Once again United have brought a crowd-pleaser to Old Trafford. The sense of expectancy each time he receives the ball reminds me of when Cristiano Ronaldo and Eric Cantona were playing for the club.
MIDFIELDER - Jordan Henderson (Liverpool)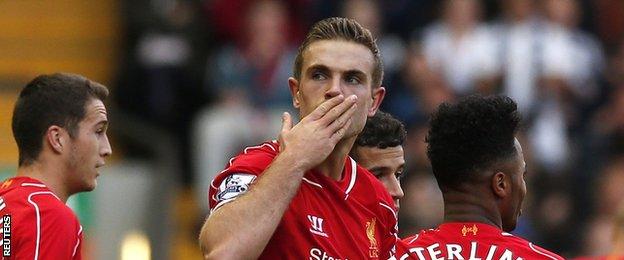 Jordan Henderson is a player who infects the game with his amazing capacity to cover the ground. Wherever the action appeared against a confident West Brom, Henderson was there making himself available to receive a pass or assist his team-mates in order to advance the play.
Another former Liverpool great Ian Callaghan had a similar style to his game, but it looks like Henderson - unlike Cally - is starting to develop a taste for goals. A good sign for Liverpool and England.
MIDFIELDER - Yaya Toure (Manchester City)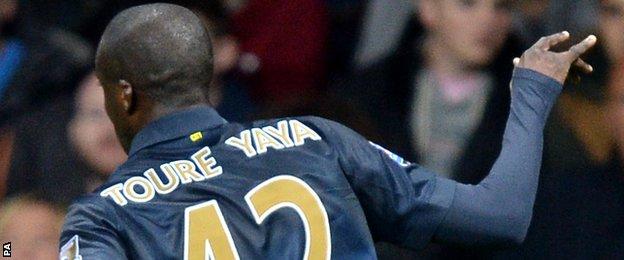 What a goal. Yaya Toure collected the pass from Fernando, navigated the ball with his right foot past four Aston Villa defenders and dispatched it with his left foot without breaking stride.
The big Ivorian has come in for some criticism lately. So, what courage by Manchester City manager Manuel Pellegrini to substitute David Silva, who appeared to be running the game at one stage, and place his ultimate faith in Toure to provide a piece of match-winning brilliance.
Now that's management.
FORWARD: Adam Lallana (Liverpool)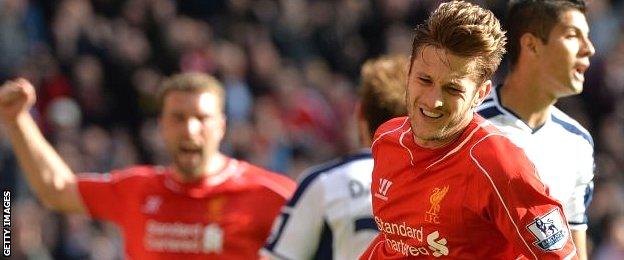 And about time! His first Liverpool goal and, boy, has this been a long time coming. The Reds, who have struggled lately, needed a big performance from the England international and his opening goal showed a touch of real class.
We know exactly what the former Southampton schemer is capable of, but the problem has been we've not seen enough of it for Liverpool.
His performance against the Baggies will give him a tremendous lift and shed some of the anxiety he may have been feeling on Anfield's big stage.
FORWARD: Sergio Aguero (Manchester City)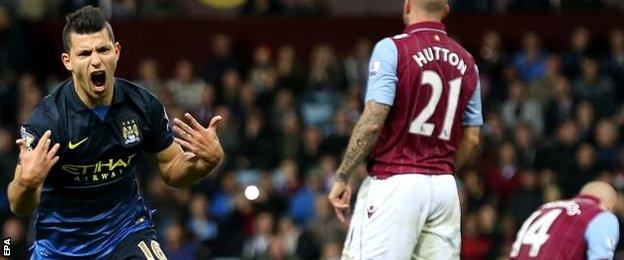 The Argentina striker might have had a hat-trick on another occasion but, regardless of the missed opportunities, he never stopped looking for that elusive goal and eventually found the net with a superb strike. It capped a wonderful performance.
I apologise to Papiss Cisse, who has scored four goals in three games and kept Alan Pardew's tenure at Newcastle intact. But it is not all about goals.
FORWARD: Steven Fletcher (Sunderland)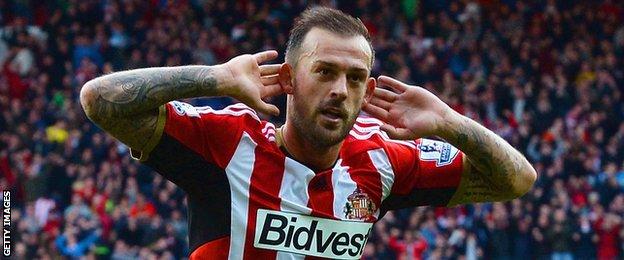 Steven Fletcher made Sunderland's first goal against Stoke for Connor Wickham with a lovely turn and cross but his movement and header to score his team's second was absolutely superb.
More intelligent movement from Fletcher allowed Wickham the space to exploit Stoke's stretched defence and return the compliment for the Scotland international's second goal. He is looking dangerous again.