Premier League: Mourinho and Wenger square-up, Man Utd fourth

By Phil McNulty
Chief football writer
Last updated on .From the section Football756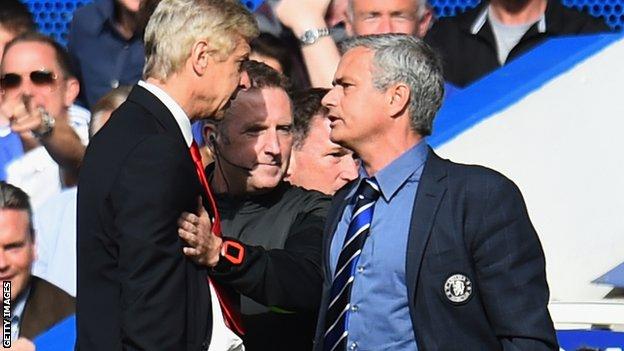 The technical area spat between Chelsea manager Jose Mourinho and Arsenal counterpart Arsene Wenger will claim the spotlight this weekend.
But of more significance to those inside Stamford Bridge will be the Blues' five-point lead at the top of the Premier League.
Should Wenger be even more concerned about his failure to pursue a deal for Arsenal old boy Cesc Fabregas, who looked a cut above anything the Gunners had to offer in Chelsea's 2-0 win?
And is something finally stirring at Old Trafford as Manchester United start the international break in fourth place after a narrow victory against Everton?
Mourinho v Wenger - a loathing that just does not stop
Chelsea's win against Arsenal did not simply give them a five-point cushion at the top of the table - it extended Mourinho's record of never having lost to Wenger to 12 matches.
The 2-0 victory makes it seven wins and five draws in Mourinho's favour in all competitions, and the personal antipathy between the pair resulted in physical confrontation at Stamford Bridge on Sunday.
Even Wenger's most fervent admirers - not to mention Mourinho's critics - must accept Arsenal's manager had no business being in Chelsea's technical area to debate the merits of Gary Cahill's reckless challenge on Alexis Sanchez.
A history of loathing
"I know we live in a world where we have only winners and losers, but once a sport encourages teams who refuse to take the initiative, the sport is in danger."
Arsene Wenger
in August 2005, talking about Chelsea's tactics
"He's out of order, disconnected with reality and disrespectful. When you give success to stupid people, it makes them more stupid sometimes."
Arsene Wenger
in November 2005, after Mourinho called his rival a "voyeur"
"He's a specialist in failure."
Jose Mourinho
refers to Arsene Wenger's lack of trophies in February 2014
"There are two technical areas not one. He was coming to my space. If it was to give an instruction to a player I say OK, but to press the referee to give a red card to an opponent is not fair. I don't think that is the image of Arsene Wenger as an advocate of fair play."
Jose Mourinho
reacts to Sunday's touchline spat with Arsene Wenger
And to make matters worse, there is clear evidence of the two-handed shove Wenger inflicted on Mourinho.
Mourinho reacted relatively mildly and Wenger suggested afterwards it was hardly the strongest push, but it was still an ugly scene.
There is history of course, with Mourinho previously referring to Wenger as a "voyeur" for what he claimed was his unhealthy interest in Chelsea's affairs and the taunt that he was a "specialist in failure" before he ended a nine-year wait to win a trophy with an FA Cup final win against Hull City in May.
And then there was that 6-0 thrashing at the hands of Mourinho on the day Wenger celebrated his 1,000th match in charge of Arsenal at Stamford Bridge in March.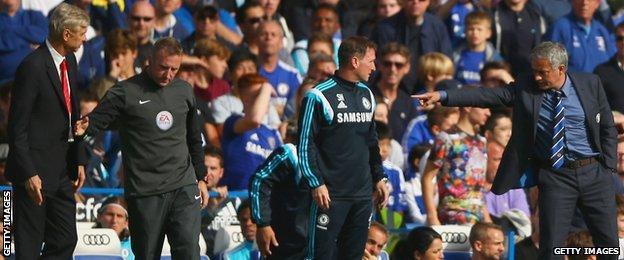 Wenger was lucky to escape punishment but this was the least of his worries on a day when Arsenal once again came up short against an increasingly ominous and powerful Chelsea.
Chelsea look to have all the right moving parts now, from a miserly defence and a midfield that mixes creativity and solidity in equal measure to a potent striker in Diego Costa.
Their performance was in sharp contrast to Arsenal, who were no more than competent and never threatened at any time.
Defeat ended an 11-match unbeaten run for Arsenal in the Premier League and their tally of 10 points from seven matches is their second worst start under Wenger.
A smiling Wenger retreated to join his seconds in the corner after his touchline confrontation and looked like a boxer who had won the first round. The problem is he has never laid a glove on Mourinho in a footballing context and never looked like doing so on Sunday.
Needless to say, no handshake was seen between the combatants at the end.
Arsene Wenger: "I wanted to go from A to B and someone confronted me without a sign of welcome."
BBC Sport pundit Trevor Sinclair on Match of the Day 2: "There was no handshake at the end and that was unnecessary. It is about tradition and respect and that was missing."
Former Arsenal defender Martin Keown on Wenger's altercation with Mourinho: "I was a little surprised. Mourinho has worked hard to get under his skin. Arsene's record against him is poor and every turn he seems to have a hold over Arsene and he certainly had it on Sunday."
Chelsea's big guns make the difference
Jose Mourinho's summer transfer policy was crystal clear.
He wanted quality in midfield to replace the departing Frank Lampard and potency in attack after a failure of his strikers last season sabotaged his attempts to reclaim the Premier League.
He solved those problems with the acquisition of Cesc Fabregas and Diego Costa from Barcelona and Atletico Madrid respectively for a combined total of around £60m.
Mourinho - who said Fabregas was in his company for only 10 minutes when they met before he announced he wanted to join Chelsea - will consider this time and money well spent.
Costa may have been quiet on Sunday but still scored the killer second goal, his ninth in seven games, from a defence-splitting Fabregas pass. It was a return on investment illustrated in a matter of seconds.
Costa has claimed the headlines and rightly so. He is the first Chelsea striker to score in the first four home league games of a season since Didier Drogba in 2006-07 - this is an example of what this physically powerful, aggressive, goalscoring striker gives Mourinho.
He may have been on the periphery against Arsenal but not when it mattered.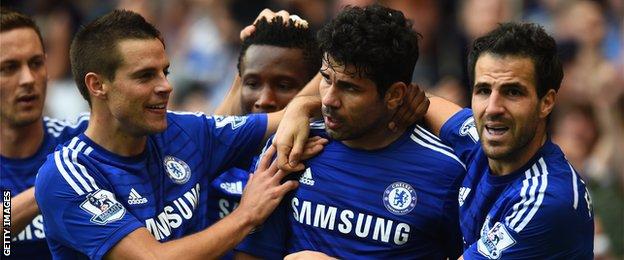 His record of nine goals after seven games has been bettered by only one player in Premier League history, Mick Quinn's 10 for Coventry City in 1992.
As for Fabregas, if Wenger really did have the chance to bring him back to the club and declined, then this must be viewed as a serious misjudgement.
If he passed on any deal because he already had Mesut Ozil, then this only compounds the error.
Whether it was a defensive midfielder or attacking force he wanted, Fabregas could have done either.
Since his arrival at Chelsea he has been creating goals at the superb average of more than one goal every 90 minutes - his record was maintained. This was the seventh goal he has created already this season.
Fabregas's passing accuracy has also eclipsed that of his time at Arsenal and Barcelona and the 27-year-old has looked the complete package.
In contrast Arsenal's £42.4m midfield man Ozil was virtually non-existent while their £48m strike force of Alexis Sanchez and Danny Welbeck were not even feeding off scraps.
Jose Mourinho: "I don't remember a game this season where Cesc has not been fantastic - unbelievable. He is very special and showed his professionalism against the team where he was born and made for football."
Need to be clear about concussion
The debate about concussion came to the fore once more when Chelsea goalkeeper Thibaut Courtois was laid out flat after an accidental collision with Sanchez.
After treatment and a 56-second assessment from the club's medical team he was allowed to carry on but left the field 13 minutes later.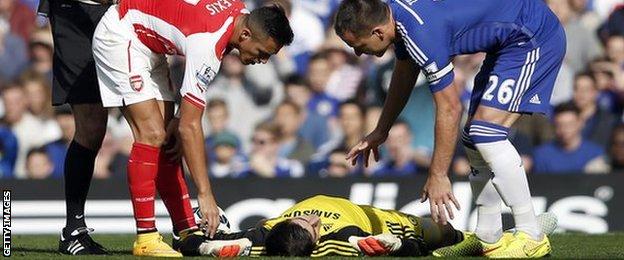 It is unwise, and unfair, to suggest any club would put their player at risk and Mourinho insisted he did not want communication with those on the pitch, simply an answer as to whether they could play on or not.
Courtois could...then he couldn't.
Chelsea confirmed Courtois had been taken to hospital to have precautionary tests and Mourinho revealed there was "nothing to be worried about".
In August, the Football Association introduced new rules obliging clubs to substitute any player suspected of having lost consciousness during a Premier League game.
Ian Beasley, chair of the FA's medical committee, said: "Take no chances. Stop playing and take your time to recover."
There is always the suspicion clubs may be compromised by the state of the game and the importance of the player - so maybe the answer is to have an independent doctor on the pitch making the diagnosis if there is a suspected case of concussion or loss of consciousness.
Manchester United's crisis over?
Manchester United enter the international break in fourth place - a position they have not occupied since they drew with Chelsea in their second game last season, David Moyes' first home game as manager.
They were heavily reliant on goalkeeper David De Gea to secure a 2-1 win over Everton on Sunday, the Spaniard earning the distinction of making the first Premier League penalty save from Leighton Baines before producing two world-class stops from Leon Osman and Bryan Oviedo in the closing moments.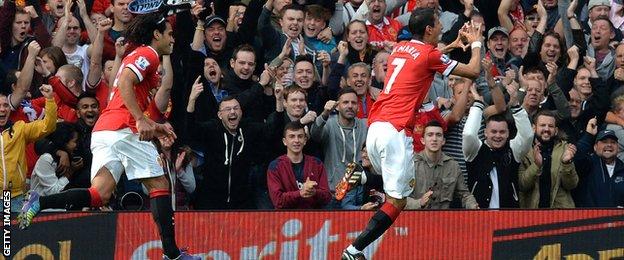 So hardly a case of the clouds all rolling away.
But new manager Louis van Gaal can be pleased with two successive wins, another decisive contribution from British record buy Angel Di Maria and Radamel Falcao's first goal for the club.
Everton, Liverpool and Manchester City all did the double over United last season and Sunday's win ended a run of eight matches without a victory against north-west opposition.
And the effectiveness of Di Maria can be seen in the fact he has now scored three goals and provided three assists in five Premier League appearances.
A sign of the turnover at United can be illustrated by the fact they have used 30 players in seven matches this season already, only ever using more in the Premier League era on two occasions: 2011-12 (31) and 2008-09 (33).
Van Gaal will hope with the return of more players to fitness, and with Wayne Rooney to come back from suspension in two games, he can build on these foundations.
Louis van Gaal: "I've told my players 'we're not playing well but we are already fourth in the table - so what is coming when we play well?'"
Former Manchester United goalkeeper Peter Schmeichel on Twitter: De Gea, heroic performance winning @ManUtd two points with three extraordinary saves. Great to see.
Former Liverpool defender and boyhood Everton fan Jamie Carragher on Twitter: Have to be honest. De Gea has just ruined my afternoon.
BBC Sport pundit Trevor Sinclair on Match of the Day 2 commenting on De Gea's performance: "An unbelievable last five minutes where he was outstanding. He is a player who has come into his own.
"He had wrists of granite at the penalty where he got down early and had that confidence that suggests he always thought he was going to save it."
Martin Keown on Everton boss Roberto Martinez being under pressure: "They are just outside the bottom three and that is remarkable. He is an outstanding manager, but this is going to test him. Romelu Lukaku was a big investment at £28m and he's not doing it for him."
Lallana looking good but hard times for Balotelli
Liverpool needed a lift after a poor start to the season that has seen them struck by Phil Jagielka's stoppage-time sucker-punch in the Merseyside derby against Everton at Anfield then lose timidly to Basel in the Champions League.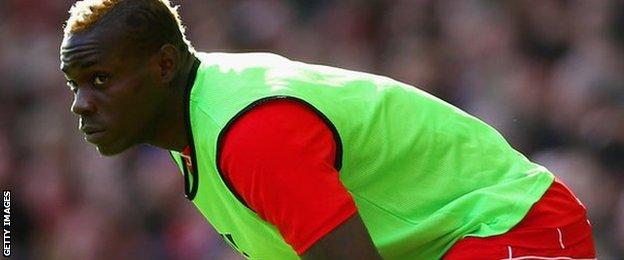 Relief came in the 2-1 win against West Bromwich Albion at Anfield - but there were contrasting fortunes for two of manager Brendan Rodgers's big summer signings.
Adam Lallana is moving towards his best form after the start to his Liverpool career was put on hold following his £25m move from Southampton by a pre-season knee injury, suggesting he will provide the creativity Rodgers wants from his players in the months ahead.
Mario Balotelli for Liverpool
Appearances:
7
Goals:
1
Brendan Rodgers:
"In terms of goals he needs to improve, it is as simple as that. Not just him but any striker is judged on goals and at this moment he hasn't probably hit the numbers he would want to."
Lallana, 26, is classy in possession and his goal just before half-time on Saturday showed technique, awareness and finishing ability.
Not such good news for £16m Mario Balotelli, not so much rested as dropped after a lamentable performance in the midweek loss at Basel.
While it is early days for the maverick Italian, it is still a fairly speedy fall from grace given the fanfare with which he arrived at Liverpool from AC Milan.
Rodgers knew it was a gamble to try to fill a Luis Suarez-sized hole in his team with Balotelli.
The sheer intensity of Suarez is not something usually seen in Balotelli, let alone the ability to get the 31 goals provided by the world-class Uruguayan when Liverpool came so close to winning the Premier League last season.
Whereas Suarez was constantly on the move and a nightmare for defenders, Balotelli is often static, waiting for the ball to be played into feet.
In Rodgers, he will have a manager and coach who will devote time to him on the training ground - but equally Balotelli must show willing himself and it has been an inauspicious start.
Brendan Rodgers: "Mario accepts what the position is. He is still looking to gain fitness. His reaction was fine. He came on and did his best."
Match of the Day's Alan Shearer: "What Liverpool were all about last season is that you could guarantee in the first 20 minutes they would get in your face. They would get after you, close the ball down and wouldn't give you a second on the ball. What they also did well last season was when they won the ball they hit you fast on the counter-attack and, apart from once this season against Spurs, that hasn't happened enough."