Wrexham legends pay homage as club mark 150 years
By Aled Williams
BBC Wales Sport
Last updated on .From the section Wrexham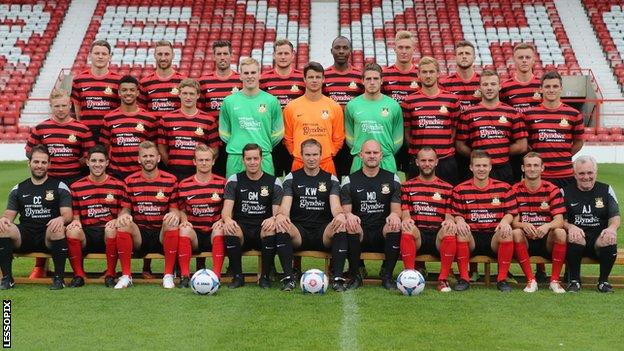 ▶ Radio Wales Sport: Celebrating 150 years of Wrexham Football Club
Wrexham Football Club marked their 150th anniversary at home against Grimsby Town in the Conference.
Although Wrexham have enjoyed memorable FA Cup runs and European adventures, their history has not been without problems, most notably a battle for existence after a spell in administration and relegation from the Football League in 2008, with Wrexham Supporters' Trust now in control.
Here, prominent figures tell us what Wrexham means to them.

Joey Jones is a Wrexham legend. Voted the club's Cult Hero in a BBC Football Focus poll, Jones had three spells as a Wrexham player and has served in a number of coaching capacities at the Racecourse including two spells as caretaker manager. Now 59, Jones remains part of the club he joined in 1973, working as reserve and youth team coach.
"I started here at 15 - it was my first job after leaving school. Coming to Wrexham, which is a football town, was a large part of my life.
"For me the game that stands out would be when we knocked Southampton out of the FA Cup in 1974 during my first spell here when I was only a youngster.
"They were a top First Division outfit then and I had to mark Terry Paine, an England international well renowned for his skills and toughness.
"Dave Smallman scored the only goal and we knocked them out.
"The club's got massive memories for me and I'm lucky to still be working here with the young lads."

Darren Ferguson began his career at Manchester United, the club managed by his father Alex, and had spells at Wolverhampton Wanderers and Sparta Rotterdam before the midfielder joined Wrexham in 1999. He left the Racecourse in 2007 to become manager of Peterborough United and spent two years at London Road before moving to Preston as manager. Ferguson returned for a second spell at Peterborough in 2011.
"I spent eight great years at Wrexham. When I first arrived, Brian Flynn was my manager and he was good for me at the time. Joey Jones and Kevin Reeves were there at the time. Joey is a legend of that football club. I enjoyed playing for them.
"When Brian left, they brought in an experienced manager in Denis Smith, assisted by Kevin Russell. Denis was good for the club, he could deal with the administration.
"We won the LDV Vans Trophy in 2005 and enjoyed a couple of promotions and I think if it had not been for the administration, we would have had another successful campaign as we were pushing for the play-offs in League One.
"They have had their ups and downs, but they have a great background. I always look for their results and they are doing quite well this season, which is pleasing to see. Wrexham are a great club and I have a lot of time for them."

Club president Dixie McNeil served Wrexham as a player and manager. He joined Wrexham from Hereford United in 1977 and during his five years at the Racecourse enjoyed promotions, FA Cup runs and European adventures in the Cup Winners' Cup. He returned to the club as manager in 1985, winning the Welsh Cup in his first season in charge.
"Wrexham Football Club means a great deal to me but my first impressions on arriving at the club weren't brilliant to be honest.
Wrexham Football Club - did you know?
Founded in 1864 by Wrexham cricket club members
Oldest football club in Wales
Third-oldest professional club in world (after Notts County & Stoke City)
Welsh Cup winners a record 23 times
First game: 22 October 1864 v Prince of Wales Fire Brigade
"I came down the Mold Road and at that time there was a brick wall over there and there was barbed wire all over the top of the wall, which was a bit off-putting.
"But then I came over to the main stand, took one look and went 'wow, this is a club'.
"The club was on a high, we had brilliant crowds of up to 20,000 and in the FA Cup we were drawn against First Division sides more or less every round and knocking them out.
"It was a good side that I played in and we had some impressive results
"I've lived in the town for 37 years and been part of the football club, one way or another, for all that time.
"Saturday's all about Wrexham Football Club and I just hope we can get back into the Football League as quickly as possible."

Waynne Phillips first joined Wrexham as a trainee in 1989. He left in a £200,000 transfer to Stockport in 1998 but returned to the Racecourse, where he remained until 2003. Phillips later managed hometown club Caernarfon Town and Cefn Druids and is a pundit for BBC Radio Cymru.
"For a youngster growing up along the north Wales coast in Caernarfon, it was a great honour to join my closest Football League club.
"I've been lucky to have played alongside some Welsh greats like Joey Jones and Brian Flynn while I was here. I hold some good memories of Wrexham.
Former Wrexham players in the Premier League
Ben Foster (West Brom)
Neil Taylor (Swansea City)
Ritchie De Laet (Leicester City)
Joe Allen (Liverpool)
Jon Walters (Stoke City)
"There were many highlights - the day I put pen to paper, European games over in Denmark and Romania and against Manchester United.
"But the highlight has to be the famous FA Cup victory over Arsenal in 1992. I still find it hard to believe we won the game - we could easily have been five or six down at half-time.
"But it's the glory of the FA Cup and a game I will never forget and it's hard to believe it was over 20 years ago.
"Supporters will have their own favourites but it's certainly one of my highlights.
"My son Jake plays for the youth team. I'm a proud dad and I'll be even prouder if I see him pull on a Wrexham shirt and get the chance to play for the first team.
"Some say he's a better footballer than his dad, we'll wait and see but he's going in the right direction and is in good hands."

Mickey Thomas will always be remembered for his free-kick in the famous 2-1 win against Arsenal in the FA Cup third round in 1992. Thomas was in the twilight of his career and in his second spell at the Racecourse following a nomadic career that included spells at Manchester United, Everton, Stoke City and Leeds United.
"Wrexham is a big part of my heart and it's the same for anyone else who had been involved with that football club.
"Without the fans that club would have gone - they have so much passion for that football club. They're so loyal and deserve a massive pat on the back.
"You go through the history of a football club and you look at the best period - the side of 1975-1978 will never be beaten.
"We got through to the quarter-finals of the League Cup against Liverpool, the FA Cup against Arsenal and [in the European Cup Winner's Cup] Anderlecht and got promotion.
"That side entertained and we played the big teams, who were petrified of us because we had such ability in that 11.
"Bill Shankly used to come and watch us and was in the dressing room before most games.
"It was a pleasure to play for the club at that period."

Now Wrexham's head of football operations, Barry Horne had been playing non-league football for Rhyl when he joined the club in 1984. That year his late goal secured a famous away goals win over Portuguese giants Porto in the European Cup Winners Cup. Horne also played for Portsmouth, Southampton and Everton and he also captained Wales.
"Wrexham is the closest club to where I was brought up. Wrexham is very Welsh and we're all proud to be Welsh. The club has a special place in the country.
"The home tie against Porto was something special - we could have been 2-0 up at the Racecourse. I had a shot that bounced off the bar.
"But to go over there was amazing.
"My dad, not a great traveller, when he saw we were going to Portugal packed t-shirts and shorts and it leathered it down for three days.
"Porto had lost to Juventus in the final the year before and had Fernando Gomes and Paulo Futre - people who were going on to become Portugal legends - in that team.
"Over there we quickly went behind 3-0 before Jake King, a terrific seasoned campaigner, stabbed a couple home from close range.
"Then we went behind again and we were out and then it felt like the last kick of the game. I started my run well in my own half and then did something completely instinctively.
"Once I connected I knew it was in the back of the net and it was an amazing feeling."

Towering centre-half Dennis Lawrence was one of three players from Trinidad and Tobago - Carlos Edwards and Hector Sam being the other two - who joined Wrexham in 2000-01. Lawrence played at the 2006 World Cup and is now part of Roberto Martinez's coaching team at Everton.
"It's only a small town but the fans were always passionate. The fans have always been there to support the team.
"One of the key things for me, when you come from Trinidad like I did, it's important you find that little bit of comfort - that home away from home feeling.
"I've been to other places and Wrexham was probably the first place I found that comfort and it allowed me to concentrate on my football and perform at a decent enough level.
"My favourite moment was hearing the fans singing my name and that's something I will always remember.
"Where I come from, it's not often you get the opportunity to hear 10,000 people singing your name when you do something well."