Modise set to join elite club
By Mohammed Allie
BBC News, Cape Town
Last updated on .From the section Football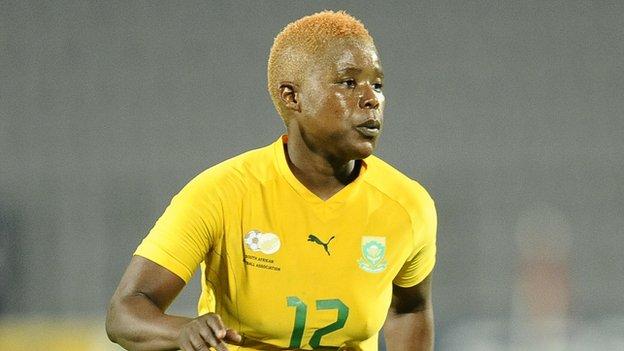 When Portia Modise leads the South African Women's football team's attack at the African Women's Championships (AWC) in Namibia she has every chance of joining the 13 players who have scored 100 or more international goals.
Only 12 women and one man (Iran's Ali Daei) have achieved the feat.
And the stocky Modise, who netted her 98th goal in the 2-1 friendly win over the Ivory Coast at the end of August, is expected to be the next to reach that milestone in one of Banyana Banyana's three group games against Cameroon, Algeria and Ghana in the 11-25 October tournament.
The Soweto-born player's success comes as no surprise to those who have followed her career since her early teens when she turned heads with her outstanding natural talent and skills.
After making her senior international debut as a scrawny 16-year-old in 2000, Modise has gone on to make a record 114 appearances for Banyana. Along the way the feisty striker has collected a number of awards which have embellished a stellar career.
In 2005 she was one of two African players to be nominated for the Fifa Player of the Year award alongside Nigeria's Perpetua Nkwocha, and she claimed the Player of the Tournament award at the 2006 AWC.
A few months later Modise was also voted in the top three for the 2006 Confederation of African Football Women's Footballer of the Year award.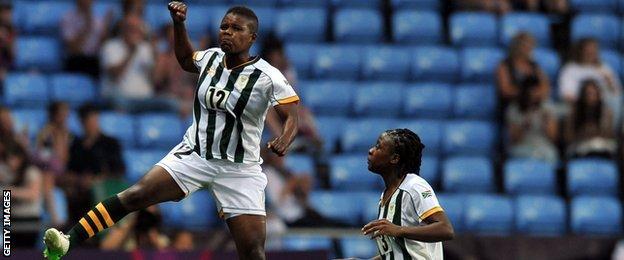 Desiree Ellis, a former Banyana captain, who has seen the striker developing from a precociously talented kid into one of Africa's best women's footballers, says the 31-year-old striker is reaping the rewards for the extra hours she's spent on the training ground honing her skills.
"There are others who may have may have had similar talent to Portia but the hard work she puts in has seen her rise to the top," said Elis.
"The confidence she has in her ability may sometimes be mistaken for arrogance, which it isn't. Portia is actually a very humble person but she knows what she can do with a football and isn't shy to display that on the pitch."
Modise may well have reached the century of goals already had she not quit international football in 2008 after falling out with coach Augustine Makalakalane, who was later fired amid allegations of sexual harassment and homophobia.
She returned to the national team in 2010 after being recalled by Joseph Mkhonza.
The best of Modise's 98 goals has to be the sensational 45-yard strike she netted at the 2012 Olympics in their 4-1 defeat against Sweden in what was Banyana's maiden appearance at the event.
"I'll never forget that goal. I saw early in the game the goalkeeper's weakness was that she was always coming off her line, so I took a shot and it came off. It worked out, and I'm really proud," said Modise, describing what turned out to be Banyana's only goal at the event.
After seeing a dream move to Arsenal in 2003 scuppered because of financial issues, Modise had the chance of sampling the game in Europe four years later when she signed a two-year deal with Danish side Fortuna Hjorring.
"It was a life-changing experience and it helped me mature at a young age. It was not easy to be away from home but I worked hard, I learnt a lot from my teammates, that experience taught me a lot of life lessons," says Modise.
It is those lessons that the Banyana striker has implemented to good effect as she spearheads the team's challenge to qualify for their first World Cup.