2017 Nations Cup: Seven countries bid to host finals
Last updated on .From the section Football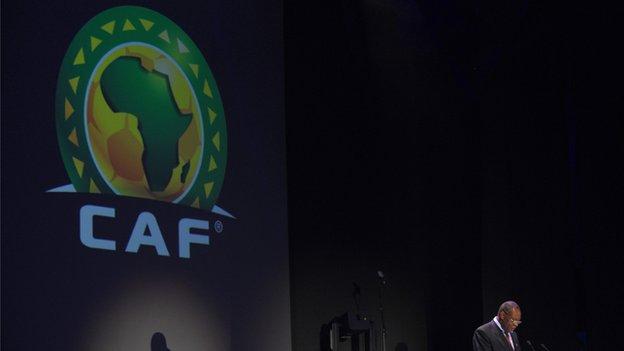 The Confederation of African Football has revealed that seven countries have submitted a bid to host the 2017 Africa Cup of Nations.
They are: Algeria, Egypt, Gabon, Ghana, Kenya, Sudan and Zimbabwe.
Nominations were opened on 23 August, following the withdrawal of the original hosts Libya, with the deadline for bids set as 30 September.
The host country will be decided by the Caf Executive Committee during one of its sessions in 2015.
Caf said that due to the limited time frame for the organisation of the finals, the executive committee will focus on the host with acceptable infrastructure and facilities required - stadia, training grounds, accommodation, communications - in making a decision.
Of those bidding, Kenya and Zimbabwe have not hosted tournaments before, though both have had winning bids.
South Africa replaced Kenya as 1996 hosts after the east African nation fell behind in its preparations while Nigeria and Ghana co-hosted in place of Zimbabwe in 2000 due to a lack of funding.
Algeria (1990), Egypt (1974, 1986 and 2006), Gabon (co-hosts in 2012), Ghana (1963, 1978 and 2008, co-hosts in 2000) and Sudan (the inaugural event in 1957 and 1970) have all hosted before.
Libya were stripped of the right to host the continent's showpiece tournament in August as ongoing fighting in the country delayed plans to build new stadiums for the 16-team finals.
The north African nation was originally scheduled to hold the Nations Cup in 2013 but, because of the unrest, swapped with 2017 hosts South Africa.
Morocco will host next year's finals, with final group qualifying underway.
In September Caf awarded Cameroon the 2019 finals and Ivory Coast the 2021 edition, while Guinea were handed the right to host the 2023 edition.