Watford: Pozzos play managerial game
By Chris Osborne
BBC Sport
Last updated on .From the section Football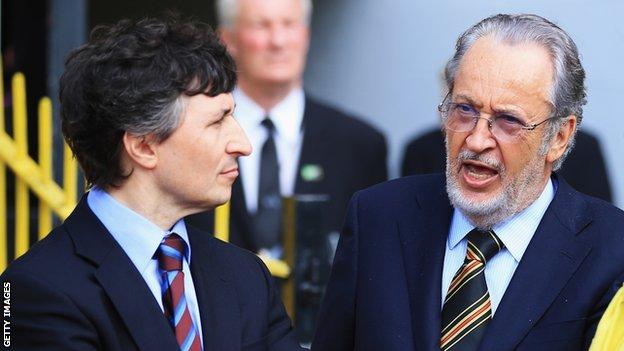 Third in the table, two league defeats all season and four managers in 37 days. Something does not quite add up at Watford.
McKinlay was unbeaten in his two games in charge, and Watford are only being kept off the top of the Championship by goal difference.
So what is going on at Vicarage Road?
Why have Watford had four head coaches in less than six weeks?
Partly through misfortune, partly through choice.
Beppe Sannino lasted eight months after replacing Gianfranco Zola in December. The Italian quit on 31 August, with Watford second in the table, after failing to convince the players of his "old school" methods.
Former Brighton boss Oscar Garcia was named head coach on 2 September, but oversaw just one game before suffering chest pains and, 27 days into his tenure, decided to step down for the good of his health.
Former Blackburn and Scotland midfielder McKinlay, with 10 years of coaching experience at Fulham to his name, was put in charge.

But after two matches, Pozzo installed ex-Chelsea midfielder Jokanovic, saying it was "in the best long-term interests" of the club.
Former Watford forward and BBC Three Counties Radio commentator Nick Wright: "I don't know whether the owners have got a little bit nervous.
"They did something very quickly in appointing McKinlay to try to maintain the performances. McKinlay did very well, yet he didn't feature in the long-term plans."
What do supporters make of it?
Mike Parkin, who presents Watford podcast From the Rookery End, says: "It's fair to say most Watford supporters are feeling confused, slightly bemused and mildly disgruntled.
"There was an element of mystery about the departure of Beppe Sannino and events since then have become increasingly curious.
"Most Hornets fans were able to accept Oscar Garcia as a replacement - his experience of the Championship being the key factor in gaining supporter approval.
"Despite Billy McKinlay being the third head coach of the season, it still made relative sense to supporters.
"There was a feeling that we may have stumbled across a managerial gem and we were looking forward to a period of much-needed stability. The story then broke about his departure and I'm pretty sure most people are yet to stop shaking their heads in disbelief."
Watford's managerial timeline
31 August- Beppe Sannino quits amid reports of an unhappy squad
2 September- Oscar Garcia appointed head coach
29 September- Garcia quits for health reasons, Billy McKinlay appointed
7 October- McKinlay replaced by Slavisa Jokanovic
See the full managerial ins and outs for
September
and
October
Who are the Pozzo family?
Giampaolo Pozzo has owned Italian club Udinese since 1986. With his son Gino also on the staff, the Pozzos introduced a scouting system at Udinese focused on signing undiscovered international talent. Current Arsenal and Chile forward Alexis Sanchez was one such player.
In 2009, Giampaolo bought Granada, allowing Udinese players to move to the Spanish club and gain experience. Both clubs have been transformed from division two contenders to top-flight mainstays.
The Pozzos took over financially stricken Watford in June 2012, with Gino taking the lead role in running the club. Initially, there was an influx of loan signings from the family's other two European clubs.
And while there is still an international flavour to the Watford squad, the signings have arrived from an assortment of global teams.
They work within a structure whereby the recruitment is taken care of by a technical team, and the head coach purely manages the playing squad.
The Pozzos have been praised for funding a long awaited refurbishment of Vicarage Road, including a complete overhaul of the East Stand.
Do supporters back the Pozzos?
Parkin: "The latest announcement has seen the first murmurings of discontent, but while some supporters have always had misgivings about the Italian owners, the proof of their commitment to the cause is everywhere.
"Watford boast an incredible squad, with strength in depth, talent and flair in every position.
"In their short tenure they have also delivered where so many past regimes have failed, in building a new East Stand, while also removing the cloud of financial uncertainty.
"Without the Pozzos' intervention, there was a very real chance that the club could have been brought to its knees. The majority of supporters will never forget the debt that we owe the family.
Promotion will silence doubters
"Of course, if the new man is able to deliver promotion, there will be no suggestion that this wasn't the right decision, but if the season falls short of what are undoubtedly high expectations, the Pozzos will face questions."
"That said, no-one should be exempt from constructive criticism, and the way this latest change has been handled has left a bitter taste in the mouth of some.
"The flipside is that some fans certainly respect the ruthless streak that they've displayed."
Who is the new guy?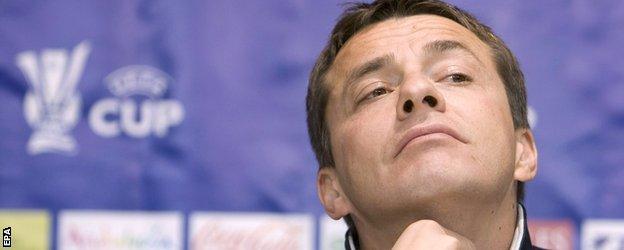 Slavisa Jokanovic had a two-year spell at Chelsea, where he was often maligned by supporters, to the point of being nicknamed "The Joker".
A battling, deep-lying midfielder, he made more than 60 international appearances for Yugoslavia and Serbia & Montenegro and spent a large chunk of his playing career in La Liga with Oviedo, Tenerife and Deportivo.
The 46-year-old won back-to-back league and cup doubles as Partizan Belgrade boss between 2007 and 2009 and won the Thai title with Muangthong United in 2012.
Can the new manager feel safe?
The Pozzos are generally known for their calculated ruthlessness. Andrea Stramaccioni is the 25th permanent manager to work under them during 28 years at Udinese.
Granada are on their fourth manager in two years, and Jokanovic is Gino's fifth Watford appointment, so there is a history of high turnover.
Wright: "It's a strange appointment. Not many people have heard of him, unless they were involved with Chelsea during that time.
"I don't know what his link is with the Pozzo family. For it to happen so quickly with a relative unknown is a really strange situation.
"Will it work? I don't know. With Udinese, Granada and the Pozzos, it's not a normal football setup.
"It could work if the players are strong enough to maintain their performances."
| Some of football's shortest reigns | |
| --- | --- |
| Micky Adams - Swansea, 13 days (1997) | Adams walked out amid a disagreement over transfer funds |
| Martin Ling - Cambridge United, nine days, (2009) | Ling initially walked away, citing an unworkable relationship with chairman George Rolls. He returned following Rolls's departure |
| Kevin Cullis - Swansea, seven days, (1996) | PE teacher Cullis supposedly lasted just one and a half games, after handing over duties at half-time during a 4-0 loss to Blackpool |
| Dave Bassett - Crystal Palace, four days (1984) | Bassett never actually signed a contract, but did four days' work before returning to Wimbledon |
| Leroy Rosenior - Torquay, 10 minutes (2007) | Torquay came under new ownership 10 minutes after Rosenior's appointment and the ex-Fulham striker's second spell in charge at Plainmoor was over |
How will the players cope with the upheaval?
Wright: "As a player you do your very best on the pitch, you try and block things out. But it is unsettling - some people don't deal with change well.
"Watford's players have done admirably in the situation to be third in the league with all the unrest. They're just getting on with it."
Will this all work and what's the long-term plan?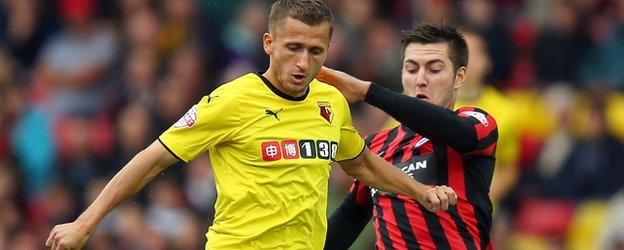 Wright: "The Pozzos have done some very good things for the club and they will get leeway.
"The only appointment that could be questioned is the quick bringing in of McKinlay and how that was handled.
"The new guy is just an odd appointment. He's on a bit of a hiding to nothing, because if he doesn't do well, he hasn't got a reputation to fall back on.
"He needs to do well quickly and if not I think they could be ruthless in replacing him quickly."
Parkin: "The Pozzos aren't used to failure. The goal for the family is clear - guide Watford to the Premier League. And there is no evidence to suggest that they'll give up until this is achieved.
"Quite whether they were ready for the Championship - it really is a terrifyingly competitive division - is open to debate, but they don't shirk a challenge, as their recent actions show.
"They have put the playing staff in place and have increased the capacity of the stadium. All the components are in place for a tilt at the top flight, but the missing piece of the promotion puzzle remains elusive, the right head coach.
"Whether Slavisa Jokanovic is the right man remains to be seen, but ultimately I remain convinced that the Premier League is on the horizon for the Hornets."