Jayne Ludlow 'the perfect choice' as Wales boss - Jarmo Matikainen
Last updated on .From the section Football
Former Wales women's national team manager Jarmo Matikainen says Jayne Ludlow is the perfect choice to succeed him.
Ludlow will leave her role as director of women's football and first-team manager at Reading at the end of November to take charge of Wales.
"I'm really pleased Jayne is taking over," Matikainen said.
"She's the perfect appointment for the Wales women's team national manager."
Former Arsenal player Ludlow scored 19 goals in 61 appearances for Wales before retiring from international football in 2012.
Rhondda-born Ludlow was appointed Reading's director of women's and girls' football and first-team manager in August 2013.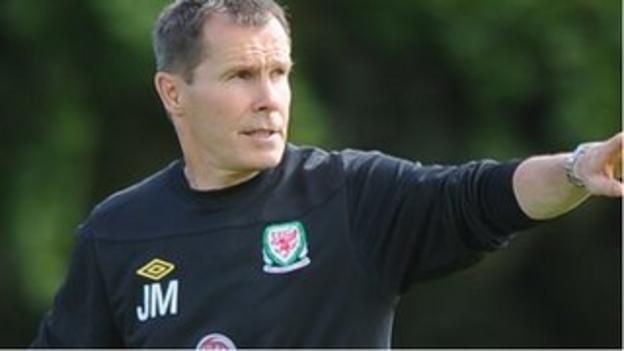 "I had the privilege to work with Jayne when she was a player," Matikainen added.
"She was the captain of the team in my first campaign and she is one of the best ever players in Welsh football."
Under Matikainen, Wales came close to reaching the play-offs for the 2015 World Cup finals in Canada, but lost 1-0 to Ukraine in their final group game.
The Finn believes Wales have a great chance of qualifying for the Euro 2017 finals, which will be expanded to 16 teams.
But Matikainen says developing young players is crucial to give the senior team a better chance of being successful in the future.
"Jayne is going to look into that challenge but she's also looking at women's football in a broader view," Matikainen said.
"I know that we've been able to put important building blocks in place but there's still a lot of work to do at the foundation.
"It's important to look at the senior team, the flag bearer so to speak.
"But at the same time we really do need to work with the youth national teams so that we get even more competition to the senior team and even more options.
"In that way the senior team will always have better opportunities to qualify."