England v San Marino: Simoncini - cheating death to facing Rooney
By James Gheerbrant
BBC Sport
Last updated on .From the section Football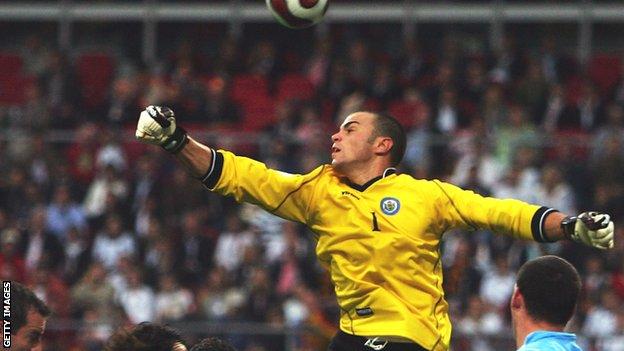 Most days, Aldo Simoncini works as an accountant. But as goalkeeper for the San Marino football team, he can only dream of balancing the books.
In 39 appearances for the national team, the 28-year-old has conceded 171 goals, while his team-mates have scored just six at the other end.
San Marino are 208th and last in Fifa's rankings of national football teams: level with Bhutan, beneath the Cook Islands, comfortably adrift of mighty Andorra. They are a full 190 places below Roy Hodgson's England team, who they face on Thursday evening at Wembley.
"I get frustrated from time to time," Simoncini admits. "Nobody wants to lose in football, even less by big scores. But we know very well that some opponents are simply out of reach for us."
It is hardly surprising. San Marino - the tiny microstate in north-east Italy - has a population of just 33,000 - around one third of the capacity of Wembley Stadium.
In 25 years of official competition, the national team has won just one match. They have only scored one competitive goal in the last six years. Their last attempt to qualify for a major tournament, the 2014 World Cup, saw them lose all 10 matches, conceding 54 goals along the way.
It is enough to drive a goalkeeper to despair. But San Marino's number one finds it easier than most to keep sporting matters in perspective.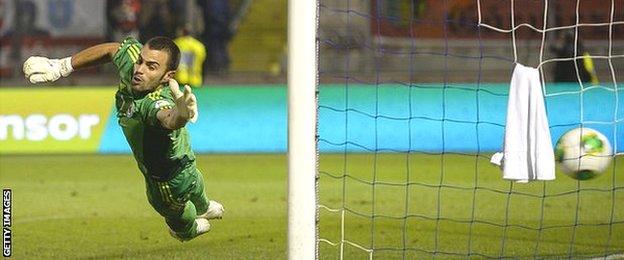 As a highly-rated teenager, he was playing for Modena in Serie B - the second division of Italian football, an almost unprecedented level for a Sammarinese footballer.
Then, aged 19, Simoncini suffered horrific injuries in a terrible car accident. His pelvis and left elbow were shattered, and he spent four months in hospital. "My life was in danger," he remembers. "I was told I might not be able to play football ever again."
His career at the top level was over, but against the odds, Simoncini recovered and was able to return to playing nearly two years later. His first game back was a Euro 2008 qualifier against three-time world champions Germany. San Marino lost 13-0.
"Even though I had to pick the ball out of the net 13 times, it was one of the happiest moments of my life," Simoncini says. "I put behind me 18 months of agony. After being told I might not play again, to be part of such a game was simply unforgettable."
No easy games in international football?
As well as a 13-0 defeat by Germany, San Marino have lost 11-0 to the Netherlands, 10-0 to Norway and Poland, 10-1 to Belgium, and 9-0 to both Ukraine and Spain. They have lost 8-0 on six occasions, including to England, and conceded seven goals on 10 occasions.
It is a little more difficult to put a positive spin on San Marino's frequent heavy defeats if you are head coach Pierangelo Manzaroli. The 45-year-old took over one of the hardest jobs in football last year, when veteran coach Giampaolo Mazza resigned after 15 torrid years at the helm.
"In some ways, it is easier to train a big team than San Marino," Manzaroli reflects with characteristic understatement. "Our goals are different to other teams - damage limitation is fundamental. There is a lot of psychological work behind it." Captain Andy Selva agrees: "It is 80% brain and 20% legs."
Perhaps that is just as well for Selva, whose legs are not what they once were at 38. The diminutive striker has been playing for San Marino since 1998. A return of eight goals might not sound like much, until you consider that San Marino have only scored 17 in their entire history.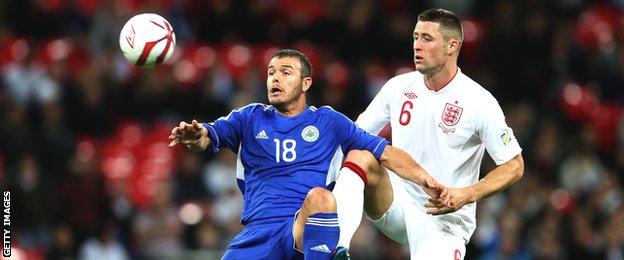 "I've had the chance to play against great defenders like [former Spain defender] Carles Puyol - he was from another planet, simply amazing," Selva remembers. "[Italy midfielder] Andrea Pirlo and [ex-Spain striker] Raul, they are great guys and real champions too. They gave us a lot of compliments after the games, even though the difference between our team and theirs is huge."
It was Selva who gave San Marino their finest hour, scoring the free-kick that beat Liechtenstein 1-0 in 2004. "It is a great memory for me," he says. "I remember my team-mates embracing me; it is something we all felt on the pitch. After the final whistle you start thinking 'What have I done? I have made something historical.'"
Selva once played professionally for Italian clubs Sassuolo and Verona but now earns a living coaching youth football. He believes football in San Marino is slowly improving, but the challenges remain considerable, not least assembling a competitive team from a group of part-timers.
Right-back Mirko Palazzi is the only current professional - at Rimini in the Italian fourth division. All the other players have day jobs. Striker Danilo Rinaldi works in a furniture shop. Midfielder Alex Gasperoni fits lights in farm buildings. Winger Matteo Coppini works for an olive oil company.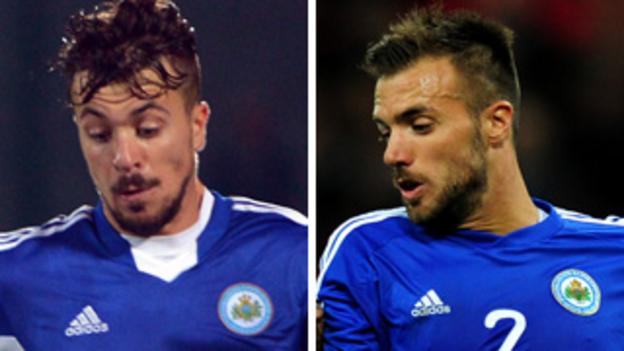 "We try to fit football in our everyday life," Manzaroli explains. "To play a certain level of football absorbs you completely, mentally as well as physically. Managing our time is our most demanding task."
One player who understands this better than most is defender Fabio Vitaioli, 30. He and his younger brother Matteo, 24 (one of three sets of siblings in the squad), used to run a bar together - a problematic venture as the national team trains exclusively in the evenings.
The Vitaiolis sold up. Now Fabio manages a clothes shop. Like most players, he works from early morning until around 7.30pm, then clocks off and heads to training.
"When I have training, I have to leave my business partner and go," he says. "It is difficult to fit everything together, but football is a passion for us."
Understandably, an occasional whiff of amateurism permeates the San Marino set-up. Reserve goalkeeper Federico Valentini once had to be summoned from his day job in a bank on the morning of a crucial qualifying match against Zlatan Ibrahimovic's Sweden to replace an injured Simoncini. Former manager Mazza used to astonish opposition players by demanding their shirts at the end of matches - to give to his students at a local secondary school, where he taught PE.
Part-timers: day jobs of the San Marino team
Aldo Simoncini (goalkeeper) age 28: accountant
Mirko Palazzi (defender) 27: professional at Italian fourth division club Rimini
Alessandro Della Valle (defender) 32: works in a ceramics shop
Fabio Vitaioli (defender) 30: works in a clothes shop
Lorenzo Buscarini (defender) 23: student
Alex Gasperoni (midfielder) 30: runs a lighting business
Matteo Vitaioli (midfielder) 24: factory worker
Michele Cervellini (midfielder) 26: lawyer
Luca Tosi (midfielder) 23: office clerk
Andy Selva (striker) 38: youth football coach
Danilo Rinaldi (striker) 26: works for a furniture shop
Nowhere is the gulf between San Marino and their opponents more apparent than in the wages they receive. Manzaroli estimates most of San Marino's players receive no more than 300 euros (£235) a month from their club sides - as much as Wayne Rooney earns every eight minutes at Manchester United.
"Football does not make me rich, but gives me enough to live with dignity," Selva says. "In Italy [and England], football is recognised as a job. In San Marino, it is a hobby, a passion."
Some argue that fundamental difference means San Marino should not be allowed to face the likes of England in competitive fixtures. "San Marino must be thrown out," wrote Martin Samuel of the Daily Mail after a previous meeting between the sides in 2012, arguing that the "catastrophically inept" team were "simply not good enough to play on the grand stage".
Unsurprisingly, Manzaroli does not agree. "To me, sport also means giving everybody the opportunity to measure themselves against teams that are much stronger," he says. "Brazil conceded seven goals against Germany in the World Cup semi-final; why should it not happen to us too against France, England or Germany?"
For now, football's governing bodies seem to be of the same mind. And so San Marino face England for the third time in three years. Many would dread coming up against opponents who had put 13 goals past them in two previous matches, but not Simoncini.
"Getting drawn against England is like winning the lottery," the goalkeeper says. "It's a great emotion to stand alongside players who you are used to watching on TV. To play in front of 86,000 people [the crowd for San Marino's last visit in October 2012] at Wembley against a global power like England - it's a day that will be in my heart for the rest of my life."
Additional reporting by Daniele Verri.