Arthur Wharton: the world's first black professional footballer
By Owen Amos
BBC News website
Last updated on .From the section Football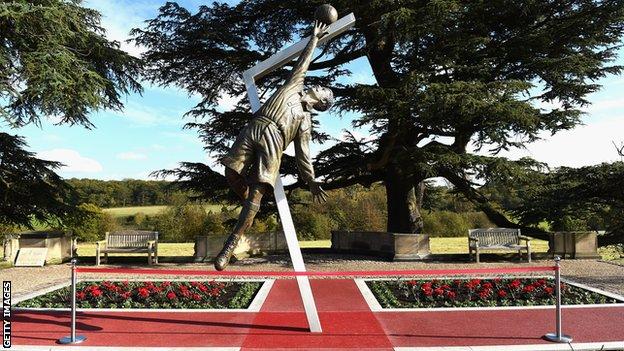 A 16ft statue of the world's first black professional footballer was unveiled at the FA's national football centre in Burton on Thursday.
Cast in bronze, it depicts goalkeeper Arthur Wharton flinging himself backwards to tip a ball over the bar.
The story of how it got there involves Sepp Blatter, Stevie Wonder, Rio Ferdinand and a 53-year-old Darlington artist called Shaun Campbell.
And it all started seven years ago in Middlesbrough Town Hall.
Campbell, a 53-year-old with English and Barbadian heritage, was giving a speech in the town as part of Black History Month. He picked up a brochure and read, for the first time, about Wharton - a Methodist missionary who moved from the Gold Coast to Darlington in the 1880s.
"I couldn't believe what I was reading," says Campbell. "This young man achieved so much - and he did it in Darlington, County Durham, the town where I was living."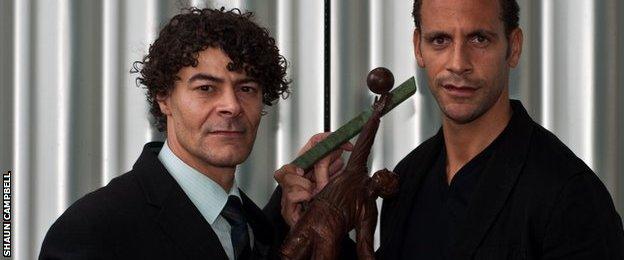 Campbell went back to his art furniture shop and painted a picture of Wharton. "I just wanted to celebrate this remarkable young man and remember what he did," he says.
A customer saw it, asked Campbell who it was, and told the local newspaper, the Northern Echo. A reporter went to see Campbell and the campaign was born.
Campbell wanted a statue of Wharton in Darlington, either at the football ground (Feethams or the newly-built arena) or elsewhere in the town. But after gaining only a "measured amount of support" he decided to take the campaign nationwide.
And that - in September 2008 - is where Stevie Wonder came in.
"I was in Birmingham for a furniture trade fair," explains Campbell. "Along with my ticket, there was a flier for a Stevie Wonder concert. I thought, 'I'll stay on, watch the concert, that will be great'.
Who was Arthur Wharton?
Born Jamestown, Gold Coast (now Accra, Ghana) in 1865
Played as an amateur for Darlington and Preston North End, and professionally for Rotherham Town and Sheffield United
Reportedly the first man in England to run 100 yards in 10 seconds
He "refuted racist theories in a time of adversity and prejudice" according to the Arthur Wharton Foundation
"Then I thought about it. And I thought that if anyone in the world understands the importance of embracing cultural diversity and equality for all, it would be him.
"Next thing you know, we're on stage in front of thousands of people and Stevie Wonder is waxing lyrical about Darlington and Arthur Wharton.
"Don't ask me how I did that. It was 56 hours from concept to realisation."
It was Wonder who suggested that Campbell broaden the campaign to make it about education, as well as the statue. And so the Arthur Wharton Foundation was born, with the aim of promoting racial harmony, equality and diversity.
In 2009, UEFA donated £17,500 to the campaign and received, in return, a maquette - a scaled-down version of the statue - which is still on display in their headquarters. "UEFA were magnificent from the moment I contacted them," says Campbell.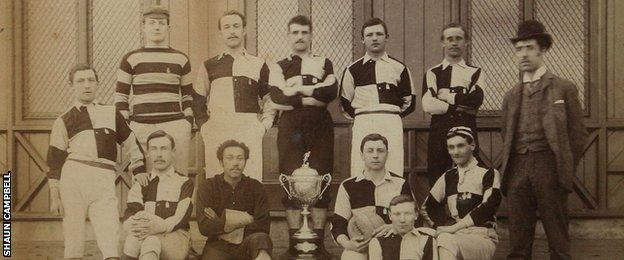 From there, the FA and FIFA also offered support, with Campbell presenting a maquette to Sepp Blatter in Zurich in June 2012.
It's important to note that Campbell didn't uncover the Wharton story. In the 1980s, a history lecturer called Ray Jenkins brought the tale to a modern audience and, in 1998, the author Phil Vasili wrote a book called "The First Black Footballer" about Wharton.
A year earlier, Wharton's unmarked grave in Edlington, South Yorkshire, was given a headstone after a campaign by the charity Football Unites Racism Divides (FURD).
But it was Campbell who took Wharton's story to the world, persuading everyone from Rio Ferdinand to Andy Cole to Theo Walcott to pose with a maquette and back the campaign. Patrons of the foundation include Viv Anderson, George Boateng and Irvine Welsh.
Anderson - the first black player for the full England team - first learned about Wharton through an exhibition at the National Football Museum, then in Preston, in 2003.
"I didn't know his story until then - and I was a black professional footballer," says Anderson.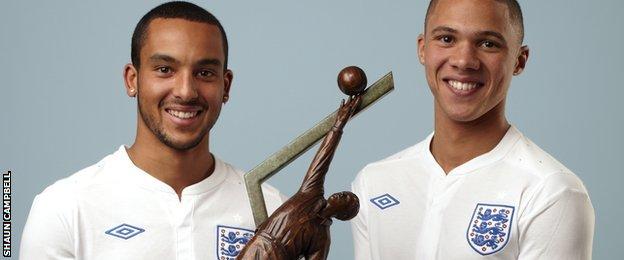 "The campaign has been given legs by Shaun Campbell. If it wasn't for his passion and drive it would be dead in the water. Wharton's story has to be told."
Another of the foundation's patrons is Sheila Leeson, Wharton's granddaughter.
In October 2012, she travelled with the foundation to Ghana, where two teams competed for the Arthur Wharton Memorial Cup. The group met Wharton's Ghanaian descendants and went to his former school, Mfantsipim - the former UN secretary general, Kofi Annan, is another alumnus.
But it isn't just football that has remembered Wharton's achievements.
In 2013, Campbell presented a statue to Lamine Diack, president of the IAAF, at the Anniversary Games at London's Olympic Stadium. Wharton was also commemorated at England Athletics' Hall of Fame awards that year.
But it's the National Football Centre where Wharton will - in the words of St George's Park chairman David Sheepshanks - "educate and inspire a new generation of coaches and players from all backgrounds". The erection of the statue will be accompanied by an educational package, supplied by FURD.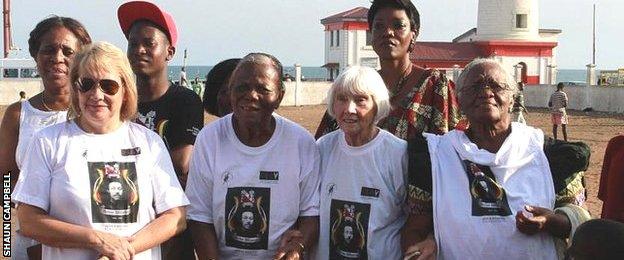 For Campbell, the statue is a milestone; a 16ft manifestation of the journey that started seven years ago in Middlesbrough Town Hall.
But his work for the Arthur Wharton Foundation, all of which is unpaid - "It has actually cost me quite a bit," he says - will go on.
Another statue has been approved at Rotherham United's ground, and Wharton will keep spreading the message. Only last week, he was in Rome, giving a speech to Michel Platini and UEFA.
The campaign has come a long way - in every sense - from his art furniture shop in Darlington.
"This has never been a job," says Campbell. "I've never been paid. I have done it through passion. I consider it an honour to fight social injustice and regardless of the hardship, it has been a pleasure."
And does he ever wonder what Wharton would say about his bronze statue at English football's state-of-the-art headquarters?
"I think he would be humbled," says Campbell. "In fact, I'm not sure he'd want it. But I have to do what I think is right."