League Two: Man City season ticket cheaper than Southend
Last updated on .From the section Football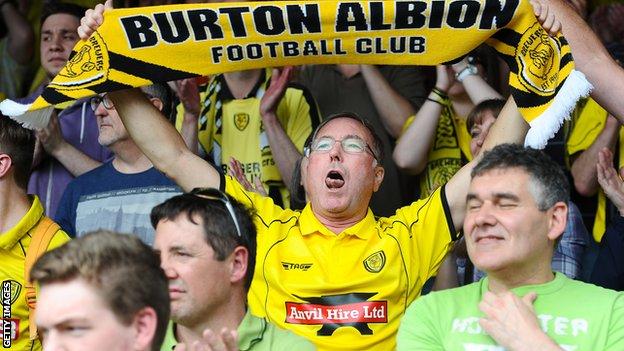 Which League Two club charges fans more than Manchester City supporters to watch their team?
All is revealed in the BBC's Price of Football study.
We contacted 207 clubs in 21 divisions across British and European football, including the Conference Premier and Women's Super League, to discover how much supporters must pay to follow their team.
Have prices gone up?
The average price that League Two clubs charge for their cheapest match-day tickets rose 19% from 2011 to £18.21.
The average outlay for the most expensive match-day tickets also increased, by 7.4% from 2011 to £21.67.
How much do you spend?
Try our calculator to work out your costs, then share your results with your friends. This page also contains the full study findings.
Price of Football calculator and full results
But it is not all bad news for League Two fans. The average price for the cheapest season tickets dropped by 5.6% from 2012 to £260.46.
Which fans are paying Premier League prices?
Southend United charge £350 for their cheapest season ticket.*
That is £51 more than some Manchester City fans pay to watch the Premier League champions at Etihad Stadium.
Two clubs charge less than £200 for a season ticket. Dagenham & Redbridge fans pay £179, while Hartlepool United's stump up £180.
As for match-day tickets, an adult pays £15 at Tranmere Rovers, Bury and Burton Albion. That is the same amount Newcastle United charge fans for a handful of their games at St James' Park.
Northampton Town are the dearest for match-day tickets, charging £22.
Are clubs offering deals?
A number of clubs offer discounts for tickets purchased in advance but Exeter City went a step further earlier in the season by slashing their prices in an attempt to reach attendances of 3,000.
The club said their league standing merited reduction in prices and gates have exceeded 3,000 in each of the three league games since their announcement.
Wycombe Wanderers and Carlisle United offer free season tickets to under-sevens, while Stevenage say offering a season ticket for £25 to under-12s this season has seen a 197% rise in attendance levels for the age group.
How much for a programme?
Newport County sell the most expensive in League Two at £3.50. It is one of the dearest among the clubs we contacted.
Carlisle United's costs £2, the cheapest in the division.
Who sells the most expensive pies and teas?
The average price of a pie in the division is up 5.6% from 2011, to £2.81.
Cheltenham, Shrewsbury and Bury all charge more. At £3.20, they are the costliest in the division.
The most expensive pie among the clubs we contacted is sold by Conference side Kidderminster Harriers. Their much-heralded home-made pie sells for £4.50 at Aggborough.
The price of tea has also gone up, rising 12.1% since 2011 to £1.57 a cup.
Bury charge £2.20 for theirs - only 10 Premier League clubs charge more - while Stevenage, Accrington, Newport and Portsmouth ask for just £1.
A replica shirt for £45?
AFC Wimbledon's replica shirt, at £45, costs more than most clubs in English football's top four divisions. In fact, only 12 clubs charge more.
However, Wimbledon charge just £25 for a junior shirt.
Newport's adult shirt is the cheapest in the division at £34.95, as is their junior version, which costs £24.95.
Fancy a day out?
Burton Albion and Tranmere Rovers - with match-day tickets at £15 - offer the low-cost days out in League Two.
Combining the price of the cheapest match-day ticket, a pie, programme and tea, Albion come in at £21.80, with Rovers just 20 pence dearer.
The average cost of a day out in the league is £25.67, with Northampton Town the only team to charge over £30 at £30.20.
How much do you pay per goal?
Based on the amount clubs charged for their cheapest season ticket last season, Luton fans got the best value for money when it came to goals scored at home by their own side. Each one cost £4.69.
Compare that rate with Southend, where fans would have paid £13.46 for each goal their team scored at Roots Hall last season.
*This data was adjusted at 11:00 BST after Cheltenham Town contacted the BBC to say there was an error with their initial submission.