Price of Football 2014: Scottish clubs must think differently

By Richard Wilson
BBC Scotland
Last updated on .From the section Football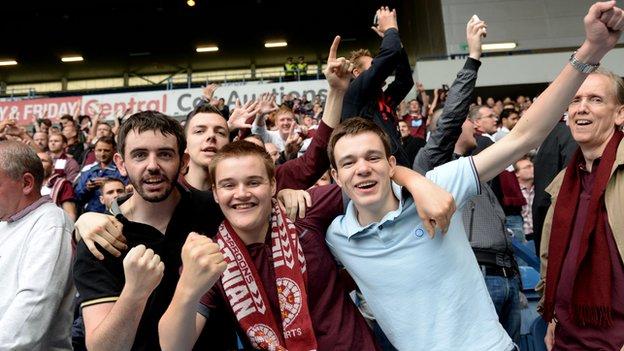 How do football clubs attract supporters?
It is a question that most teams in Scotland have considered deeply, but the subject is too complex for a concise answer. Yet it is also critical.
The BBC's Price of Football survey reveals the fine balance that clubs attempt to tread between the pricing of tickets and products and the number of supporters who attend games.
There are numerous factors that influence the crowd size for any single fixture, but clubs are also now obliged to be more creative in their thinking.
Historically, the relationship between teams and their fans was straightforward.
As a matter of routine, supporters turned up ever second Saturday for home games, often after working in the morning, and the funding challenge was simply matching outgoings to income generated on match days, from sponsorship and from the generosity of directors.
Biggest opening weekend attendances 2014-15

Premiership:

Aberdeen v Dundee United, 16,471

Championship:

Rangers v Hearts, 43,683

League One:

Dunfermline v Brechin City, 2,875

League Two:

Queen's Park v Clyde, 685
Attendance was habitual, and allegiances tended to be passed down the generations or shared amongst peers.
The globalisation of the game, its relentless commercialisation, and shifting leisure and social attitudes has left football needing to be more responsive and resourceful.
"Clubs need to significantly change their mind-set, and focus on being customer-centric," said Lawrence Broadie, director of sponsorship and communications agency Progress.
"This is not about bouncy castles or face painting. It's about recognising who they are selling to and responding accordingly.
"Do people even know how to go to a game? We assume far too much. Ask yourself a question - when did you last see your team actually promote a game to a non-traditional audience?"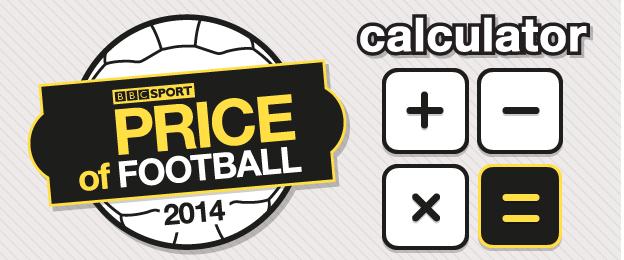 Visit the Price of Football calculator to see how much you spend supporting your team.
St Johnstone took 15,000 supporters to Celtic Park for last season's Scottish Cup final victory over Dundee United, and the challenge for the Perth club has been trying to retain those fans.
As a percentage of the local population, St Johnstone's average attendances are strong, but they are also limited.
The final was an opportunity to re-engage with lapsed fans or engage with potential new ones. Saints have strived to build on their success, but many supporters were attracted by the occasion as much as any long-held connection with the club.
"After the Scottish Cup final we have been very pro-active in reaching out to get back some of the 15,000 fans who came along that day," says Roddy Grant, an associate director at McDiarmid Park and a former St Johnstone player.
"We have all of their email addresses and phone numbers and are still actively working through that to try and encourage them to come to a future home match.
"We've taken the Scottish Cup on a tour of local primary and high schools, which has been received very well."
Opportunism can be effective, but clubs most regularly wrestle with the challenge of setting ticket prices against demand and the need to attract larger crowds.
Television coverage is a factor, since scheduling has disrupted the established Saturday 15:00 BST kick-off times, but so too is the weather and the distance that fans must travel for evening and late kick-offs.
"The general consensus from fans is that they don't want to watch in the depth of winter, and in particular don't want to travel long distances in winter," said David MacKinnon of Hamilton Academical, who visit Ross County in Dingwall the weekend before Christmas.

"Should the SPFL carry out a serious review on the benefits for attendances of moving the football season, as other sports have done? This must include supporter input.
"One huge positive has been the play-offs in keeping the competitive element going to the season end and again a review of how other sports create a competitive angle would be good."
Pricing is an issue, though, particularly if lapsed or new fans are to be attracted to games.
Other leisure activities provide greater comfort, choice and reliability, since a trip to the cinema can be planned without any concern about a late postponement.
"There are so many types of potential attendees, from families, to a work night out, to community groups who can use the opportunity to fundraise," said Broadie. "We are still largely stuck in a fixed-price mentality with cash-only turnstiles.
"Clubs are reliant on factors outside their control. Terrible weather in the hour before kick-off can kill a crowd, the experience and ultimately revenue.
"Free tickets is not the answer. Variety exists at only two or three clubs. We should be able to create much lower entry points, but also challenge the top end of the market. Prices are normally so simple, therefore restrictive, because of operational and accounting reasons.
"This is another example of customers not being at the heart of planning. Clubs should be looking at several price points, age groups, incentives and so on."

Clubs have long-established schemes to engage younger fans, with membership packs, family seating areas and club mascots, but there is room for further innovation.
Engagement is essential at all age levels, too, since a generation of supporters have become disconnected from their club.
The rise in popularity of fan ownership schemes is a consequence of a growing demand to be involved in how clubs are run and operated.
While results and performances are key influences on week-to-week attendances, the overall picture is more complicated.
"Play attractive football, develop and play home-grown talent that supporters can associate with, develop young supporters through community engagement, not just for football matters," said MacKinnon.
"[Also] realistic pricing and ticket offers, under-18s [are granted] free entry, good customer engagement and service, making the fans genuinely feel part of the club."
Scottish Rugby has successful increased the attendance figures of games at Murrayfield as well as fans' appreciation of the experience by bringing them to the stadium earlier and keeping them there for longer.
All the initiatives have led to an increase in match-day revenue that can be reinvested in the sport.
"A measure of success might be, 'well we lost today, and played badly, but I had a good day with my friends and I love going to the games'." said Broadie.
"At the end of the season you have only seven trophies in Scotland between 42 teams so most will leave empty handed."