Racism in English football overt - Fifa vice-president Jeffrey Webb
Last updated on .From the section Football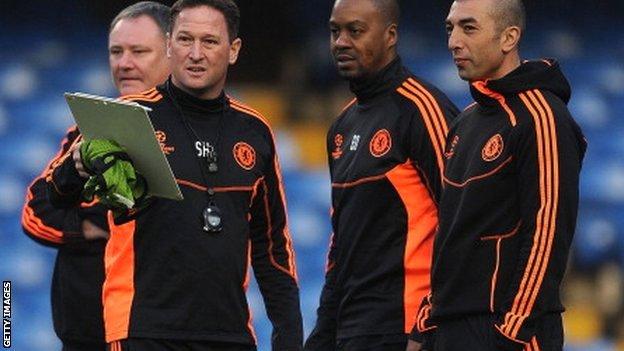 The head of Fifa's anti-racism task force says racism in English football is "right in front of your face".
Jeffrey Webb said discrimination was overt and highlighted the lack of black and ethnic minority people in boardrooms and dugouts.
Professional Footballers' Association chief executive Gordon Taylor has described racism as a "hidden problem".
But Webb said: "It's not hidden. It's hidden from a discussion standpoint. No-one wants to deal with it."
Webb, who is also the governing body's vice-president and head of the confederation covering the Caribbean, North and Central America, used Chelsea youth coach Eddie Newton as an example of the problem.
Newton, 42, assistant manager under Robert di Matteo when Chelsea won the Champions League in 2012, is not getting managerial interviews.
What is the 'Rooney Rule'?
The 'Rooney Rule' was established in American football in 2003 and named after Dan Rooney, owner of the Pittsburgh Steelers and chairman of the NFL's diversity committee. It requires NFL teams to interview at least one black or ethnic minority candidate for head coaching and senior football operation positions that become available, as part of a transparent and open recruitment process.
Webb added: "I hosted a dinner a few months ago, last time I was here. I met a young guy coaching at Chelsea, assistant coach, won a Champions League final, doing well.
"Can't even get an interview. Eddie Newton. I'm not talking about getting a job, getting an interview. That's not hidden. That's right in front of your face.
"I don't know how it could be hidden. You have 92 clubs, you have two coaches of colour. How many board members or executives are in various club positions or at the FA, in Uefa? So, it's not hidden."
The PFA's Taylor has called for the so-called Rooney Rule - which would force clubs to ensure that at least one person from a black or ethnic minority was included on each interview list - to be introduced.
Webb said: "In this day and time, in this era, in this century, should we really be having to mandate opportunities for qualified individuals? Sadly, the answer is yes."