Rangers: former Ibrox director Paul Murray confirms funding bid
Last updated on .From the section Football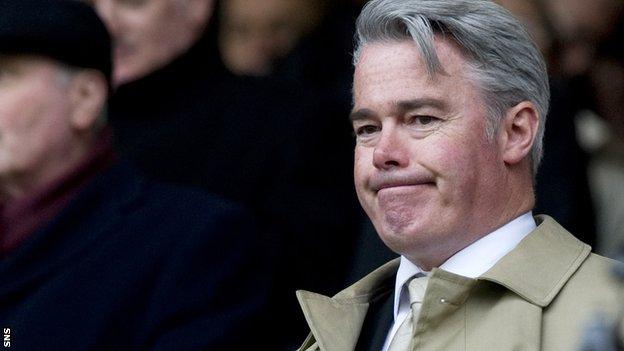 Former Rangers director Paul Murray insists he is part of group holding discussions with the Rangers board to provide funding.
Murray fronted a consortium that failed to take control of the club in 2012, and says Dave King is also involved.
South Africa-based businessman King told BBC Scotland on Wednesday that a newspaper story linking him to a funding consortium was "wrong".
And King, another former director, has made no further comment on the subject.
Wednesday night's statement on behalf of Murray and businessman George Letham reads: "We want our fellow supporters to be clear on the current position and to correct inaccuracies in certain parts of the media today.
"We confirm that we are in discussions with the Board regarding a proposal to provide the Club with a funding package to be provided by like minded individuals including Dave King.
"The discussions should remain private and confidential and we will provide more details in due course."
On Tuesday, Newcastle United owner Mike Ashley called for an extraordinary meeting of Rangers shareholders to remove chief executive Graham Wallace.
Ashley, who increased his stake in Rangers International Football Club (RIFC) plc to 9% this month, also wants the removal of director Philip Nash.
The club recently raised just over £3m through existing shareholders but needs to raise more cash soon to continue to operate.
The Glasgow club, who sit second in the Scottish Championship, held an open offer to existing shareholders in September as they sought to plug a funding gap, including the repayment of loans to shareholders.
Isle of Man hedge fund Laxey Partners bought five million extra shares to strengthen its position as the largest shareholder (16.3%).
Meanwhile, bus tycoon Sandy Easdale bought 1.2 million shares to take his personal stake to 5.21%, which means that, together with voting rights, he controls 26.15% of the club's shares.
Ashley holds 4% of shares personally on top of the 5% through MASH, is now the second largest shareholder in RIFC behind Laxey.