Conference: Barcelona and Bristol Rovers both charge £18 for tickets
Last updated on .From the section National League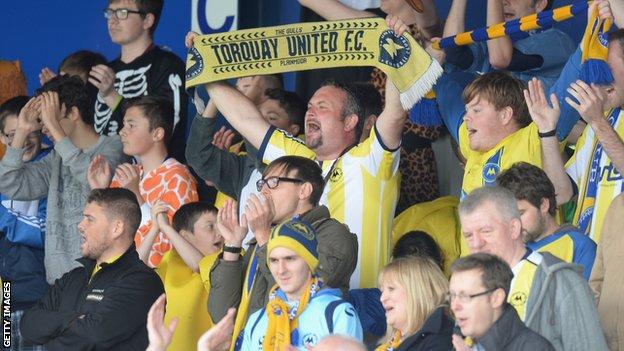 Who has the most expensive pie in British football? And why are Barcelona and Real Madrid on a par with Bristol Rovers, Lincoln and Alfreton?
Find out in the BBC's Price of Football study.
We contacted 207 clubs in 21 divisions across British and European football to find out how much supporters must pay to follow their team.
Have prices gone up?
Yes, for the most part. The average price Conference clubs charge for their cheapest season ticket rose by 0.4% from last year to £246.96, although prices have fallen 0.8% since 2012.
The average price of the cheapest season ticket in England's top four divisions is £340.92, up 3.4% from last year but down 1.1% from 2012.
The average cost of the cheapest match-day ticket in English league football has increased 13% to £21.49.
How much at Halifax?
Halifax's cheapest season ticket is £319. That's £20 more than it costs some Manchester City fans to watch the Premier League champions.
Eastleigh, situated just a few miles north of Southampton on the south coast, charge just £105 for their cheapest season ticket. No other club can beat that in English football's top five divisions.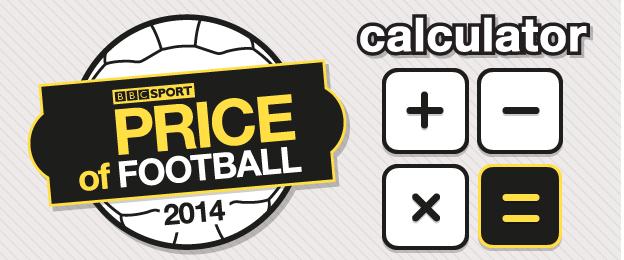 Visit the Price of Football calculator to see how much you spend supporting your team.
That said, a season ticket at Barcelona can cost as little as £103, while Sporting Lisbon's cheapest season ticket is about £55.
Football for £10?
Eastleigh sell the cheapest match-day tickets in the Conference at £12.
In contrast, Bristol Rovers, Lincoln and Alfreton all charge £18. You can watch Real Madrid and Barcelona for about £18.
Premier League sides Newcastle United and Hull City also charge less than £18 for their cheapest match-day ticket.
Are clubs offering deals?
Many of the Conference clubs offer discounts, typically of £2 or £3, for purchasing tickets ahead of match day. Indeed, Wrexham estimate that only around a third of their income now comes from cash payers on the day of a match.
Telford United allow entry for under-16s at just £2 per game, and attracting the next generation of fans is seemingly vital to the Conference clubs, with Welling United offering free entry for under-12s with an adult.
A Conference day out
A pie, programme, tea and ticket from the cheapest match category will set you back just £17.80 in total if you fancy a trip to Eastleigh.
The same day out, all be it slightly further north, at Braintree is £19.30, while at the other end of the scale, the division's dearest day out comes at Lincoln City (£25.70).
How much for a pie?
At £4.50, Kidderminster's pie is the most expensive in English and Scottish football for the third season in succession.
But fans who have visited Aggborough and tasted it insist it represents good value for money.
At the other end of the scale, Braintree have the joint cheapest pie in our study. It costs just £1. Can anyone tell us if it is any good?
Tea for less than a £1?
Braintree also have the cheapest cup of tea to go with their cheapest pie.
The Essex side charge just 80p. That's more than half the price charged by Grimsby Town, Lincoln City, Macclesfield Town and Wrexham.
Getting shirty?
Barnet charge £49.90 for an adult replica shirt. Only 10 clubs in England's top five divisions charge more.
They also charge the most for a junior shirt at £39.90.
Eastleigh charge £33 for an adult shirt and £22 for a junior one.
How much do you pay per goal?
How much would you pay to see your team score a goal? A fiver? If so, fans of Halifax, Southport, Kidderminster and Macclesfield Town will be happy, but Forest Green Rovers is really the home of cheap goals.
Based on last season's cheapest season ticket price and the number of home goals scored, Rovers fans paid just £4.89 for every moment of celebration.
Southport's fans shelled out £5.21, Kidderminster's £5.56, Macclesfield £5.71 and Halifax £5.80.
Spare a thought for Torquay United fans as they paid £16.39 for every home goal at Plainmoor.