Women's Super League: Season ticket prices fall in top flight
Last updated on .From the section Football
A season ticket for £16 seems outlandish, especially to watch football in London.
And an adult replica shirt for less than £21? Not possible, surely.
But that's what the BBC's Price of Football study has unearthed.
We contacted 207 clubs in 21 divisions across British and European football to find out how much supporters must pay to follow their team.
And the Women's Super League, which now features 18 teams in two divisions, remains one of the cheapest places to watch football.
Are tickets really getting cheaper?
The WSL's top flight witnessed a fall in the average price of its cheapest season ticket in 2014. The cost is down 4.23% from £32.50 to £31.13.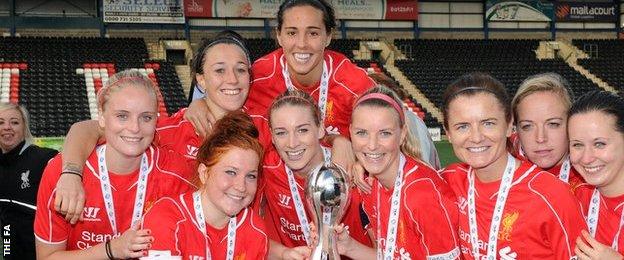 The average price of the most expensive season ticket is down, too, by 0.38% to £32.38.
Manchester City charge a flat £48 for their season tickets. They are the most expensive in the league but fans pay £6.86 for each home match.
Liverpool Ladies, crowned champions on a dramatic final day of the season on Sunday, charge £30 for a season ticket and £5 for an individual match.
Cheaper season tickets, bigger crowds?
The average attendance in the Women's Super League jumped nearly 30% this season, with 728 spectators through the gates at each club compared to 562 last season.
And the cheapest?
London Bees offer a season ticket for £16, which works out at £1.78 per match.
The club, who play their home matches at The Hive in Edgware, also sell adult replica shirts for £20.90.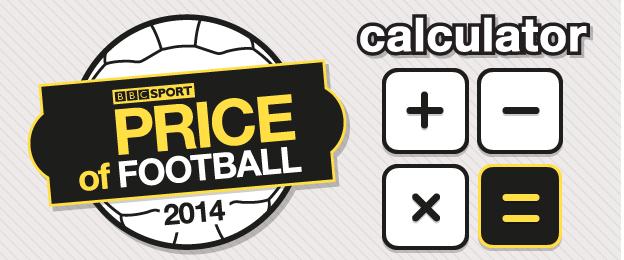 Visit the Price of Football calculator to see how much you spend supporting your team.
The second division, which only began this year, is cheaper across the board than the top flight, which is in its fourth season.
Aston Villa Ladies, for example, charged as little as £3 to watch a game.
What about shirts?
Of the eight clubs in the top division, Birmingham City offer the cheapest adult replica shirt at £29.99.
In contrast, Manchester City, Chelsea Ladies and Everton Ladies all charge £50 for their adult shirts.
Birmingham's junior shirt is £24.99, a lot less than the £42 charged by Manchester City. In fact, you can buy three Birmingham shirts for less than the price of two Manchester City ones.
Arsenal Ladies, Chelsea and Everton sell their junior shirts for £40.
And a cup of tea?
Anything from £1 to £1.80 in the top flight, though not every club sells tea. In the second tier, Yeovil Town Ladies charge 80p for a cup.
Super Sunderland?
Not only could they finish the season top of division two to clinch promotion, Sunderland also charge a total of £7 for a ticket, a programme, a pie and a cup of tea.