Matt Bloomfield column: Coaching courses on my summer holiday
By Matt Bloomfield
Wycombe Wanderers midfielder
Last updated on .From the section Football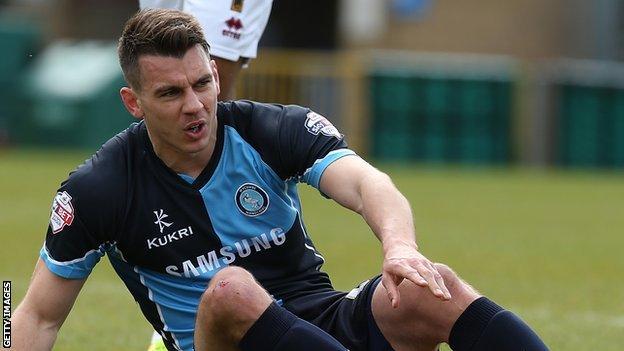 Although slightly delayed, it's great to be back with another season of guest columns.
After that there was a coach journey home, contract discussions were resolved, I had a truly special testimonial against Chelsea and then the new season was upon me.
I spent two weeks of my summer holidays - and some following Wednesdays - studying for my Uefa B coaching qualification.
It's the obvious next step for most footballers approaching or entering their thirties as I am. I've found the process so far extremely interesting, and it has whetted my appetite to educate myself further in coaching qualifications.

I am fascinated by the qualities needed to be a top coach and and those needed to be a successful manager. The more I learn, the more I feel like I want to learn.
The four hours a day I spent in the car with Kevin O'Connor (Brentford's longest-serving player) and Alan Bennett (AFC Wimbledon) were mostly spent - apart from the frustration of the morning traffic on the M25 - filled with discussion about our course, exchanging funny stories from over the years in our careers and general football chit chat.
Somehow the route was changed halfway through so that instead of all meeting at the same point, me and Kev went past Benno's front door to pick him up.
I'm exaggerating a little, but I'm not sure how he swindled that one! Must be the Irish charm...
The Professional Footballers' Association coaches running the course are absolutely first class and we had a great mix of characters.
Matt Taylor (ex-Portsmouth, Bolton and West Ham) and Joe Cole (ex-West Ham, Chelsea and England) were able to give a top-level view in discussions, and the Portuguese influence of Paulo Ferreira and Henrique Hilario (both ex-Chelsea) added some flair to the sessions.
Sergio Torres of Whitehawk and Adam Mekki from Barnet are two other names on the course, as are the greatly experienced trio from Arsenal Ladies of Kelly Smith, Rachel Yankey and Faye White.
The new season has brought new beginnings for us at Wycombe in what has been a really exciting turnaround in fortunes for us.
It was interesting to play against Northampton on Saturday in what was a top end of the table game, only five months since both sides met in the scrap for survival in the Football League.
I have found myself out of the team for the first couple of months of this season. We made some new signings over the summer and results have dictated that the players who occupy the shirts have kept hold of them.
I have been around the game long enough to understand the situation and I am totally behind the team and fully support everything they are currently doing and achieving. I am waiting patiently for my chance.
It's obviously not easy to take as I love playing football as much as I did when I first signed for Ipswich as a 12-year-old.
I'm missing it terribly, but every time I have been left out over the years I have used it as a time to get fitter and come back stronger. I fully intend to do the same this time around.