Brazil v Argentina in China - bad news for Premier League clubs?
Last updated on .From the section Football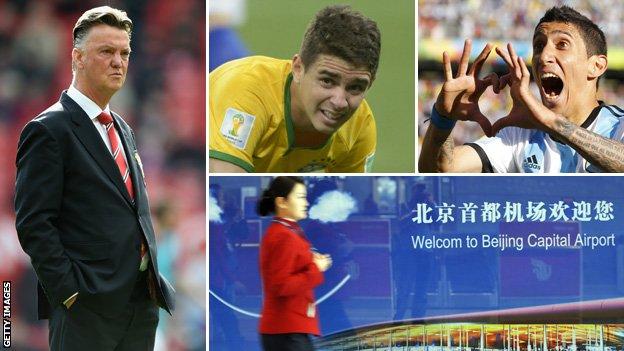 If a European club buy a South American player, they can hardly complain when he goes home to represent his national team.
But Manchester United boss Louis van Gaal's frustration with the international call-up of his Argentine pair Angel Di Maria and Marcos Rojo is entirely understandable.
"They are coming back with jetlag so I cannot train at once and then I have to wait," the Dutchman said.
But his players are not going to be within 12,000 miles of Argentina.
Di Maria and Rojo make the long trip out to Beijing for Saturday's match against Brazil - a game which is actually in doubt because of smog in the Chinese capital. They then face 15 hours of travel back to Manchester after taking on Hong Kong next Tuesday.
This is the third time in a row that arch-rivals Brazil and Argentina have met thousands of miles from home in the months after a World Cup - in November 2010 they played in Doha and in September 2006 met in London.
Van Gaal will not be the only Premier League manager concerned about the amount of flight time clocked up by his South American stars.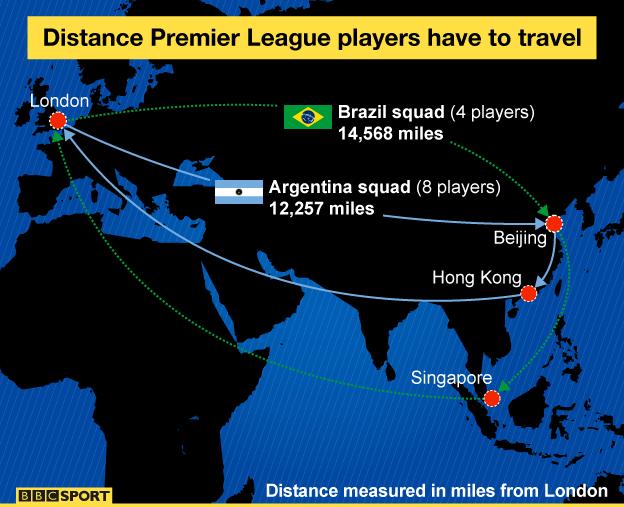 Chelsea's Ramires and Manchester City's Fernandinho might have pulled out of the Brazil squad but even in their absence the Premier League has 12 players involved in the Chinese 'Super-classic of the Americas'- as many as the Italian and Spanish leagues combined.
Argentina can easily pick an all-Premier League back four, as they did against Germany last month, with Pablo Zabaleta and Martin Demichelis of Manchester City, Swansea's Federico Fernandez and Rojo - with Sunderland's Santiago Vergini in reserve. Also in the squad, along with Di Maria, are Erik Lamela of Tottenham and City's Sergio Aguero.
Brazil include the Chelsea trio of Filipe Luis, Oscar and Willian as well as Philippe Coutinho of Liverpool. After the Argentina game they take on Japan in Singapore on Tuesday before taking a 13-hour flight back to London.
And while Brazil and Argentina's Premier League players are having to travel more than 12,000 miles, it's actually nearer 25,000 miles for the players based in South America.
A busy week for Premier League stars

Manchester City's three Argentines, Pablo Zabaleta, Martin Demichelis and Sergio Aguero, face Brazil in

China

on Saturday,

Hong Kong

away on Tuesday, Tottenham in

Manchester

on Saturday lunchtime and then CSKA Moscow in

Russia

on Tuesday.

Brazil's Chelsea trio Willian, Oscar and Filipe Luis play Argentina in

Beijing

on Saturday and Japan in

Singapore

on Tuesday. They are then needed for a Premier League match in

London

on Saturday and a home Champions League game on Tuesday.
All these players are clocking up the air miles for a simple reason - the first few months after a World Cup are the silly season for South American national teams.
The next set of World Cup qualifiers are set to get under way in September 2015. The marathon competition, all 10 nations playing each other home and away, is fiercely competitive, and has done wonders for the level of the continent's teams since it was introduced in 1996.
Previously making up the numbers, Ecuador have made it to three of the last four World Cups, reaching the second round in 2006. In Brazil this year their four points were not enough to get them into the knockout stage - the only time in the last two World Cups that a South American team has failed to get out of their group.
Paraguay made the quarter-finals for the first time in 2010, as did Colombia this year - while Chile enjoyed their best ever tournament, with the exception of 1962, which they hosted.
Chile are hosts again next June, this time for the Copa America - an important title in its own right, and also a warm-up for the World Cup qualifiers.
The travelling relents

Argentina and Brazil both play in Europe in the next batch of friendlies, with Lionel Messi's side playing Cristiano Ronaldo's Portugal at Old Trafford, while Brazil visit Turkey and Austria.

There is another double date of fixtures in March, the last before the Copa America, but neither team have announced their opponents or venues yet
They have never won it, and the pressure will be on next year - which explains why the first international match in South America since the World Cup final is their game against Peru on Friday. The Chileans are looking for practice playing in front of their own fans.
Next year's Copa, then, kicks off the next cycle of competitive games in South America. Until then, Fifa dates are used to bed in new coaches and have a look at fresh players - and also to make money with lucrative friendlies.
Home friendlies are rare - only three of Brazil's last 12 have been in the country, and two of those were World Cup warm-ups. But then again, after the Copa America they have all got nine home games as part of their World Cup qualification campaigns.
Finding high-profile opponents in September and October is not easy. The European teams are busy with Euro 2016 qualifiers.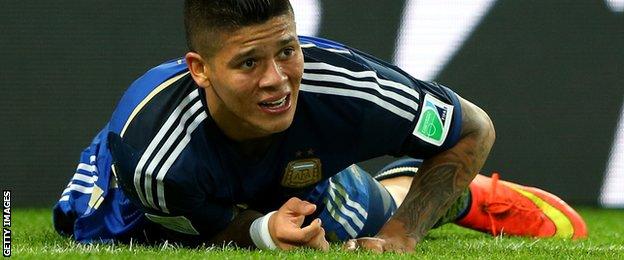 The matches played by the South Americans tend to fall into categories; either they play each other, or opponents from the Concacaf region, in the United States. Or they go to Asia.
Uruguay and Venezuela both did the double of visiting Japan and South Korea in September - this month the Uruguayans, with Luis Suarez recalled, head for Saudi Arabia and Oman.
Paraguay have made the long trip to take on South Korea and China over the next few days. And Argentina and Brazil, as we have seen, are in China before heading off to Hong Kong and Singapore respectively.
The main driver here is money and managers accept it as a necessary compromise in the name of finance.
Premier League players heading to Asia this week

Argentina (playing in China and Hong Kong):

Pablo Zabaleta, Martin Demichelis, Sergio Aguero (all Manchester City), Angel Di Maria and Marcos Rojo (both Manchester United), Federico Fernandez (Swansea), Santiago Vergini (Sunderland), Erik Lamela (Tottenham).

Uruguay (playing in Saudi Arabia and Oman):

Gaston Ramirez and Abel Hernandez (both Hull City).

Brazil (playing in China and Singapore):

Filipe Luiz, Oscar, Willian (all Chelsea), Philippe Coutinho (Liverpool).
In the case of Brazil, their friendly matches are organised by a company called ISE, which is based in Saudi Arabia. The CBF, Brazil's FA, receive a fixed amount - according to the Folha de Sao Paulo newspaper, this is just over £616,000 ($1m) per game.
ISE, then, will obviously seek to fix up matches where it can pay this fee and make a profit from ticket sales and image rights.
The growing football market in east and south-east Asia offers the best chance of a good deal - and if this forces the players to trek halfway round the world and irritates the likes of Van Gaal, then so be it.
But the former Netherlands boss is likely to be far more pleased by the international schedule of his Argentina players in next month's Fifa dates. More European sides are available in November, meaning that there will be no extensive travel demands on Di Maria and Rojo.
Argentina are set to play Portugal - at Old Trafford.