DR Congo: Gunshots and shaking buses on international breaks
By John Bennett
BBC World Service Sport
Last updated on .From the section Football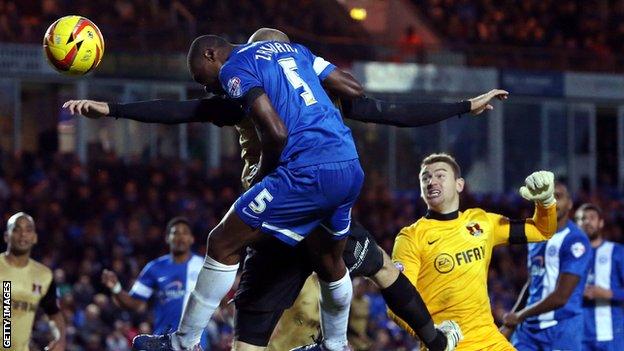 His Peterborough team-mates are playing Crawley this weekend, but League One defender Gabriel Zakuani is making a much longer trip during the international break.
The 28-year-old is a Democratic Republic of Congo international and will be aiming to stop Yaya Toure, Gervinho and Wilfried Bony when his country face Ivory Coast on Saturday and Wednesday in two crucial Africa Cup of Nations qualifiers in Kinshasa and Abidjan.
Zakuani was born in Kinshasa but grew up in London. He made his DR Congo debut in 2005 and was part of the squad at the Cup of Nations in South Africa in 2013.
Some England players have complained that life as an international footballer can be boring but, as Zakuani tells BBC World Service, playing for DR Congo is never dull...
Gunshots during training
"We got into the hotel before the away game against Libya and the first thing we saw was a metal detector and a sign that said 'no guns allowed'. We were all taking pictures because we couldn't believe it.
"Surely it should go without saying that there's no guns allowed in hotels. But during our training session there were gunshots in the background, then during the game there was a military helicopter hovering just above the stadium. Libya was crazy."
Who is Gabriel Zakuani?

Began his career at Leyton Orient, before moving to Fulham in 2006

Two loan spells with Stoke followed before he joined Peterborough in 2008

In January 2014, he signed for Greek Superleague side Kalloni

However, he returned to Peterborough in June
Fans shaking the team bus
"When we were playing in Malawi, there were fans outside the ground shaking our team bus. That's the norm though. When I was younger I used to get shocked by it and was thinking 'I can't put myself in this danger'.
"But the older players used to tell me that this is normal in Africa. The fans are passionate about the game, they want their team to win and they go by any means to do it. The fans turn up hours and hours before the game. Thousands turn up to our training sessions."
Never knowing if the manager will turn up
"The day before our first games at the last Africa Cup of Nations, our manager Claude Le Roy had a disagreement and walked out. We heard he'd resigned. We didn't know what was going on.
"Then we got back into the dressing room just before kick-off and he was there. I've been shocked before but that was something else. I think he resigned at midnight on the day of the game and then he turns up as manager literally for kick-off."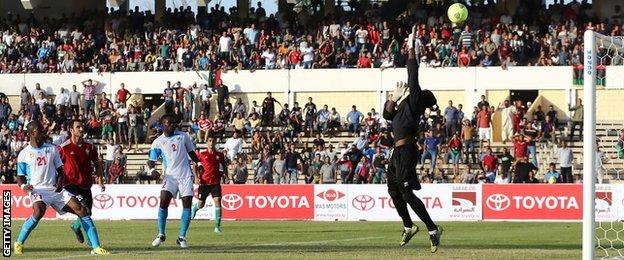 The hotel is never boring
"I room with Crystal Palace winger Yannick Bolasie and we see each other all the time. Sometimes I think he talks to me more than his missus. I think she's probably sick of me because we're on the phone every day. We never get bored in the hotel.
"Me and Yannick will be up at night and out of nowhere he starts rapping. Then West Brom midfielder Youssouf Mulumbu will come in and cause mischief. It's like a new generation at DR Congo and we all get on really well.
"With Yannick, you never know what he's going to do next, on and off the pitch and he's at the centre of the great camaraderie in the squad."
Partying on the team bus before the game
"There's loads of singing and dancing on the team bus on the way to the game. It's unbelievable. In England we have our headphones on and we do our own match-day rituals but in DR Congo everyone gets involved in the singing and dancing, from the coach to the tea lady.
"The bus is literally rocking. You have the fans outside seeing us on the way to the stadium and they don't know what's going on, it's like a party on the bus before the game."
Africa Cup of Nations qualifying - Group D

P

W

D

L

GF

GA

Pts

Cameroon

2

2

0

0

6

1

6

DR Congo

2

1

0

1

2

2

3

Ivory Coast

2

1

0

1

3

5

3

Sierra Leone

2

0

0

2

1

4

0
It's a pride thing
"I know that in Europe everything is done for you. For us it's a totally different world. Even the little things. For example, I have to bring my strapping over from Peterborough because I know the facilities aren't as good.
"But it's not a problem. We appreciate where we started, where we were born and where our family is from. It's a pride thing. The population is 77 million in Congo, you can't describe the feeling of representing those people."