Premier League: Uefa says games abroad 'will likely face opposition'
By Richard Conway
BBC Sport news correspondent
Last updated on .From the section Premier League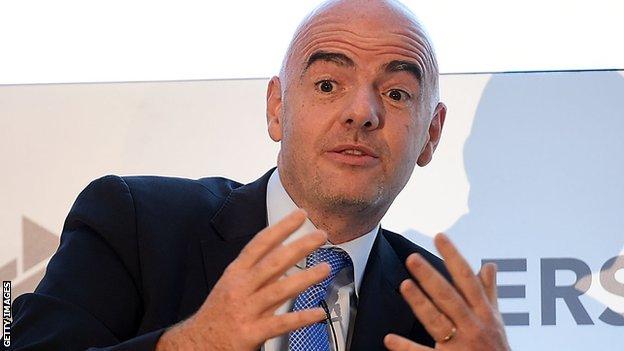 Plans by the Premier League to play a round of fixtures overseas would likely face opposition from Europe's governing body Uefa.
General secretary Gianni Infantino said discussions over the idea would need to take place if the Premier League wished to proceed further with the proposals.
Uefa opposed the Premier League's idea for a "39th game" back in 2008.
"Let's see what the position of Uefa is. But I don't think it will change, it will have to be discussed," he said.
Speaking at the Leaders In Sport Conference in London, the 44-year-old added: "These kinds of ideas and proposals are on the table every now and then and have to be discussed every now and then.
"But today already we have some associations who play their Super Cup in Asia so this is part of this wish to export European national football.
"Now we have to bear in mind that we have a pyramid in place. World governing body Fifa, the Confederations, the national associations, leagues and so on.
The value of the Premier League
The television deal for Premier League rights which runs from 2013-16 is worth almost £5.5bn
More than £2bn of this comes from the sale of overseas rights. Thailand, Singapore, Hong Kong and Malaysia paid £650m between them
Last season 98% of all Premier League matches were available to TV viewers outside England
North Korea and Albania are the only countries not to have some form of rights agreement in place
"Whenever these kind of things are discussed we have to act in a responsible way, within the rules that we've all agreed."
The idea of the "39th game" six years ago was eventually put on hold following the negotiation of television rights.
Speaking at the time, Uefa president Michel Platini said: "It's a nonsense idea. I am sure Fifa will never accept it, because it's not good for football."
Premier League clubs agreed back then to explore the option of playing an extra round of matches overseas at five different venues, with cities bidding for the right to stage them.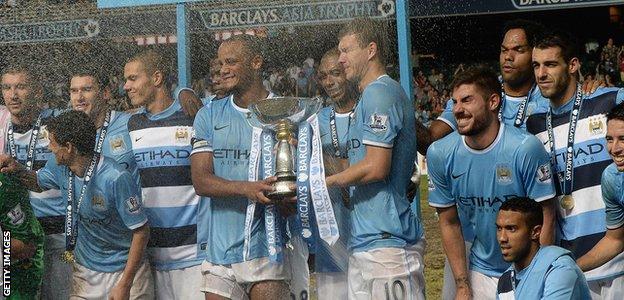 The current talks are believed to be at an early stage, but a proposal could come to fruition by the end of the decade.
An expansion of the Premier League's existing pre-season tournament, the Asia Trophy, is also thought to be under consideration.
Any opposition from Uefa to overseas fixtures, while politically significant, could not stop the Premier League if it wished to proceed, provided the games were played outside of the confederation's jurisdiction.
The Premier League would, however, have to seek consent from Fifa, the Confederation in which the games were being held and the relevant national association.
Speaking yesterday, the head of Concacaf, the Confederation responsible for North America, Central America and the Caribbean, said Premier League games held in the region could be a "win-win" for both parties.