Billy McKinlay: Watford 'very poor' over ex-boss says Michael O'Neill
Last updated on .From the section Watford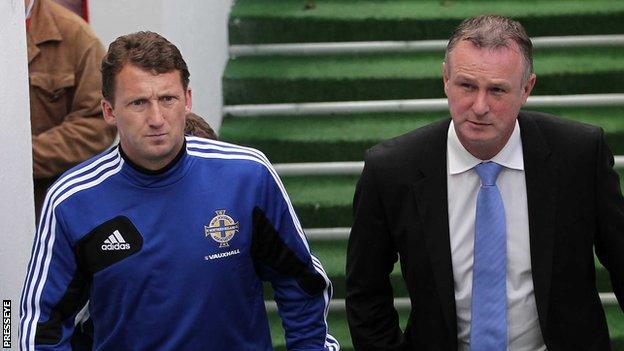 Northern Ireland boss Michael O'Neill has criticised Watford for replacing Billy McKinlay after eight days.
McKinlay, 45, quit his role as O'Neill's assistant to concentrate on the head coach role at Vicarage Road.
He was unbeaten in his two games in charge of the Hornets before being replaced by Slavisa Jokanovic.
"I'm very disappointed for him, and really I think Watford have to look at themselves," O'Neill told Sky Sports News.
"Billy's not done anything untoward there. He went in, in difficult circumstances, got a win and a draw and suddenly finds himself out of work again, which is very poor.
Watford's managerial timeline
31 August: Beppe Sannino quits amid reports of an unhappy squad
2 September: Oscar Garcia appointed head coach
29 September: Garcia quits for health reasons; Billy McKinlay appointed
7 October: McKinlay replaced by Slavisa Jokanovic
"There's a human aspect to football as well and I think the owners, technical directors and chief executives need to consider that when they're playing with people's lives in this way."
Former Chelsea midfielder Jokanovic became Watford's fourth manager of the season on Tuesday, with Beppe Sannino having left at the end of August and Oscar Garcia stepping down after 27 days in charge due to health concerns.
Scot McKinlay had spent two years combining his role with Northern Ireland alongside his coaching responsibilities at Fulham, until he was offered the job as head coach at Watford.
Hornets owner Gino Pozzo said the decision to replace the former Blackburn midfielder was made in the "long-term interests" of the club.
O'Neill, who has been preparing Northern Ireland for Saturday's home match against the Faroe Islands, said it was too early to discuss whether McKinlay could return to his coaching staff.
"That's something that's really not for now," he said. "We've kept communication going over the week and that's something we can address down the line.
"This week we've not really been affected too much because Jim Magilton [performance director] and Stephen Robinson [youth team coach] have stepped in and done an excellent job."