Club-mates' Ebola fears forced Bangoura out of Guinea tie
Last updated on .From the section Football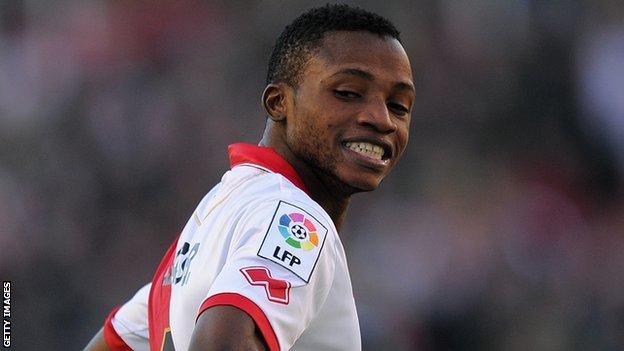 Guinea winger Alhassane Bangoura has revealed he withdrew from the squad to face Ghana because his Rayo Vallecano club-mates feared he could catch Ebola.
Hundreds have died from the virus in Guinea and the country has taken the precaution of moving Saturday's Africa Cup of Nations qualifier to Morocco.
"I asked Guinea coach Michel Dussuyer to free me because my colleagues were scared," Bangoura told Rayo's website.
"Rayo did not tell me anything, the decision is mine."
The current Ebola epidemic in west Africa has now killed more than all other known outbreaks combined, with Guinea, Sierra Leone and Liberia the worst affected countries.
As part of the effort to stop the spread of the virus the Sierra Leone Football Association suspended all football activities and then the Confederation of African Football ordered all matches involving the Leone Stars, Guinea and Liberia to be relocated from their countries.
Sierra Leone have found venues in other countries to host their 'home' ties and have given assurances that all measures have been put in place to prevent Ebola being spread to players and coaching staff.
And Bangoura claims scare-mongering has led to some Rayo players worrying needlessly.
"My club-mates were concerned about the Ebola issue, they called me twice while I was in Morocco. I didn't answer the telephone because I was training.
"I don't want to have a problem with the club, who are the ones that pay me, and when they told me that my colleagues were worried, I took the decision to come back to Spain to speak with them and tell them not to be scared.
"I had to speak to the people to say it's a lie that I have Ebola, and to say that in the national team there isn't any Ebola.
"My Rayo colleagues have received me normally. They trust in me. What the people need to understand is that when the national team calls, before you come you have to have a medical to do the tests. Each national team has their doctor that controls this."
After making the decision to leave the Guinea squad, Bangoura was concerned there may be repercussions from those who questioned his loyalty to his country.
"I've just spoken to my mum, the people are talking [in Guinea]. It's the first time that I've abandoned the national team, it worried me that someone crazy could do something bad to my family.
"A radio station from my country will call me to say that there is no problem and that they forgive me.
"I am sad not to be able to play. I'll speak to my national team colleagues and see what they say. We are friends and it will not be much of a problem because when I spoke they understood me. I am fine and don't have a problem."