Roy Keane says Sir Alex Ferguson wrong to criticise former players
Last updated on .From the section Football
Roy Keane says ex-Manchester United boss Sir Alex Ferguson was wrong to criticise his former players in his autobiography and would not be afraid "to have a go at him" if the two met.
Ferguson discussed differences with ex-United players Keane and David Beckham in the book published last year.
Keane left Old Trafford in November 2005, after falling out with Ferguson.
"I felt it was a bit harsh to criticise me or other players," Keane, 43, told Football Focus.
"We did OK for the club, had a bit of success, won a few trophies, and here is the manager criticising us all.
"A manager who has made millions of pounds out of us, got statues and stands named after him, and he thinks he can criticise us without anybody saying anything to him because he thinks he's got all this power.
"I thought, 'No, why should we sit back and listen to this nonsense?'"
In his book, Ferguson claimed Irishman Keane, who played a key role in the club's success during his 12-year stay at Old Trafford, became an increasingly negative influence.
Keane said he was not sure if he could ever forgive Ferguson for the comments and added that he would not be frightened to say what he thought to his former manager, should they meet again.
He added: "Truthfully, I'd probably have a go at him. Yeah, why not?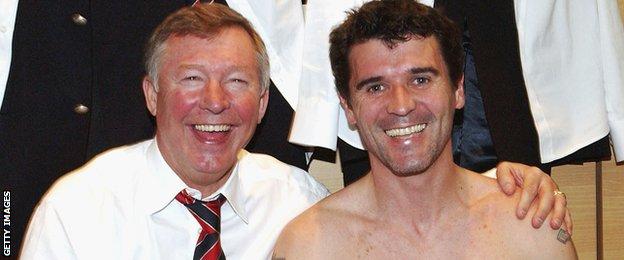 "What would I say? Why are you talking nonsense about us, talking rubbish about me and other lads who have done well?
"He'd probably defend himself, take a running jump as you'd expect. But I don't see why we should just accept it - it was all about power and control for him.
"I'm 43 years of age - am I supposed to be frightened of him? You've got to take them on. Football is a small world, so I'm sure we'll cross each other, and I look forward to it."
Keane is currently the assistant manager of Aston Villa and the Republic of Ireland.
The former Ipswich and Sunderland boss was linked with a return to management at Celtic recently, but wrote in his updated autobiography, The Second Half, that he turned down the chance to return to the Hoops because he was unimpressed with the offer made by the Scottish champions.
Sir Alex Ferguson on Roy Keane in his autobiography:
"The hardest part of Roy's body is his tongue. He has the most savage tongue you can imagine."
"He can debilitate the most confident person in the world in seconds. He was an intimidating, ferocious individual."
Read more
The Irishman, though, is not ruling out the possibility of becoming a manager again.
Speaking at the launch of his autobiography, he added: "I'm not waiting for a manager to lose his job - I'm not that type of personality.
"I hope managers do well. But obviously the game doesn't work like that - managers will lose their jobs.
"But I'm not sitting around waiting for the phone to ring, I have to say."
You can watch the full interview on Football Focus from 13:40 BST on Saturday 11 October on BBC One and this website.