Sepp Blatter: Fifa president calls for away goals rethink
Last updated on .From the section Football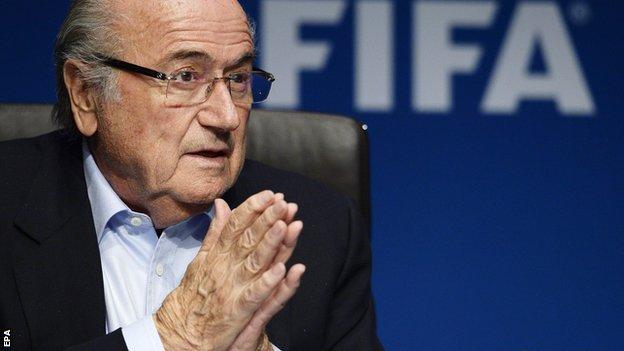 Fifa president Sepp Blatter says the away goals rule should be revised as home advantage is less important in the modern game.
The rule means that the number of away goals scored is decisive if aggregate scores are level in a two-legged tie.
"The idea dates back to a time when away games were often an adventure, involving journeys that could be long and arduous and playing conditions would vary considerably," said Blatter.
"It is time to rethink the system."
The rule was first introduced into European competition in the 1965-66 Cup Winners' Cup
It was under discussion at a meeting of Europe's top coaches in Nyon in September.
Former Manchester United manager Sir Alex Ferguson chaired the meeting and said that better pitches meant away teams could counter-attack more effectively, increasing the possibility of scoring away from home.
"What is helping is that the state of the pitches, pitches are fantastic nowadays, so coming out of defence with passes is much easier than it was 30 years ago, and you get a better attitude to counter-attack today," said Ferguson.