Champions League: Domestic title winners to receive top-seed status
Last updated on .From the section Champions League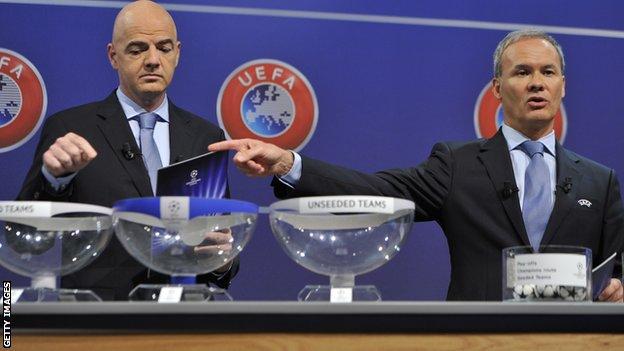 Uefa is set to give top-seed status to winners of its highest-ranked leagues and the defending title holders in the Champions League from next season.
Teams are currently seeded based on their performance in European competitions over the last five years, rather than domestic competitions.
Uefa general secretary Gianni Infantino said the group-stage change "will be approved" at the start of next year.
He said the aim is to give league winners "an additional award".
"People had difficulties in understanding how the champion of a country is in a lower pot than the third-ranked in that country," he said.
"This will give another dynamic with the draw and in the way the groups are composed."
Because of the current regulations, with seedings determined by a team's Uefa coefficient, Premier League champions Manchester City were a second-seeded team this season.
Arsenal, who finished fourth in the Premier League, were top seeds, so avoided sides such as Barcelona and Real Madrid in the group-stage draw.
What is Financial Fair Play?
The Club Financial Control Body was set up in June 2012 to oversee the application of the Uefa Club Licensing System and Financial Fair Play regulations.
Clubs cannot repeatedly spend more than their generated revenues and clubs will be obliged to meet all their transfer and employee payment commitments at all times.
Higher-risk clubs that fail certain indicators will also be required to provide budgets detailing their strategic plans.
Teams participating in Uefa club competitions have had their transfer and employee payables monitored since the summer of 2011. The break-even assessment covering the financial years ending 2012 and 2013 will be assessed during 2013-14.
All you need to know about FFP
Meanwhile, Uefa said it will consider changing its Financial Fair Play (FFP) rules to take into account the amount of debt held by clubs.
Currently, debt is not factored into FFP calculations, although interest payments on debt are considered.
"Certainly, the question of debt is something that can be put on the table," said Infantino.
Uefa introduced FFP in 2011 to prevent clubs competing in European competitions from spending beyond their means and stamp out what president Michael Platini called "financial doping".
In May, Manchester City were fined £49m - £32m of which was suspended - and had their Champions League squad capped to 21 players for breaching FFP rules.