FA Commission: What is the 'state of the game' at grassroots level?
By Adam Williams
BBC Sport
Last updated on .From the section Football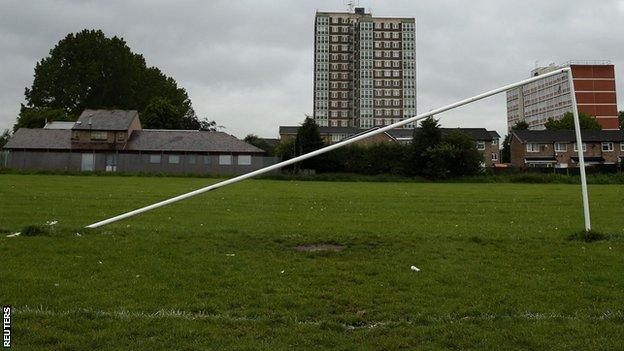 As the Football Association's Commission publishes the second part of its report into the future of the game in England, chairman Greg Dyke has admitted the sport is in "a degree of crisis" at grassroots level.
BBC Sport has attempted to gauge the current 'state of the game' by asking players, volunteers and coaches across the country their views.
From the recreational player, to the campaign organiser and non-league club chairman, we hear what problems they face and where the FA's intervention could make a difference.
The park league player
Joe Walker - Player, club secretary and treasurer for Beltinge FC, Canterbury and District Football League, Kent:
"Teams in our league are getting priced out of playing by having to pay for facilities that are simply not up to scratch.
"A player from another team in our league sent me a picture last week of a council-maintained pitch they turned up to play on that had the lines marked out all over the place, making it unplayable.
"That's after you've paid around £70 for pitch hire, another £28 for a referee and then all your own costs for things like nets, corner flags, spare balls, your playing kit, plus all your upfront expenditure at the start of the season, like league fees and insurance.
"While this is happening, you're getting around 11-12 players turning up to play, who are paying just £5 in match fees - and that's if they remember their wallets.
"The weather can cripple your chances of playing as the quality of surfaces get poorer, which is why several clubs in our league are taking advantage of the 3G pitches in the district.
"That guarantees you a game every week, which encourages better football, on a better surface.
"Last year the weather meant we lost a lot of fixtures and I played something like 10 games in 14 days at the end of the season when we had to make up the backlog."
The campaigning coach
Kenny Saunders - Co-ordinator of the Save Grass Roots Football campaign:
"Our campaign came to a head because of the continued rise in pitch hire fees.
"I get a lot of emails from across the country every week about more increases by local authorities.
"In Sefton, near Liverpool, where I'm a youth coach, my under-sevens team has to pay £39 an hour to use a third of a 3G pitch.
"It's coming to a stage where people can't afford to play where they live and they're having to go out of their own communities to play football, which just adds extra expense.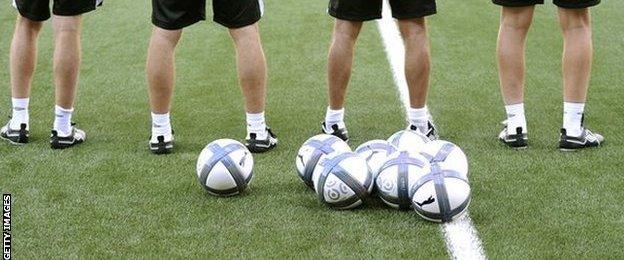 "Age-group football at under-17 and under-18 level is dying out because of that and I fear for the future of some non-league teams for that same reason.
"You can build as many 3G pitches across the country as you want; in the end, it comes down to affordability.
"Nothing will change in the future unless the FA takes a closer look at its own structure first."
The non-league player
Joe Woolley - 18-year-old midfielder for Market Drayton Town Football Club, Evo-Stik South League:
"You need to be able to take care of yourself in the British game, so you must relish the physical side.
"At grassroots level, you battle in most games to earn the right to then play football.
"I come across all types of sides, with a different ethos, game plan etc.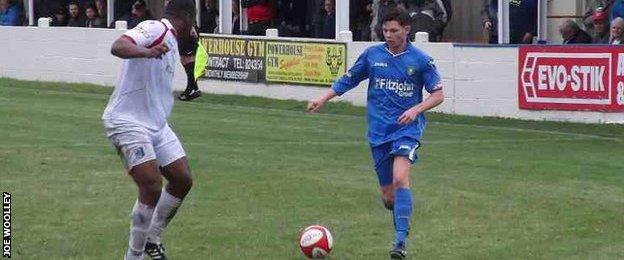 "True skill is allowed to flourish at this level, albeit there will be mistakes made.
"This you learn from and there is nothing like an old pro in your team to really teach you how to play.
"There is no doubt that the best level of coaching is at academy level, but still many players are missed as many academies still don't have the numbers of coaches to really indulge all the players.
"My family and I decided that unless there was a real cast-iron interest from an academy, I would just continue to play and train locally, enjoying my football.
"Now I am at senior age, I am really pleased to be playing proper competitive, testing, senior football week in week out, without sitting on a bench.
"Emphasis on a good grass pitch is much more prevalent but at grassroots you will still come across poor pitches.
"This then becomes a leveller and good players get dragged down."
The non-league coach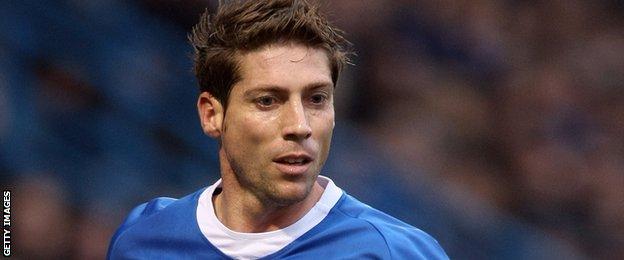 Nicky Southall - Former Bolton, Nottingham Forest and Gillingham midfielder and now assistant manager at Maidstone United, Isthmian League Division One South:
"Maidstone United have been playing on a 3G pitch ever since the club moved to its new stadium in 2012.
"That's had huge benefits for the club and the community, both on and off the pitch.
"Those additional revenues from hiring out the pitch for age-group coaching sessions and other sports clubs have been invaluable.
"It's also meant the club can train every week on a reliable, quality surface without any disruption from the weather.
"When I was manager at Whitstable Town, we would really struggle to maintain a playing surface that two sides were playing on weekly when it got to the wettest parts of the winter.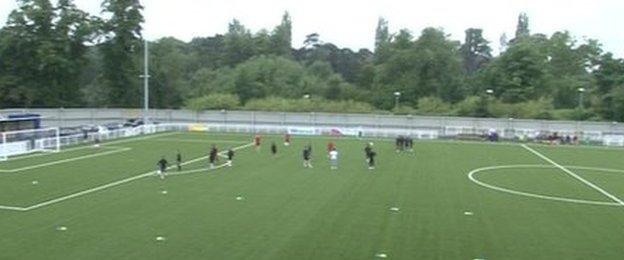 "We'd be scrambling around to find indoor sports halls, gyms, anything we could, just to get training sessions done.
"I really hope the FA takes its idea for more 3G surfaces forward and they can remove a lot of the red-tape around the costs.
"More 3G pitches in inner-city communities would really benefit children and youngsters as they tend to sit around at home a lot more now and get bored easily compared to when I was growing up.
"The more you can get them out in the fresh air and stimulate them through sport, the greater the benefits will be later in life."
The non-league chairman
Jimmy Evans - Chairman, Knutsford Football Club, Cheshire County Premier League:
"The FA sees grassroots as recreational/social football for health, leisure and participation, rather than performance/competitive football at amateur and semi-pro level.
"The FA has got it wrong. By ignoring the needs of step three-seven non-league clubs, it is doing a great disservice to football development in this country.
"The majority of funds are aimed at increasing participation and adding 3G pitches, while amateur clubs are mostly in dire straits, with a few full-time, unpaid volunteers, often in their 60s, working all the hours to keep their clubs afloat.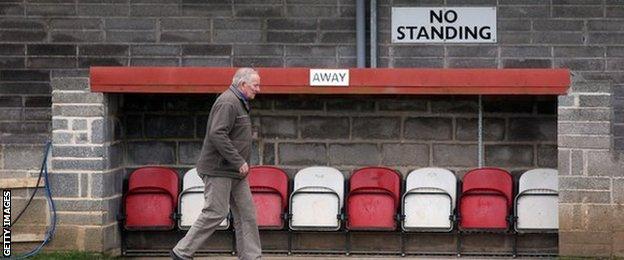 "No FA support or recognition of this fact means that within five to 10 years, many traditional proper football clubs will go out of existence.
"And it is certainly not necessary for youngsters to be in an 'academy' to be sure of playing football at a high level - in fact, it is often counter-productive.
"These lads train and play among themselves with no exposure to what semi and pro football is all about."
The non-league football pyramid steps explained
Step 1:
Football Conference Premier
Step 2:
Conference North, Conference South
Step 3:
Northern Premier League Division, Southern League Premier Division, Isthmian League Premier Division
Step 4:
Northern Premier League Division One (North and South), Southern League Division One (Central, South & West), Isthmian Division One (North and South)
Step 5:
Combined Counties and Regional Premier Divisions
Step 6:
Combined Counties and Regional Division One
Step 7:
County Leagues