Scott Cuthbert: Leyton Orient players must take responsibility
Last updated on .From the section Football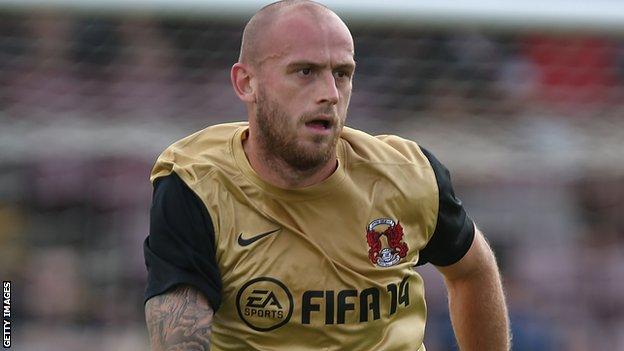 Scott Cuthbert says Leyton Orient's players must take some responsibility for their poor start to the season.
After the resignation of boss Russell Slade, the O's are one point above the League One drop zone after 10 games.
"I think it is an easy excuse for players to make - that there is a lot of uncertainty at the club," the 33-year-old defender told BBC London 94.9.
Orient have endured a turbulent few months following defeat on penalties by Rotherham at Wembley in May.
Leyton Orient defender Scott Cuthbert:
"As a team we struggled to gel together but we're beyond that stage of settling in now. As players we have to take a bit of responsibility."
Long-term club owner Barry Hearn sold his shareholding in the club to Italian businessman Becchetti and, following the departures of goalkeeper Jamie Jones and winger Moses Odubajo, seven new players arrived at the Matchroom Stadium.
Last month Slade resigned, subsequently joining Cardiff City after a legal wrangle, but a new head coach is yet to be appointed - despite caretaker Kevin Nugent recently receiving a contract offer.
"Some players left and with the takeover I think it delayed Russell from making the signings as quick as we could," centre-back Cuthbert added.
"We had started pre-season training and two weeks in we were signing players who were out of contract. As a team we struggled to gel together but we're beyond that stage of settling in now.
"It is easy for us to hide behind that. As players we have to take a bit of responsibility."
Cuthbert continued: "We have not had the greatest of starts but it is a long season. With the squad and quality we have, if we get a run going there is no reason why we can't be there or thereabouts.
"It is just a matter of getting that first result and getting a bit of momentum."

Orient finished third in the table last season after a club-record start which saw them record eight successive league wins.
However, after missing out on promotion to the Championship, the east London side have only won two of their opening league fixtures in 2014-15 and are yet to win at home in any competition.
"I think when you get so close as we did last season, there was always going to be a bit of added pressure on us," Cuthbert said.
"It doesn't affect us in any way and it is something which should drive us on, especially those of us involved in the play-off final.
"Last season we had such a small, close-knit squad. If you look at the starting XI at Wembley, the majority of us would have played 40-plus league games.
"To be 2-0 up at half time and go out on penalties was heartbreaking for everyone. It is something which makes you stronger and makes you want to get to that level."

Nugent, who was appointed Orient assistant manager in 2009, told BBC London 94.9 on Thursday that he had been presented with a contract to become head coach.
Cuthbert has backed the 45-year-old to lead the club forward should he accept the deal on offer.
"We are at the stage where the club needs a bit of stability," Cuthbert said. "There has been a lot of change over the last two or three months and it would be nice to get a bit of normality back at the club and we can move forward.
"'Nuge' has been fantastic since I came to the club and is the man coaching day in, day out. I think he deserves the job and a crack at it."