Wrexham: Kevin Wilkin in 'no hurry' for goalkeeper back-up
Last updated on .From the section Football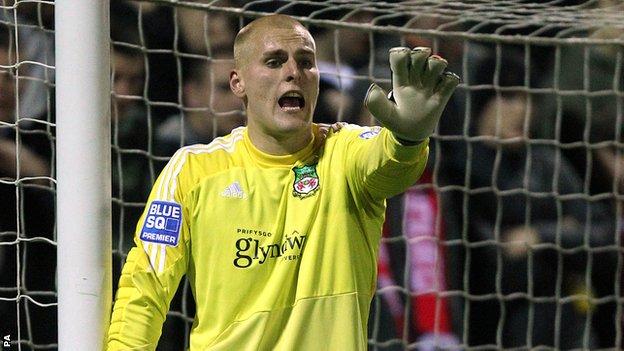 Wrexham manager Kevin Wilkin says he is no rush to bring in a goalkeeper following on loan Dan Bachmann's injury.
The Austrian, 20, on loan from Stoke City, is expected to be out for at least three months with a torn medial collateral ligament in his knee.
Andy Coughlin played in the 2-2 draw at Halifax and Wilkin has spoken to several clubs about signing a back-up.
"There's no real hurry," Wilkin said.
"I hope by the end of next week, probably 10 days, we'd have a back-up keeper to keep pushing Andy.
"There were a couple of clubs that I've spoken to that have offered us goalkeepers.
"But they don't quite fit in with what we can work with financially at the moment."
Austrian Under-21 international Bachmann collided with the frame of the goal during the 2-1 defeat at Torquay United last Saturday.
He was replaced by former Tranmere Rovers goalkeeper Coughlin, 21, for Tuesday's game at Halifax.
Coughlin will join up with the England C squad for Tuesday's International Challenge Trophy game in Turkey following Saturday's Conference game against Grimsby Town.
"Andy came in the other night and did really well," Wilkin said.
"He'll go away with England on Sunday which is great for him and coincides nicely with his recall back into our starting 11.
"Hopefully he does what he's capable of doing [against Grimsby] and continues to take that forward."