Wayne Rooney an England father figure - Jack Wilshere

By Phil McNulty
Chief football writer in Tallinn, Estonia
Last updated on .From the section Football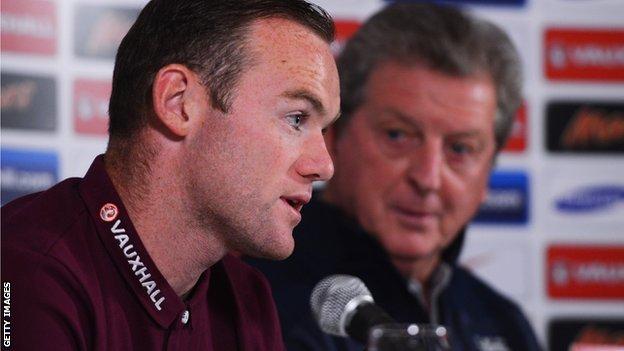 Jack Wilshere has revealed Wayne Rooney has become "the dad figure" in England's squad since being appointed captain following the retirement of Steven Gerrard and Frank Lampard.
Rooney will win his 99th cap against Estonia in Tallinn on Sunday as England go for a third successive Euro 2016 qualifying win, and he now stands just seven goals short of Sir Bobby Charlton's national record tally of 49.
And Arsenal midfielder Wilshere, 22, has outlined the influence Manchester United's captain has had since becoming the senior member of manager Roy Hodgson's squad.
"He's the only one now who has been playing for England for 10 years," said Wilshere. "He's been through that generation with the likes of Steven Gerrard and Frank Lampard. He really feels like he's the dad figure if you like. He puts his arm around us, brings us together, gets us going."
England have the chance to put themselves in a dominant position in Group E if they can record a third victory after a convincing 2-0 win in Switzerland and routine 5-0 dismissal of San Marino at Wembley on Thursday.
Most capped England internationals

Peter Shilton
125

David Beckham

115

Steven Gerrard
114

Bobby Moore

108

Ashley Cole
107

Bobby Charlton

106

Frank Lampard
106

Billy Wright

105

Wayne Rooney
98
Their position was strengthened even further when Switzerland, touted as their only serious threat, also lost their second game, going down to a surprise 1-0 defeat in Slovenia.
And Wilshere believes Rooney's leadership and inspirational qualities can play a key role.
He added: "I remember growing up watching Euro 2004 and Rooney was there, Gerrard was there, Lampard was there and all of a sudden I was involved with them when I was 18. They've been great role models for me.
"Wayne's fantastic. He's only just coming up to 29. He's a great leader, always talking to us. He deserves to reach 100 caps. He's been fantastic and so is his goalscoring record and his love for the game. Everyone can see it."
Wilshere also said Rooney was a powerful presence in England's dressing room even before he was handed the captain's armband by Hodgson after the failure at the World Cup in Brazil and Gerrard's decision to quit international football.
"Wayne is a natural leader. You can see that," he said. "Even when Steven Gerrard was captain he was, and is, a big voice in the dressing room. He gets everyone going, he encourages us and he's not scared to tell you when you are doing wrong, which is nice.
"Wayne is first out to training. You can tell his hunger for the game has never changed. It's refreshing to see."
Rooney, on the verge of becoming only the ninth player to win 100 England caps, said it was right that he served as a role model for the rest of the squad.
"I'm not that old, but being the most experienced in the squad, I have to lead by example," he said. "It's a close-knit squad, we want to learn together and that's what we've been working on since the World Cup."
Rooney made his England debut as a 17-year-old in 2003, but despite a career of 11 years, the former Everton striker says he still has a long international future.
"I'm still quite young," he said. "I've got many years ahead of me. It's great to have younger players in the team, but I don't think I need revitalising. I don't need younger players to lift me to play for England.
"There's records in front of me, if they come it will be great, but it's not something I'm looking at. I'm just looking at qualifying for the European Championship."