Euro 2016 qualifier: Martin O'Neill hails Ireland after Germany draw
Last updated on .From the section Football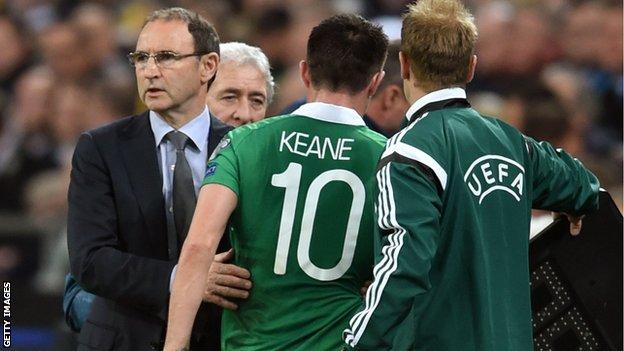 Republic of Ireland manager Martin O'Neill praised the resolve of his team after the 1-1 draw with Germany.
John O'Shea scored a stoppage-time equaliser on his 100th appearance to leave the Republic unbeaten after three games and joint top of Group D.
"It was a terrific game for us. To the very end we kept going and our spirit carried us through," said O'Neill.
"You couldn't have written that script for John. He gets the goal and I'm absolutely delighted for him."
Toni Kroos put the Germans ahead before O'Shea levelled in the dying seconds of injury time.
"We were backs to the wall in the first half," O'Neill said.
"We had formulated a plan that we would try and thwart them as much as we can while at the same time, when we had the ball ourselves, try and manoeuvre it.
"We were unable to do that for periods in the first half, we seemed to be under pressure.
"We got through that time but it was a wee bit of a similar pattern in the second half when they scored.
"That changed the mindset of us to go and search for the equaliser. Even if we concede two, three, four, I don't care, as long as we try and get something from the game."
O'Shea celebrated a "special moment" by stabbing home just the third goal of his international career and put another dent in Germany's campaign following their defeat in Poland on Saturday.
Sunderland defender O'Shea said the goal will stay with him for a long time and he plans to give his shirt on to his parents so they can share in his success.
"That goal just takes over those other two," he said.
"It was a very special moment because the group has a fantastic spirit and we didn't want to come off this pitch with just a 1-0 defeat. But that makes it a bit more special - we got something from the game.
"I think we might have to find a frame for it [my shirt]. I'm not one for hanging stuff or putting stuff up on any mantelpieces but I think this one could be heading for the mantelpiece at my mam and dad's house."