Poles raise Euro 2016 qualification bar with win over Germany

By Alasdair Lamont
BBC Scotland in Warsaw
Last updated on .From the section Football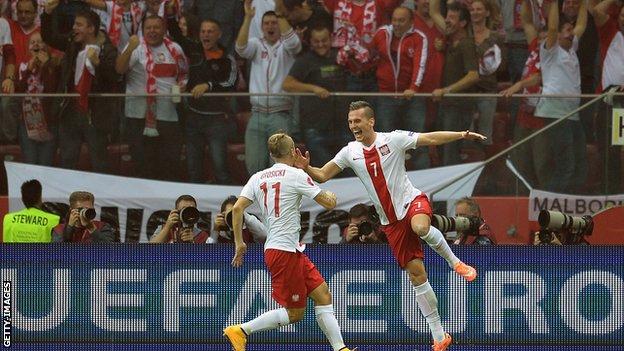 has set the cat among the Group D pigeons.
Most analysts had Joachim Low's side down as runaway group winners in the Euro 2016 qualifiers, with Poland, the Republic of Ireland and Scotland battling it out for the second automatic qualification spot and indeed third place.
That scenario, after just two games each in the section, hasn't necessarily altered drastically, but with their win at home to Germany, Poland have set down a marker for their rivals.
On the face of it, the result - Poland's first-ever victory over their neighbours - makes Scotland's task in Warsaw on Tuesday appear more ominous.
It also leaves Gordon Strachan facing the prospect of a six-point deficit should they lose in Poland, a difficult gap to bridge even this early in proceedings.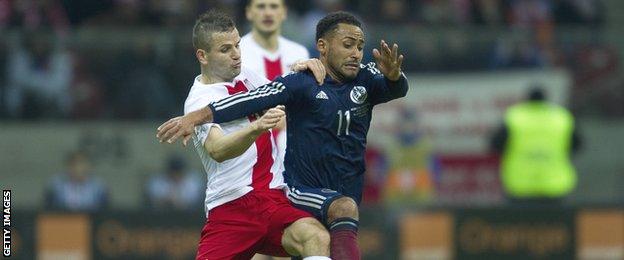 But, no need for doom and gloom just yet, for on Saturday night's evidence - despite that phenomenal win - Scotland have relatively little to fear in the National Stadium. The fact of the matter is that Poland are a good, but not a great team.
Clearly the task of keeping the world-class Robert Lewandowski quiet will be an onerous one for Scotland's defence, while his strike-partner Arkadiusz Milik is another handful.
But the reality of Poland's game against Germany was that they spent the vast majority of it on the back-foot, arguably more than Scotland did in last month's defeat in Dortmund.
Where Scotland came unstuck was in their inability to finish the chances they created - a trait that might have come back to haunt them again in the
BBC Scotland's senior football reporter Alasdair Lamont
"Poland have a famous and perhaps crucial victory, which makes it all the more important to Scotland's chances of automatic qualification that they come away from Warsaw with at least a point."
Poland, on the other hand, were more clinical. The other factor that went in their favour was that Germany were even more profligate in front of goal than they had been against the Scots.
As they turned the screw towards half-time, the Germans could conceivably have scored five times, finding numerous holes in the Polish backline only for their finishing prowess to desert them or occasionally to find the
The same was true after the break and the loss of the opening goal. Yes, the Poles defended stoutly, but still Germany should have scored on more than one occasion.
They didn't, though, and so Poland have a famous and perhaps crucial victory, which makes it all the more important to Scotland's chances of automatic qualification that they come away from Warsaw with at least a point.
Such an outcome is far from inconceivable but will require a better opportunities-to-goals conversion rate from the Scots than they have shown in their opening matches of the campaign.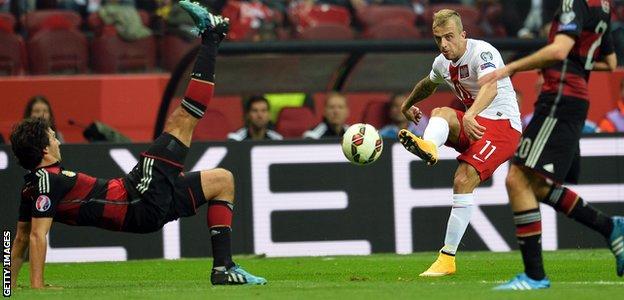 Interestingly, Sczcesny told me after the game that he didn't necessarily expect the onus to be on Poland to come out and attack Scotland on Tuesday.
Saturday's game was played very much on the counter-attack whereas in a match they will be expected to win, one would expect the home side to try to take the attacking initiative.
But that is a tactic that might play into Scotland's hands, as their recent away record would suggest, so Adam Nawalka may adopt a different approach as he looks to maintain a perfect start to Group D.
Scotland can, of course, also take heart from the in a friendly back in March.
Arguably Scotland are in even better shape now, though Nawalka's team is also improved, not least because of the availability of Lewandowski.
The wide players Kamil Grosicki and Maciej Rybus, who played against Germany but not in that friendly defeat, are competent but not world-beaters, while their central midfielders are combative but certainly not better than Scotland's.
As Sczcesny also pointed out, Poland put everything into the win over Germany so fatigue could play a part if Scotland are to gain a positive result.
Despite Poland's marvellous result on Saturday, that is far from beyond the Scots.